On Wednesday, June 16th, 2021, Chief Executive Officer of Export Saint Lucia, Ms. Sunita Daniel, signed a Memorandum of Understanding with Ms. Keithlin Caroo, Founder and President of Helen's Daughters.
"Helen's Daughters (HD) is an Empower Women (UN Women) project based in Saint Lucia to promote the principles of rural women's economic empowerment through social change. The project was coined Helen's Daughters as the name Helen holds a significance in Saint Lucian society; with the island first being called the 'Helen of the West Indies'".  HD has embarked on strategic initiatives to educate and monetize the efforts of Saint Lucian women and youth who grow and harvest agricultural produce.
Export Saint Lucia, whose mandate is to promote local products (goods and services) in external markets, has come alongside the organization to lead activities related to export development through advocacy, dissemination of information, and barriers to trade at national and international levels. Through this agreement, Export Saint Lucia endeavors to explore every opportunity to showcase the agricultural produce of Saint Lucian women and girls to prospective domestic and international buyers, and in so doing, assist Helen's Daughters to meet their goal of rural women's economic empowerment.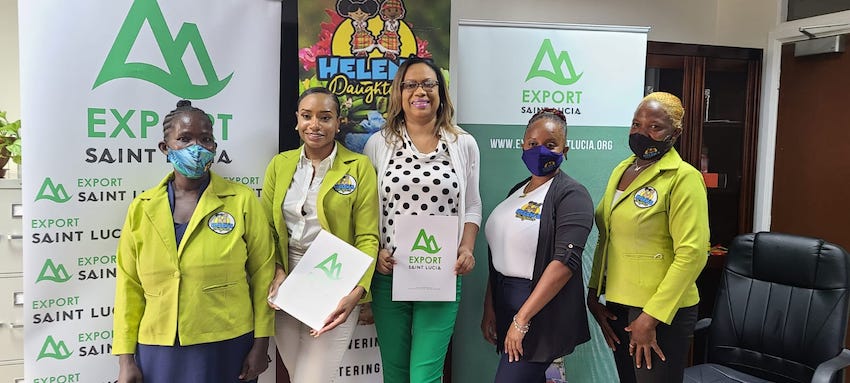 During Wednesday's signing, the founder and President of Helen's Daughters, Ms. Keithlin Caroo, highlighted the importance of the affiliation with Export Saint Lucia. She indicated, "there's a strong need for investment and support in upscaling the labor force, particularly in the agricultural sector with a keen focus on the more marginalized groups like women and youth. I believe that the partnership between Export Saint Lucia and Helen's Daughters is the dawn of a new era and will be the first step in ensuring the full participation of women and youth in our export markets."
According to the CEO of Export Saint Lucia, Ms. Sunita Daniel, the agency is looking forward to increasing the capabilities of Helen's Daughters. She said, "we have been admiring Helen's Daughters for a while. I think it is groundbreaking and phenomenal the work that the organization has been doing with our rural women and girls in agriculture and women empowerment. One of the initiatives that we are eager to get underway is helping Helen's Daughters access new markets for the sale and exports of their produce. Export Saint Lucia remains keen on further developing the goods and services coming from Saint Lucia, and this MOU with Helen's Daughters is another solid step in that direction."
The agreement between the two organizations is for two years. It will include Agri-business development, export preparedness training, and other activities to promote agricultural produce grown and harvested by the women and girls of Saint Lucia.