THE Republic of China (Taiwan) last Friday held a 'School Equipment Establishment Ceremony at Auberge Seraphine to commemorate the distribution of educational equipment to six primary and secondary schools on the island.
This initiative was part of the Information and Communications Technology (ICT) for Educational Development Project being executed by the Government of Saint Lucia and the Government of Taiwan.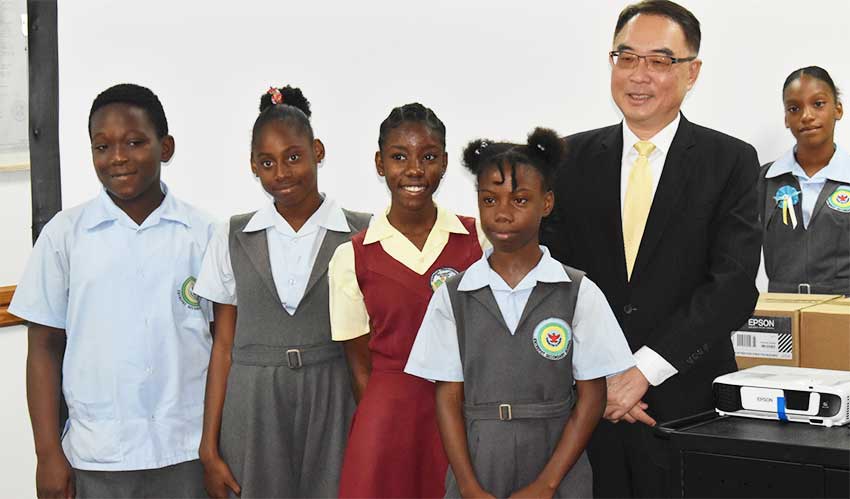 The donation comprised of 10 charging carts, 20 projectors, 10 projector screens, 20 pushing carts and 20 laptops. The recipients of the equipment were the Entrepot Secondary School, Patricia D. James Secondary School, Soufriere Comprehensive Secondary School, Gordon & Walcott Memorial Methodist School and Camille Henry Memorial School.
Dawson Ragunanan, Deputy Education Officer in the Ministry of Education, said the 'ICT for Educational Development Project' will ensure training for educators, will enhance cultural exchanges, and will maximise efficiency through the provision of equipment. He said the project will allow teachers and students the opportunity to explore a digital learning platform which will revolutionise education.
H.E Douglas C.T. Shen, Ambassador of the Republic of China was also present at the ceremony. He began, "In this global society, technology is embedded in almost everything that we do and competitiveness is the key to success." In regards to the donation he continued, "These pieces of equipment are aimed to apply information technology in developing teaching material for specialised courses and to create a smart learning environment."
Shen said that it was his pleasure to announce that three ICT capacity building seminars for teachers had been successfully completed last year, and that training courses for computer programming language will be open for registration at no cost in May. "ICT opens a new dimension of learning. I sincerely hope that through the implementation of the project teachers and students will have the opportunity to explore different learning experiences and to feel empowered and confident to pursue their passions and their dreams," Shen concluded.
Gale Rigobert, Minister for Education, Innovation, Gender relations and Sustainable Development, who was present at the ceremony, said to students, "It is for you we live and breathe; it is because of you we are doing this. We know, acknowledge and appreciate that already your recreation revolves around the digital world. Why not bring it into the classroom for you as well? That is what we are endeavouring to do with this project."
The Minister announced that some teachers will be afforded the opportunity to understudy in Taiwan in order to acquire knowledge which can be shared with their colleagues upon their return. In addition, Gale said that Taiwanese consultants will be visiting the country later this year to provide further training for teachers at the respective schools in order to enhance efforts to integrate ICT in education. She said that teachers will be trained to enhance their efforts in making lessons more interactive by leveraging the new and emerging teaching technologies.
Gale said that what the government has achieved thus far in the e-education thrust was made possible largely because of the generosity and fruitful partnership with Taiwan.
She concluded, "As we in the ministry continue to embark upon and define the architecture of a comprehensive paradigmatic shift in education, we must applaud the progress we have made." She congratulated principals, teachers and persons in the Ministry of Education and beyond, who championed the holistic implementation of the e-education initiative.