RIDLEY Alexander says proudly that he hails from the community of Grande Riviere Dennery in Saint Lucia. He has successfully completed the Sandals Hospitality Training Programme, where he worked as a trainee at the Watersports Department at Sandals Halcyon Beach Resort.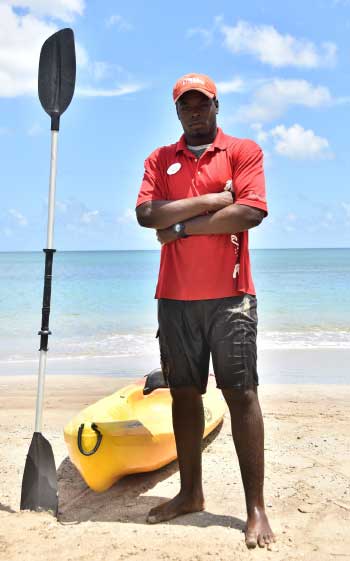 According to Ridley, "being a Hospitality Trainee with Sandals Resorts takes a lot of ambition, determination and perseverance but this was for my own development in the hospitality industry."
He added: "When I started in the Hospitality Training Programme (HTP), I initially felt like I wasn't good enough to do any task that was assigned to me, but the team members at Sandals Halcyon were so patient that I was able to learn and better myself in the areas I lacked."
A big part of Ridley's growth came from the constant immersion in customer service training, as he had to attend weekly classes on customer service and professional communication.
"I remember thinking to myself, why do I have to leave all the fun at watersports to join the Training and Development Manager along with the other trainees in class every Friday? But then I started enjoying the class more and more; it was always very interesting."
During his training, Ridley spent three months in the Watersports Department. He credits the team in large measure for his success.
"The team members helped me very much in building my confidence," he said. "We shared a lot of joy and laughter and there was never a dull moment. The Hospitality Training Programme has not only helped me in developing my specific job skills, but it has also enhanced my social and communication skills. I am now able to speak and answer questions assertively."
Not only is Ridley thankful for the opportunities that he got from the programme, now he says that he feels as though he has opened a new chapter in his life. "I can see myself as the General Manager of this resort in 20 years!" he said. This is the passion that he holds for Sandals, that he can grow and become anything he chooses, within the chain. Ridley, now a Watersports Attendant at Sandals Halcyon Beach Resort, remains grateful to Sandals Resorts International for the opportunity to train and work.