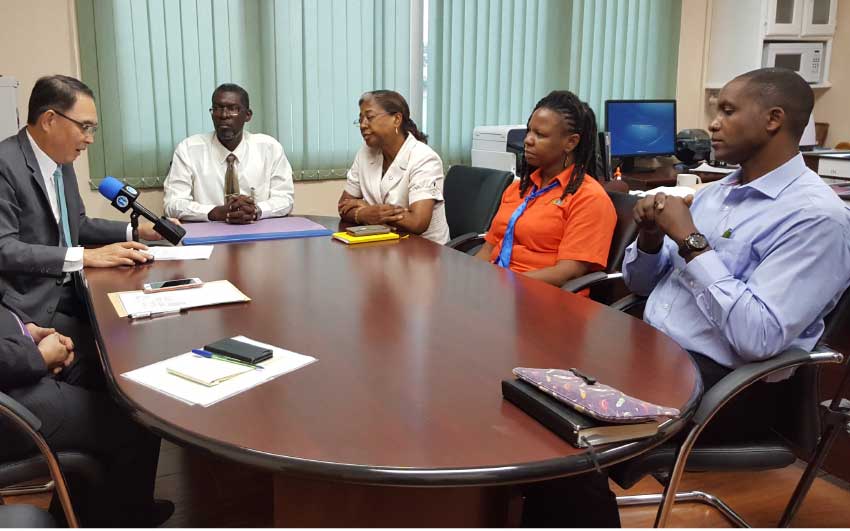 The Ambassador of the Republic of China (Taiwan) His Excellency Douglas Shen recently presented a cheque valued at EC $5000 to the Department of Health and Wellness. 
The cheque presentation represented a contribution towards the World No Tobacco Campaign, aimed at raising awareness among Saint Lucians about the dangers of tobacco smoke to one's health and well-being.
His Excellency Douglas Shen expressed pleasure in providing financial support to boost activities that will discourage the use of tobacco in any form.
"This event is in observance of World Health Oragnisation annual "World No Tobacco Day." Although, Taiwan is unfortunately not a member of the World Health Oragnisation, it is keen on fulfilling its responsibilities as a constructive member of the global community and committed to work with the government of Saint Lucia together with the non-government organization to better promote public health, fight against tobacco and achieve WHO's 2013 agenda for sustainable development."
Minister for Health and Wellness Sen. Hon. Mary Isaac thanked the Taiwanese government for the gesture and says it will assist in the fight against the deadly effects of tobacco smoke and second hand smoke exposure.
"What you are doing here today, assisting us to spread the news, to spread the information, to continue to educate our people about tobacco is going to go a long way in our society in assisting us with the cost of health care as well as the cost of a health for our people. We at the Ministry of Health is doing everything that we possibly can to try to encourage people to look at primary health care, preventative health care. So, instead of smoking and at the end of the day you try to treat the effects of that smoking, we want to call on the public, all Saint Lucians to in the first instance protect your health by not taking up that smoking, by not taking anything."
Deputy Coordinator of the Substance Abuse Unit Joanna Joseph says as the Unit undertakes a series of activities for World No Tobacco day, a call is being made to fight the tobacco epidemic.
"This is really an important occasion and we have been trying at the Ministry of Health for the second consecutive campaign for World No Tobacco Day, to really bring awareness to our people of the dangers and the need for us to do something serious about smoking. So, this year we are going much bigger than we did last year and so the support from the agencies which have assisted so far, we have PAHO who is always on board and this year we are joined by your embassy and we are very appreciative."
World No Tobacco Day is celebrated around the world every year on May 31st.