SAINT Lucia's Under-16 netball team will start their campaign against the Commonwealth of Dominica when the 19th edition of the Jean Pierre Caribbean Youth Netball Tournament serves off in Antigua on Friday March 29th, 2019 at the YMCA.
Team Saint Lucia will depart on Thursday March 28th and return on Friday April 5th.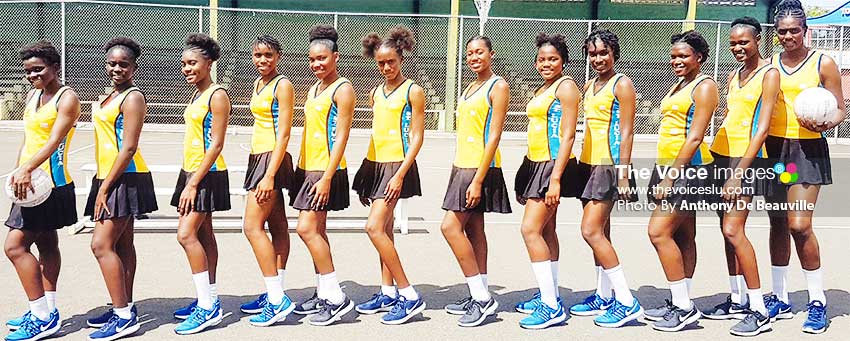 Seven teams will be featured in this year's tournament namely Barbados, Bermuda, the Commonwealth of Dominica, Grenada, Saint Lucia, Trinidad and Tobago and host Antigua and Barbuda.
Two noticeable absentees in this year's tournament are Jamaica who are the defending champions and have now won the tournament a record 12 times and Saint Vincent and the Grenadines.
The VOICE spoke to Shem Maxwell, Head Coach for Team Saint Lucia, following an intense practice match at the Vigie Multipurpose Sports Complex at the weekend about the team preparation and what Saint Lucian sports fans can expect from our princesses on centre court at the YMCA in Antigua.
"The team was called into training from December 2018. The girls are from different secondary schools namely: Soufriere Comprehensive, Micoud Secondary, Corinth Secondary, Sir Ira Simmons Secondary, St. Joseph's Convent, Leon Hess Comprehensive and Castries Comprehensive," She noted.
According to Maxwell, training sessions were held in Soufriere with assistant coach Verne Alexander on Monday/Wednesday. She was responsible for training in Micoud every Monday, and the Vigie Multipurpose Sports Complex on Tuesdays, Thursdays and Saturdays.
Maxwell said, "The training has been going on fairly well; we also held a training camp in Fond St. Jaques (Soufriere); and we took part in the Independence Netball Classic where the national under-16s won two games and lost three in Division 1."
Team Saint Lucia will continue its preparation on Saturday March 23rd; training will continue Monday 25th – Tuesday 26th and that will be the final training session before the team departs for Antigua on Thursday 28th.
According to the head coach, "I am not fully satisfied. There is still room for improvement and when it comes to the tactical aspect of the sport the girls still have work to be done".
With defending champions Jamaica out of this year's tournament Maxwell is leaving no stone unturned, "We look at all the teams as threats because they get to change and keep players every year and sometimes those who didn't seem like threats are the ones that really get troublesome on the court. Barbados, I know for sure will definitely come more prepared because of what happened last year, (tied game against Saint Lucia) but we too are not going to leave any stone unturned."
The final squad has been selected and there are five returning players from 2018 – Mia Peter (Soufriere Comprehensive), Jermia Sonson (Micoud Secondary), Racquel John (Leon Hess Cpmprehensive), Renala Francis (Soufriere Comprehensive, and Dasha Eugene (Corinth Secondary).
The Saint Lucia squad reads: Jania Gregg, Janiah Paul, Mia Peter, JermiaSonson (Centre Court players), Racquel John, Renala Francis, GracyAlcide, Shania Oggile, (Defensive Players), Semaj Marguerite, Dasha Eugene, Tancy Matthew, and Trenice St. Croix (Goal Shoots/Goal Attacks).
Saint Lucia's remaining matches – Saturday 30th versus host Antigua and Barbuda at 7.15 p.m. Team Saint Lucia will rest out on Sunday 31st, but will return to action on Monday 1st April against Bermuda. On Tuesday 2nd, the Shooting Competition starts at 4.00 p.m. following which Saint Lucia will take on Trinidad and Tobago at 7.15 p.m; Wednesday 3rd versus Grenada at 6.15 p.m. and in their final game on Thursday April 4th, Saint Lucia will play Barbados at 6.45 p.m.
The closing ceremony is scheduled for 8.15 p.m.
Meanwhile, on home turf last year, team Saint Lucia, played outstandingly from day one at the Vigie Multi-Purpose Sports Complex to finish in second place behind winners Jamaica.
Of their six games, Saint Lucia won four, drew one with Barbados and lost one game to Jamaica. The team recorded 192 goals with 125 against, a goal difference of 67.
The Jamaicans who are not competing this year won all six of their games with 230 goals and just 82 against, a goal difference of 148.
The Caribbean Youth Championship is named after international Trinidadian netballer Jean Pierre and was first held in 1998 by the Caribbean Netball Association (CNA) every year, with exceptions in 2003, 2007 and 2013. Sixteen countries from across the Caribbean are eligible to participate.