ARTISTIC Director of the Boston University's Playwright's Theatre, Kate Snodgrass, on Tuesday evening delivered this year's Sir Derek Walcott Memorial Lecture entitled "A Playwright's Journey from Castries to Boston and Back", at the National Cultural Centre.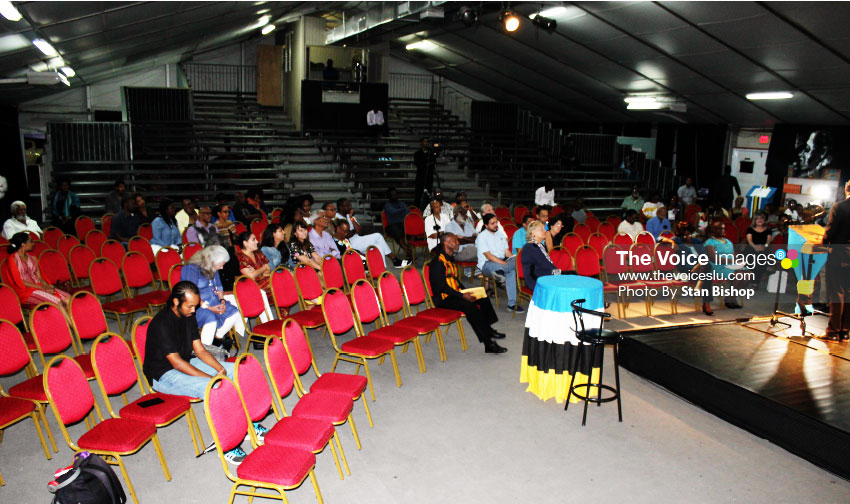 She took the audience on Sir Derek's journey from his hometown Castries to one of the U.S.'s most famed cities – Boston – and its university, Boston University.
This year was the first time the Lecture was presented as a Memorial, since this was the first since Sir Derek Walcott's passing last March.
Esther Matthew read Sir Derek's "Prodigal", which was followed by an audio-visual presentation of Ronald "Boo" Hinkson's "ChausseeTo Stockholm", a song that honours Sir Derek's winning the Nobel Prize in 1992. Adrian Augier did a reading of "Star Apple Kingdom" before Snodgrass took the audience on Sir Derek's playwrighting journey.
Snodgrass began the lecture pointing out that she had visited Saint Lucia many times in the last thirty years since meeting Sir Derek in the 1980s and that she felt "right at home".
"The last time I saw Derek was almost exactly a year ago today," she said. "He was frail and bed-ridden. Caz Phillips, Glyn Maxwell and I were sitting by his bed. They were his dearest friends at that point and he asked, looking right at me, 'What do you love about this island?'"
Snodgrass' account of Sir Derek's time in Boston and his work at the Boston University was the height of her lecture and by far the most detailed part of it. This clearly was her purpose: to paint a picture of Sir Derek, not just from the known history of his time there, but from her firsthand knowledge of him, his work, his teaching and many of his sayings.
"Derek came to Boston University in 1981 to teach poetry with the caveat that he was able to teach playwriting as well. He taught us on the West Side of campus on the back room of what was a former Vespa (car) dealership," Snodgrass said.
In describing the place and how it was at the time, she said: "All along the hallway at the time were artists' studios. Nine of them in another large storage room at the front of the building. Because of these artists, the smell of turpentine hit you when you entered the building and you dragged it…with you when you left."
Despite those challenges, she said: "Derek made the space his. With the help of his McArthur Foundation Genius Grant, Derek and his son Peter designed the back Theatre Space that still exists today," as she proceeded to show some pictures of the production in that theatre.
She said Sir Derek's work with the Boston Playwrights' Theatre was rewarded when, "In 1991, ten years after he joined the faculty at Boston University, the University gifted Derek with a second space to perform new work."
Speaking about the space today, Snodgrass said: "So now we have a larger room in the front of the building (which) seats approximately 120 people. So we have two theatre spaces that only do new work for the stage; unheard of."
Snodgrass concluded the lecture by playing a series of excerpts of some of Sir Derek's plays, speaking on how each one reflected his views, particularly his views on race and culture; and the relationship between the oppressor and the oppressed as he saw it.
Tuesday evening's crowd was smaller than it has been in years. However, the lecture was very well received by those who were present, with Lucien giving it particularly high praise, pointing out the power of its anecdotal style.