This is another in a series of articles intended to expose our readers to pertinent information regarding their fitness efforts. It is produced mainly on the basis of research done by Rodriguez "Rodja" Constantine, who's a Fitness Consultant, the owner of REPTS (Registered Exercise Professionals & Therapists).Rodja has over 20 years experience in the field.
How Much Do You
Weigh Today? And
Here's Why It Might Not
Matter So Much
YOU'RE on a diet to shed the holiday calories you picked up from all of those cookies and cocktails, and really rocking your plan. Of course, it's tempting to constantly check your progress on the scale. After all, why not get some positive reinforcement and validation that, indeed, avoiding sugar and spending that extra time in the gym is paying off?
Then you see you've gained a quarter of a pound since yesterday morning. (INSERT LONG SIGH OF DISAPPOINTMENT HERE!)
Instances like this remind us that constantly checking the scale can actually be counterproductive. It's not new advice, but it's worth repeating. And new evidence reveals staying away from the scale can be good for you.
University of Minnesota researchers report that too much time checking the scale can increase depression, and decrease body satisfaction and self-esteem among females. And it's not much of a stretch to believe that the same can be true of their male workout partners.
Here's how to avoid becoming a slave to the scale:
1. Use the same scale for all weigh-ins. Even a one-pound difference between scales can hurt your motivation.
2. Limit your dates with the scale to a weekly or biweekly (as in every other week) meet-up. Body weight doesn't meaningfully change on a daily basis; natural fluctuations due to water retention or even the time of day can mislead you about your actual weight loss.
3. Schedule your check-ins for the same time of day. Weight can fluctuate significantly throughout the day. This means you could see a five-pound difference from morning to evening, depending on your fluid intake. If you're not taking these natural fluctuations into account, you may be concealing your actual weight loss by weighing yourself in the morning one week and in the evening the next. Be consistent.
4. Don't make weight your only measure of success. This might sound counterintuitive, but your overall weight is only one indicator of your body composition. If you're gaining muscle during the course of your diet and exercise routine, that might mask some of your fat loss. Try to incorporate other data, such as body fat percentage or even a subjective mirror test or how your clothing fits. Do you look and feel better than you did when you started your regimen? Ultimately, that's what really matters.
So, step away from the scale. You'll be glad you did.
Keeping on your fitness game–with or without a personal trainer– is easier than ever with Repts4Life workouts. here's a fitness programme to help you shed unwanted pounds, trim excess body fat, and sculpt a lean body. Each week, the workouts will become progressively challenging to keep you motivated toward your fitness and weight loss goals. Each exercise should be performed in sequence with one day of rest in between and each should eventually be completed within 30 to 45 minutes. Personalized programmes are also available for a nominal fee. Gift Certificates & FREE Trial Sessions are available!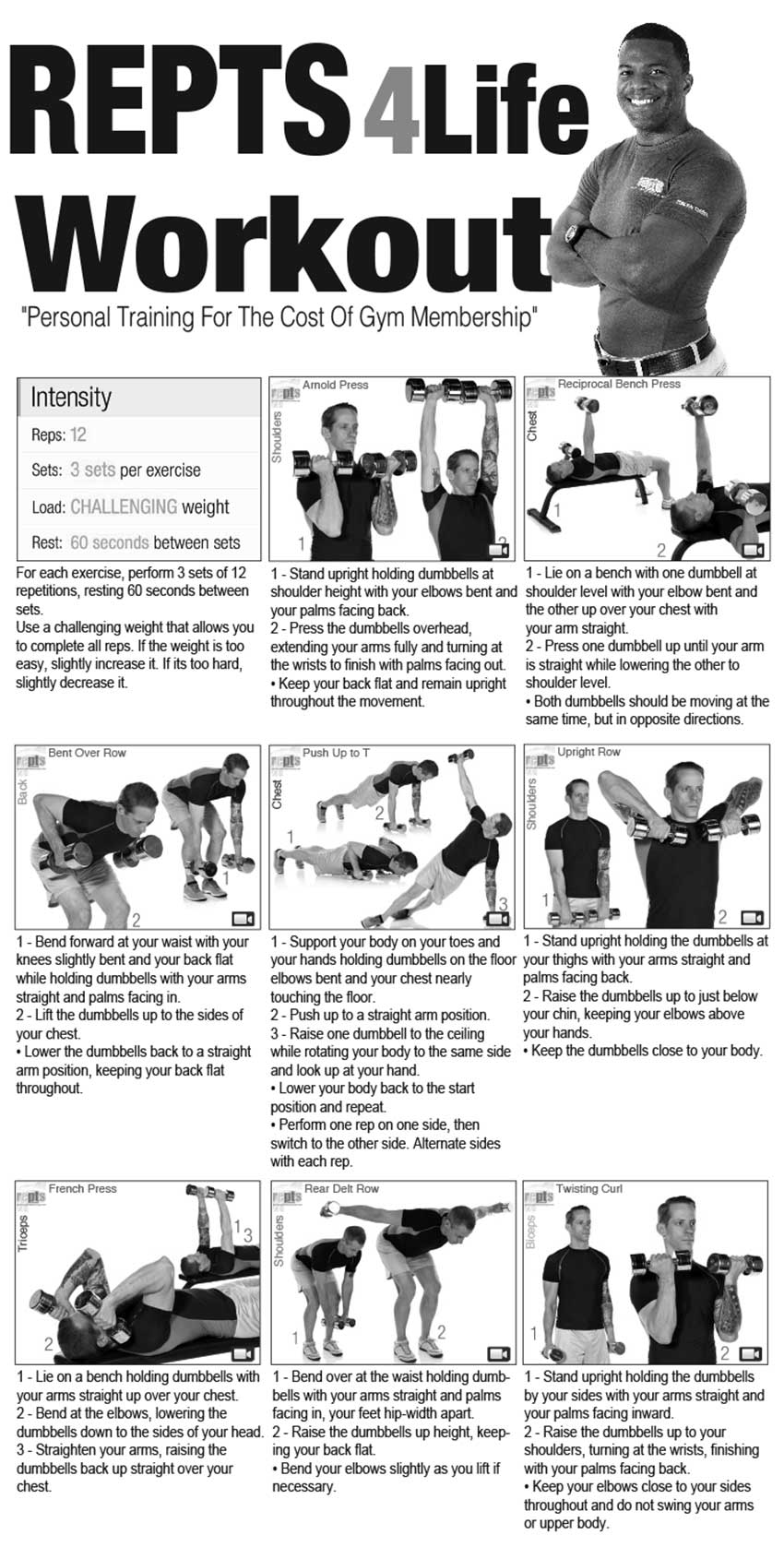 REPTS ( Registered Exercise Professionals & Therapists) is a Personal Training Gym locations in Rodney Bay (opposite RJ Clarke). REPTS offers all inclusive upgradeable fitness packages (Personal and small Group Training, Body Analysis, Nutrition Counselling and Planning, FREE Gym Membership, Classes and etc.) for one affordable monthly fee. Rodja also designs long term fitness plans and short term workout routines for use at home, your current gym, or when traveling. Skype Training is also available for those who live abroad or travel too frequently to maintain a consistent training programme at home. Call 758-722-3763 for details and to schedule an FREE consultation and trial session. You can also visit repts online at reptsfitness.com or on Facebook at facebook.com/repts.fitness.