IF you happen to be out and about and you're in the same vicinity of today's FITC, there is no way you will miss him with his towering frame.
You will look at him and think to yourself that the guy must have been involved in basketball somehow, and if you think so, then you would be correct.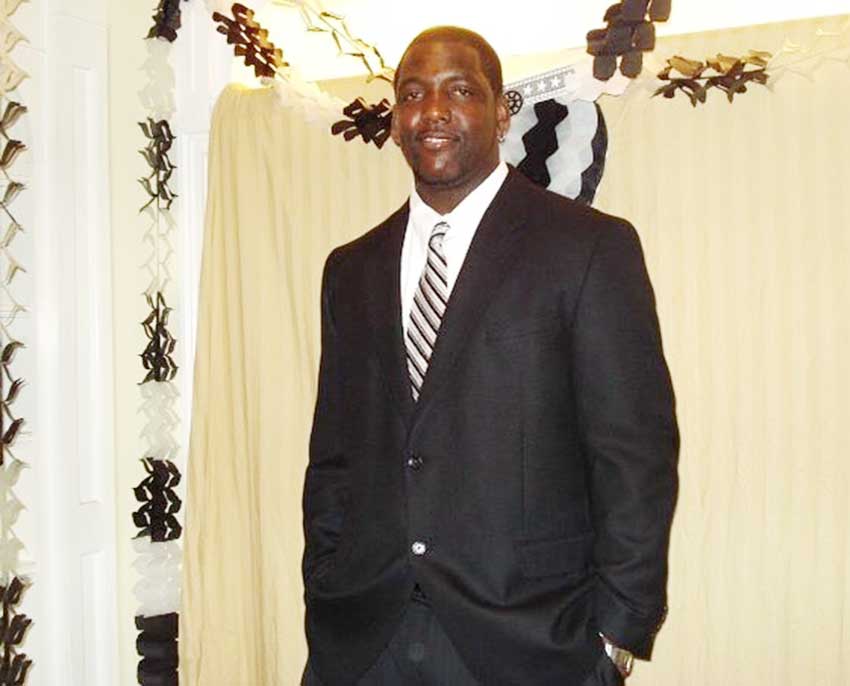 Ed Desir is a basketball player but what makes him stand out in my book is what he has chosen to do with his exceptional skills.
The Soufriere boy found his passion from early on and became a sponge, soaking up all that was taught to him. He then took it a step further by boosting his skills in his spare time.
Today, he is a Parole Officer in the U.S. working with a specialised group of sex offenders who are re-integrating back in to the community from prison. But he is also a coach to groups of youngsters. The kind-hearted and ever-positive giant teaches valuable life lessons to the impressionable youngsters in addition to teaching them how to dribble a ball.
Hear why he decided to go that route, what he gets out of it and whether he plans on bringing his skills back home.
The VOICE: Tell me about your role as a basketball coach.
Desir: I coached at Wichita West High School as an assistant. I helped coach the women's team in 2007 (full season) and 2011 (half a season). Currently, I coach at the Greater YMCA league for boys eight years old and under in the fall and now the 12-years and under in the spring.
The VOICE: What is your history with the sport?
Desir: I started at the age of 16 years old at the Soufriere Comprehensive Secondary School (Form 3). I was terrible at the sport due to lack of guidance but it was then that I started working out with a local team "LIX" in the Soufriere community. I gained experience with them from playing with older guys. I also took it upon myself to workout in the hot sun on the Soufriere basketball court, most times on my own or with my boy, Cordy. There were days when I did it without shoes. It hurt for there were days I'd go home with blisters under my feet. In the following years, I became good enough and in the Inter-Secondary School games, I was called to tryout for the CARICOM Games in Guyana. I made my mark there and was honourably mentioned amongst the Caribbean countries which participated. In my Form Five year at Soufriere, I played at the Windward Islands Games in Grenada and was named the Most Valuable Player for St. Lucia then in the sport. I repeated my fifth year of secondary school at the Entrepôt Secondary due to CXC grade issues but I still played there after much controversy. ESS won the high school championship in 2001 where I was named the MVP, amongst other individual awards. I went on to play in the Castries City League, again gaining MVP honours, among other individual awards. In 2000-2001, I was named Junior Basketballer of the Year at the National Sports Awards and in 2001 and 2002 at the Gros Islet Sports Awards, I was awarded with outstanding achievements. I gained a scholarship in 2002 to attend Emporia State University where I played until 2007 after being red-shirted my first year. In that same year, I made the first all-defensive team.
The VOICE: Why did you decide to become a coach to the youngsters?
Desir: I decided to become a coach in an effort to give back to a community. I did not have someone to shape and mould me when I was a younger and there are kids willing to learn the sport and have fun. One of the biggest reasons is that in the job I do, I see a lot of young men getting out of prison with one thing in common. Most of them grew up in a home without a father. So I decided to be just like coach like Derek Brown who coached me on the St. Lucian national team. He gave me a chance, so I felt the need to repay the favour to society.
The VOICE: It is never easy working with children, so how do you manage?
Desir: Coaching kids is never easy, especially because some are not coachable and some have never played. But they want to be part of something. They want to be part of a group and relate to others their age. The schedule is not hectic as they have one day in the week to practice and one game on Saturday. They are always encouraged to work out on their own to better their individual skills.
The VOICE: What are some of the most fulfilling aspects of your job?
Desir: Knowing that the children are having fun. Seeing them laugh, knowing that losing is also a part of life just as winning is. There are lessons in both winning and losing, neither one lasts always. You rejoice in winning and no matter how many times you lose, you keep focused, maintain hope and work harder towards the next challenge ahead.
The VOICE: With every high, there is a low. What are some of the cons of doing what you do?
Desir: I can't think of a con. No matter how many things I could be doing anyway, nothing is as rewarding as seeing others grow to be better in whatever they choose to be in life.
The VOICE: What outcome are you hoping for where your students' futures are concerned?
Desir: My only standard is that they grow to be respectable, become a positive in their home, school, community and wherever they go thereafter. As long as what they choose is not life taken from them as a result of them spending time behind bars or six feet under.
The VOICE: Would you ever consider bringing your expertise to St. Lucia?
Desir: I would love to one day run a summer basketball camp on the island. It is a goal I intend to fulfil amongst other things I have in store. I'm forever indebted to this country. Not just in basketball but in life. I've learn so much from so many people in so many ways even into my childhood there is so much I can go into. So much, but the answer is yes, that day will come.
The VOICE: Seeing that your basketball career began on the courts of St. Lucia, you have seen first hand what it is like for young hopefuls down here. What do you think is needed to get local players to the level that they could potentially reach?
Desir: I can only speak of myself on that one, I was hungry to learn. I never acted like I knew more than the coaches, I absorbed everything taught, and worked out on my own. I never gave up, for I had a "why", a reason to set a stage for those to follow. I had/have a younger sister, my job was to show her that no matter the obstacles in life, you never quit. I had a support, namely my family, coaches and positive friends who I surrounded myself with, people who cared and had my best interest at heart. So in order for someone to make it to the next level, it's never just one thing, it takes a combination of things. And I was blessed to have the majority of it. I never had the best of things; I just made the best of what I had.
The VOICE: With that said, as things stand currently, what words of wisdom would you like to deliver to the young basketballers to get them to channel, nurture and benefit from their talent in the sport?
Desir: Basketball is a forever learning sport, in other words, the learning never ends. You have to work and work harder than the next individual who is already trying to be better. You don't have to wait to be told to work on your skills or craft. You go out and you make it happen. Be coachable, be everything that someone may have told you that you cannot be. It doesn't matter where you're from, what you've been through or what someone may have said about you. Your only focus should be winning on and off the court. Be positive in learning, be consistent and your only focus is ahead or up. You're your "why", what is your reason for wanting to be the best? And after you've put your mind to it, don't quit. After any given day, basketball is 80% mental and only 20% physical. I also found techniques in other sports that I incorporated into basketball just to be better than my competition.