ALTHOUGH school is out, the members of the Lightning Aquatics (LA) Swim Club saw it fit to visit the Central Library's Easter Camp to donate books last week Wednesday.
This forms part of the Club's Mission Possible 2017 activities to encourage its members to be well-rounded swimmers who understand the importance of giving back to the community.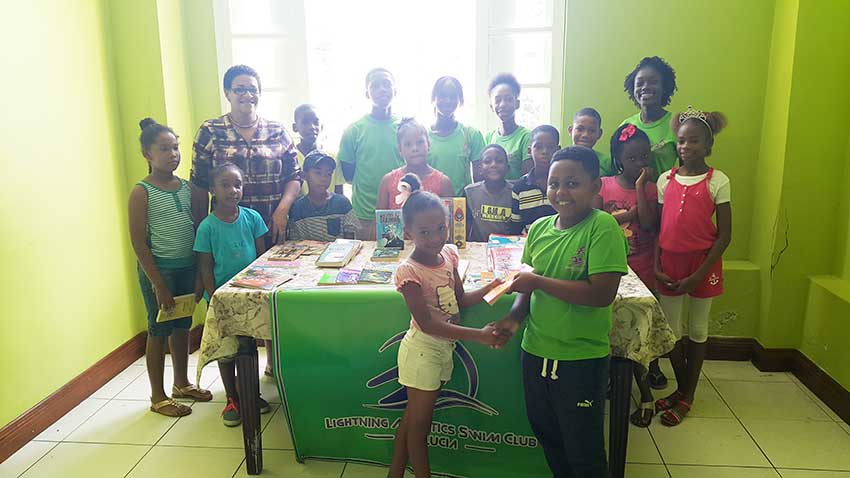 LA's Tessa Charles-Louis said, "The libraries around Saint Lucia have undertaken a book donation drive and as such we contacted the Central Library and were advised that they were in need of updated materials, especially storybooks and novels. Since we collected a basket full of books earlier this year at our awards ceremony, we thought that these would be valuable to the Central Library. It was also an opportunity for our swimmers to interact with the students participating in the Easter Camp."
Librarian at the Central Library, Shermaye George, was elated to receive the books and said, "We are very grateful for the donation by the Lightning Aquatics Swim Club. It is indeed a pleasure because right now the demand for children's books far exceeds the collection we have presently at the library. We are appealing to other clubs and corporate citizens to make a donation to the library. We accept books and other resources such as new and gently-used toys, stuffed toys and anything that can be used for preschoolers and our patrons island-wide."
Next on the club's agenda is preparation for the Barbados Amateur Swimming Association's (BASA) 26th Aquatic Centre International Invitational from May 19 – 21, 2017. Eighteen of the LA's 25 swimmers will participate in that meet, thanks to the benevolence of The Oliver Gobat Sports (TOGS) Fund and King Ocean Services, which have made sizable financial contributions to ensure Lightning Aquatics swimmers continue to gain regional exposure in this competitive sport.
The funds from TOGS and King Ocean also supported the participation of Naima Hazell, LA's first swimmer to attend the CARIFTA Swimming Championships held from April 15–19 in Nassau, Bahamas.