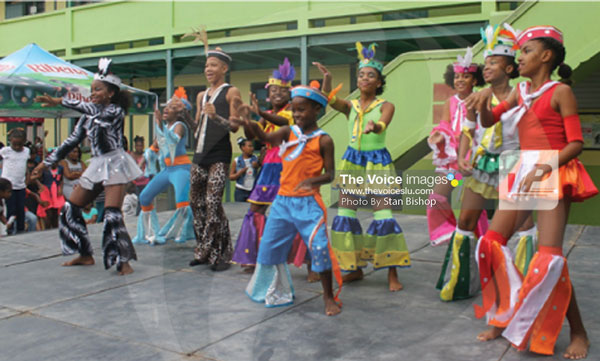 JUST US KIDS Carnival Band is getting ready to create more colourful magic in this year's Junior Carnival scheduled for Sunday, July 10.
The band held its official launch at Ave Maria Girls' Primary last Saturday afternoon where the 11 sections portraying the theme, "Fancy Sailor – Catch of the Day", were displayed.
The sections include Atlantic Spearfish, Blue Marlin, Tiger Shark, Red Snapper, Pink Butterfish, Mackerel, Flame Angel, Dolphin, Parrot Fish and Jellyfish. The band will also showcase a presenting section, "The Ocean", and the ever-present stilt-walkers will be standing tall again this year.
Just Us Kids Carnival Band leader, Barry George, said the band is now in its twelfth season of Junior Carnival, winning the first of its six Band of the Year titles in 2008. From 2011 to 2015, the band also won consecutive Band of the Year titles. In the years the band did not win the title, it always placed first runner-up.
Notwithstanding these successes, George said it has been tough going for the band given the volatile economic climate that often takes a pinch on the bottom-line, resulting in a great deal of improvisation being adopted. He said the original theme he had in mind to portray this year had to be shelved because of reduced sponsorship dollars.
"This year was the most challenging for Junior Carnival," George said. "However, for the past five to six years, there have been areas that need development. I'm fortunate that I'm able to work with few resources by being creative. But I'm also responsible for helping to bring in new bands."
He added: "There are parents who have three or four children, all of whom want to participate in Junior Carnival. So I need to stay within a price range that they can afford. So pricing plays a major factor in my creations."
George said that while 11 bands are slated to participate in this year's Junior Carnival, he remains doubtful that all might be able to do so due in part to limited sponsorship and sourcing materials. Nevertheless, he said that sustaining the national pastime should take precedence over dollars.
"As we know, Carnival is a cultural event. But there are some cultural events that are not about just making money but rather about making an impact. So Junior Carnival is one such event that needs to have more attention placed on it, especially the new bands that need to enter the fray but need some assistance in doing so," George explained.
The band's presenting sponsors are Peter & Company Ltd and Digicel. Other sponsors include 1st National Bank, CIBC FirstCaribbean International Bank and Super Malt.
Costume prices range from $175 and children can be registered at the Ave Maria Girls' Primary School, which serves as the band's secretariat. Registration can also be done by calling George at 519 7895.
The Junior Carnival programme will begin at 11:00 a.m. with the judging of the Junior King and Queen of the Bands costumes, followed by the parade through the city circuit, culminating in William Peter Boulevard where the bands will be judged.