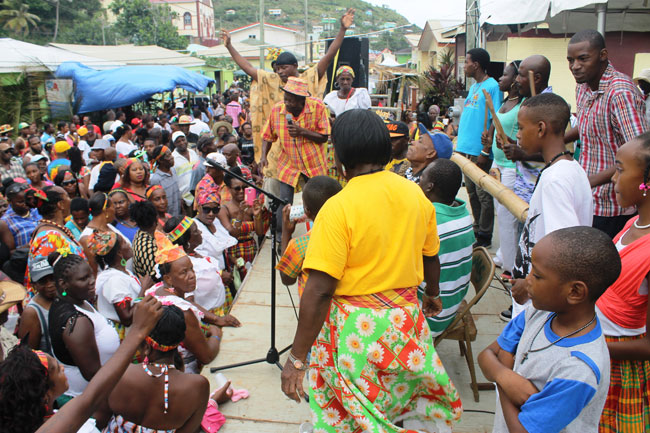 Preparations for St. Lucia's biggest cultural festival are in an advanced stage. Under the direction of the Folk Research Centre (FRC), the most widely celebrated cultural event in St. Lucia, Jounen Kwéyòl, will take place on Sunday October 30th this year.
Barring any major natural disaster, the country will be celebrating Creole Heritage Month (CHM)/Jounen Kwéyòl for the thirty-second time. The continuous celebration of the event which began in 1984 in Mon Repos was affected only once in 2010 with the passage of hurricane Tomas.
Jounen Kwéyol which is the brainchild of the Folk Research Centre is celebrated in recognition of Jounen Kwéyòl Entonnasyonal (International Creole Day) which is observed on October 28th of each year.
Jounen Kwéyòl aims to make the St. Lucian society aware of the strength and value of the Kwéyòl language and to assist in the understanding and development of its rich cultural resources.
From February this year the FRC made approaches to four communities for hosting CHM/ Jounen Kwéyòl. The policy of celebrating this major cultural event in the four cardinal points of the country guided the targeting of the four host communities. There were other communities which expressed interest in hosting Jounen Kwéyòl, however owing to FRC's attempts at ensuring that communities don't monopolize the hosting of the event year by year, a new policy of targeting certain areas was adopted.
The FRC is adding a new feature this year whereby each host community will be highlighting a cultural area for which the community is famous. These cultural areas comprise inter alia Agriculture, Fisheries, Craft and Music. Details on these activities will be provided at a later date. The launch of Creole Heritage Month/Jounen Kwéyòl 2016 will be held on Sunday September 25th at the FRC's premises at Mount Pleasant. This will take the form of a Mini Jounen Kwéyol and will be a whole-day affair.
FRC is pleased to announce the four host communities for Creole Heritage Month/Jounen Kwéyòl 2016 and they are:
1. Gros Islet : in the North
2. Choiseul : in the South-West
3. Belle Vue : in the South-East
4. Jacmel : in the West