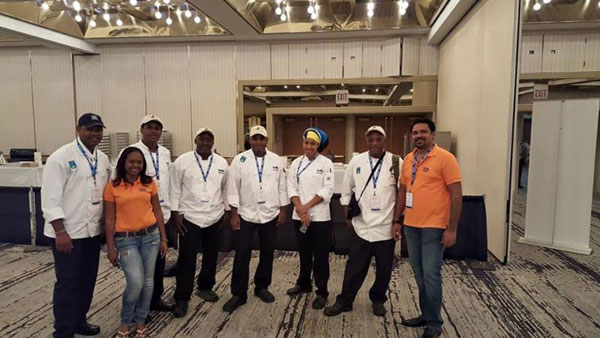 WITH eyes firmly set on the gold, nine of Saint Lucia's most talented, set off for Miami on Sunday for the Taste of the Caribbean competition.
After weeks of practice and through funding from the Tourism Enhancement Fund in partnership with many other sponsors, the Saint Lucia National Culinary Team will once again return to the competition to compete and showcase their culinary excellence in the competition.
Last year the young team of seven chefs and one bartender, returned with two gold medals, five silver medals, the Junior Chef of the Year Award, and the Overall Cheesecake of the Year Award at the 2015 Taste of the Caribbean Culinary Competition held in Miami.
Young Chef Edna Butcher was also inducted into the Hall of Fame.
This year's team comprises: Chef Rodroy Thomas – Sandals Resorts – Team Captain; Chef Elijah Jules – Anse Chastanet; Chef Refer Leonce – Cap Maison Resort; Chef Edna Butcher – Cap Maison Resort; Chef Caron Jean – Coconut Bay Beach Resort; Chef Peter Lawrence – Bay Gardens Resorts; Chef Martha Hippolyte – Coconut Bay Beach Resort; Chef Davis Hippolyte – Capella Marigot Bay and Alva Preville – Sandals Resorts – Bartender.
In an effort to grow the Food and Beverage sector and to provide Caribbean chefs with the opportunity to develop and showcase their professional skills, the Caribbean Hotel and Tourism Association has hosted the Taste of the Caribbean competition since 1993.
The competition provides education and inspiration through tastings and demonstrations, and was created to enhance performance, style and profitability in food and beverage operations. A forum for gathering practical information, sampling, purchasing, strengthening established supplier relationships and meeting new vendors, are all part of helping Taste of the Caribbean registrants build food and beverage business – and yield benefits on the bottom line.