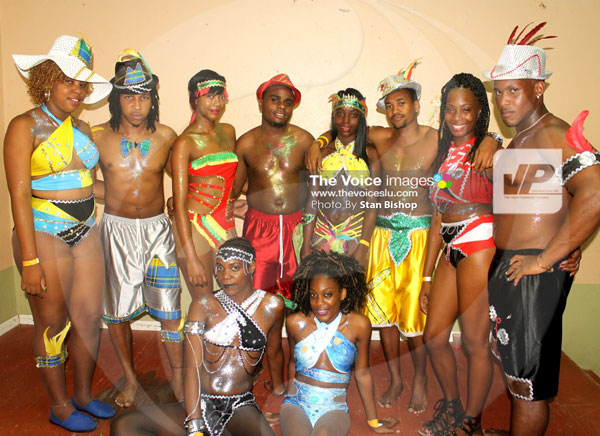 WHEN it comes to hosting an enjoyable carnival, the east coast community of Dennery does not disappoint. This year, however, organizers say they plan to take the fun and excitement up a few notches than they normally do.
Dubbed "The Ultimate Carnival Destination: Reloaded", Dennery Carnival will culminate with two days of street jump-up on July 2 and 3. The street jump-up, however, will be preceded by the Dennery Soca Monarch to be held on July 1, following which there will be a j'ouvert party.
The official launch of Dennery Carnival was held last Saturday evening at the Dennery Multi-Purpose Court where four participating bands displayed their costumes and sections to patrons. The bands taking to the road this year are Sa Pa Zafé'w, Back-A-Yard Revellers, Accent and Phenotixx.
Scores of mas-ready patrons showed up for the launch which also saw the five teenagers vying for the Dennery Carnival Princess Pageant making appearances. That pageant will be held on June 26.
Other attractions at the launch included a drinks cooler competition in which a Nintendo game-styled cooler beat out a washing machine cooler. There was also a DJ clash segment which the patrons could not get enough of.
The night was a long one for entertainment, with many aspiring artistes from Dennery making appearances on stage. Sedale and reigning soca groovy monarch, Arthur, and the EvaLucian Band also performed on the night.
Other events on the Dennery Carnival calendar include a breakfast fete (June 24), costume building workshop and soca artiste workshop.
Sponsors, Flow and St. Lucia Distillers Ltd, were also on hand to reiterate their commitment to the community carnival that just keeps getting bigger, better and more exciting each year.