By:  Kingsley Emmanuel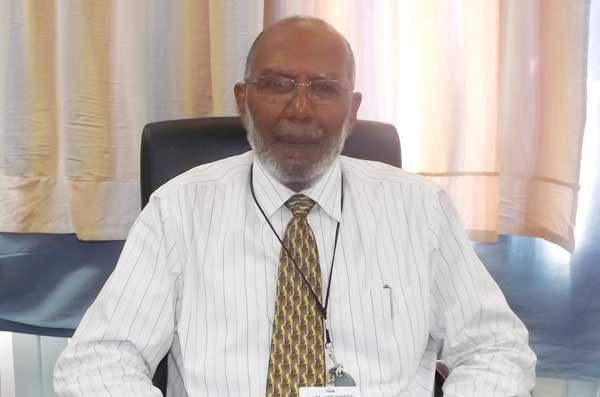 The structural integrity of the George Odlum Stadium/St Jude Hospital at Vieux Fort  has deteriorated further  giving  rise to much concern among patients, visitors and staff of the hospital.
And like construction workers at a work site, staff in certain departments of the hospital have been issued  helmets with which to work for their safety.
The hospital which was originally located at Augier, Vieux-Fort was relocated to the George Odlum Stadium over six years ago after the original St Jude Hospital was ravaged by fire.
Falling debris from the roof of the hospital has made it dangerous to walk in many parts of the premises.
The hospital has dealt with the situation by cordoning off certain parts of the compound and erecting signs warning people to keep out. Signs reading:  "Danger: Falling debris, keep out," have been placed at several points on the hospital compound.
However, according to some of the concerned staff disaster still looms because the public still has access to certain "dangerous" parts of the hospital and certain staff occasionally have to go to these areas in carrying out  their jobs.
People who were present when a piece of metal fell from the roof of the hospital recently and crash onto the ground, say had the metal hit someone that person could have been killed.
Chief Executive Officer of the hospital, Dr.CheirryPoyotte described the situation of the hospital as being "between a rock and a hard place."
He said from since the hospital has been relocated to the stadium, it has experienced all forms of challenges.
"We have had problems with plumbing. We have had problems with flooding during Hurricane Tomas. We have had issues with the roof…",Poyotte lamented.
He said the situation has resulted in the hospital gradually reducing its occupancy on the upper deck of the building.
"We are working with the involved ministries… health, finance and infrastructure to see what it is we can do in the interim to mitigate as much as possible the infrastructural challenge we face. We are now doing what we think is best to deal with the situation," Poyotte said.
According to the CEO, the hospital has conducted different assessments of the situation and is now looking into specifics as to what ought to be done to make the occupancy  as safe as possible.
"At the end of the day the root cause of the problem is the serious corrosion of the infrastructure," Poyotte said.
He is now calling of on his staff and the general public to exercise care while on the hospital's compound.
Meanwhile, the CEO had no definite word on the completion date for the new St Jude Hospital still under construction at the original site. All Poyotte was prepared to say is that it would be completed in the new year.