By David Blair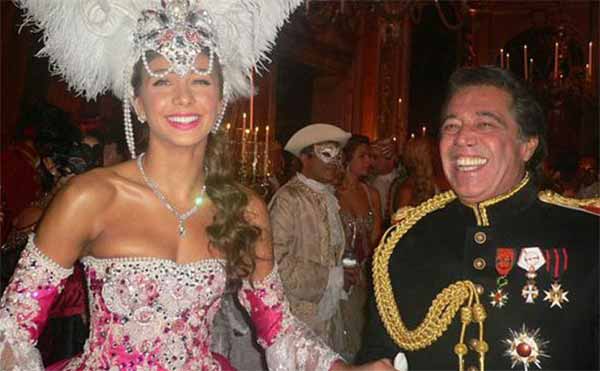 LONDON One of Saudi Arabia's most prominent billionaires has gained legal immunity in Britain ever since his appointment as a Caribbean diplomat representing the island nation of St Lucia.
WalidJuffali appears on the London Diplomatic List as St Lucia's "Permanent Representative" to the International Maritime Organisation (IMO).
There is no public record of Mr Juffali attending any meetings of the IMO, nor does he possess any known qualifications in maritime law. The St Lucian government declined to say how many hours per week he spent at the Commonwealth country's High Commission in London.
Mr Juffali's name first appeared on the Diplomatic List in September 2014
Countries are allowed to appoint foreign nationals as their diplomats, although the practise is unusual. The government of St Lucia did not reply to questions from The Telegraph, explaining that it "does not wish to make any official comments as it is not practice to respond to questions on foreign service appointments".
However, a St Lucian source said that Mr Juffali was asked to represent the island because of his "well-established success as a businessman and previously undertaken diplomatic duties".
The source said that Mr Juffali "performs all the duties expected and requested of him at the IMO", adding: "It is also important to note that His Excellency Dr Juffali is supported in his role by staff with decades of particularly relevant experience in international relations, maritime law and diplomacy."
The 60-year-old businessman is facing a financial claim from Christina Estrada, a former Pirelli calendar model whom he married in 2001 and divorced last year. In December 2014, Ms Estrada laid claim to a share of her former husband's properties in Britain, which include a seven-bedroom home in a converted church in Knightsbridge.
In November 2012, Mr Juffali married LoujainAdada, a Lebanese model and TV presenter who was then 25. The couple celebrated their union with a "Grand Ball" in Venice attended by hundreds of guests.
Islamic tradition allows a man to have up to four wives, but Ms Estrada and Mr Juffali were later divorced.
Mr Juffali is a flamboyant figure who possesses two Knighthoods – one from the Vatican, where he is a member of the Papal Order of St Sylvester, and one from Queen Margarethe of Denmark, who elevated him to membership of the Order of Dannebrog.
He chairs the Juffali Group, one of Saudi Arabia's largest conglomerates, and also holds a doctorate in neuro-science from Imperial College London.
In 2005, Mr Juffali paid £220,000 at a Christie's charity auction for a nude photograph of Tamara Mellon, the co-founder of Jimmy Choo, the luxury shoes brand. At the same occasion, Mr Juffali paid £270,000 for a nude photograph of Kate Moss.
Just over a year after Mr Juffali was appointed to St Lucia's mission in London, the island nation announced that it would open an Honorary Consulate in Saudi Arabia. An official statement said there would be "no cost to the Government of Saint Lucia" and named the new Honorary Consul as HallaWalidJuffali. She formally began her duties in Jeddah last Sunday.
Mr Juffali declined to answer questions from The Daily Telegraph. He did not say whether he was related to St Lucia's Honorary Consul in Saudi Arabia, nor if he had contributed towards the cost of the country's new diplomatic mission in Jeddah.
Mr Juffali's credentials in London were accepted by Catherine Nettleton, the British diplomat serving as Vice-Marshal of the Diplomatic Corps. A spokesman said: "The Foreign Office does not comment on international diplomatic appointments."