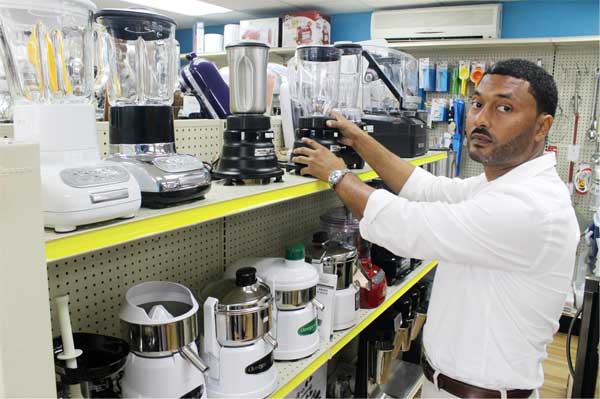 The Story of RJB Hotel Supplies.
THE name Rick Barnard might not resonate with as many people as does the company he owns. But the company Barnard has built over the past 12 years – and how he did it – is testimony to the indefatigable spirit of entrepreneurism that many Saint Lucian business people might want to emulate.
The 30-something entrepreneur was nominated for an Entrepreneur of the Year Award at the St. Lucia Industrial & Small Business Association (SLISBA) awards held last Saturday evening. Although he did not capture that award, he did walk away with the Award for Customer Service Provider of the Year.
Barnard's rise up the corporate ladder took its first steps after he graduated from University of the West Indies (Cave Hill) campus where he earned a degree in Business Administration. Soon after leaving university, he began working with Minvielle&Chastanet Home Depot as a floor manager, staying there for three years. But he wanted more: he wanted to own and operate his own business.
After handing in his two weeks' notice, Barnard's drive to succeed was so compelling that he actually stopped working there before the two-week period ended. He described that period in October, 2003 as one where he "literally felt stifled".
He used his severance cheque from his old job to pay off his car loan and other debts and used the remaining $500 as start-up capital for the new business idea that was swirling around in his head. His business would be buying bathroom supplies and selling them to hotels for a profit. So strong was his desire to succeed at it that his first client's order arrived just two days after he quit his floor manager's job.
Barnard soon found himself walking into banks, offices – even through the streets – peddling his fledgling catalogue of bathroom supplies such as lotions, soaps, soap dispensers, conditioners, gift baskets and other toiletries.
With new additional products to his catalogue, Barnard soon found himself congesting his mother's home with his growing business. After being given an ultimatum by her, he incorporated his business in October, 2008 and decided to sublet 600 square feet of warehouse space from a developer. The business soon grew to its current 7000 square feet dimension at Corinth Road where RJB Hotel Supplies is still based.
Over the past few years, he said, business has been challenging. The business climate over the years, he told me, brings to mind the fact that upon realizing that there would be transitions, he had to focus on countering them.
"It was clear to us back then that the world was going through a recession," Barnard said. "Even though we hadn't felt it at the time, we could have sensed it was coming. Being that we're in the business of supplying the tourism industry, we knew that any challenges faced by our customers would soon trickle down to us."
Being a small but still growing company, he said, gave him the opportunity to be a bit more flexible than the much larger and older firms that he competed against. In a sense, it allowed him and his dedicated team to exploit their agility and look at ways where they could diversify out of their niche a little bit but also expand within their current niche.
RJB Hotel Supplies now offers quite a collection of quality products at prices that are not hotel and restaurant exclusive, catering to the needs of the average households as well. Barnard said the company needed to give the institutional grade quality to regular consumers.
The small company's impressive catalogue now includes all the utensils, appliances, linen, beverages and other items that are required for restaurants, hotel and homes. Barnard describes the company as the one-stop shop in the food industry or for anyone seeking to expand their range of home items.
"At the moment, our company carries in excess of 4000 different products. We're into food service disposables, janitorial supplies, small equipment, refrigeration, beverages, bathroom and toilet supplies and the like. We have a very broad range so that even though it extends into different niches, it's still a very comprehensive range in the sense that all of the products are still complementary," Barnard explained.
RJB Hotel Supplies currently employs full-time employees, one of whom, salesman Hennieth Charlemagne, has been with the company since 2006. Barnard attributes the company's success to two key factors.
"Whenever we notice transitions taking place in the marketplace, we put resources into those areas and try to strengthen them as best we can. Also, we continue to grow because we're always looking for good people and new avenues to explore," the businessman said.
Barnard said that while the business climate is not getting any easier, there are certain challenges the company cannot change on its own. That's where the need for adaptation and employees having a sense of ownership come in.
"In every crisis there's always an opportunity. We're a 12-year-old company, so in the scheme of things, we're still a very young enterprise. The team I have with me gets to see the transparent nature of the business. So I'd like to believe that they feel they have a stake in the business, that's it's our business and that whatever we put in is what we get out of it," he explained.
Barnard said he and his team felt "very good" about the SLISBA nomination, particularly because they did not have to nominate themselves. In the case of quite a few other agencies, awards are given out based on self-nomination. Barnard believes the SLISBA format sets it apart from the rest.
"With the other awards, you are essentially judged based on the strength of your application and not necessarily on the merit of your business," Barnard said. "So we're particularly proud of SLISBA's nomination for Entrepreneur of the Year and thrilled we received the surprise Award for Customer Service of the Year."
His advice to small business owners/prospects: "Never let anyone deter you from following your ambitions. Always be mindful that other people may not share your sense of ambition and endurance. One of the things I learned along the way is that you should never expect everyone else to have the same energy in the pursuit of your dream. That's your dream and nobody can take that away from you. So believe in yourself before you can believe in anyone or anything else."