Major Consultation Gets Underway
SERVICES employ 3.3 billion people around the world and contribute 70 percent of total world gross domestic product (GDP). According to the International Trade Centre, Least Developed Countries commercial services exports more than doubled to US $22 billion in the six years leading up to 2011, growing at an average annual rate of 15%, much faster than the world average of 9%.
In keeping with global trends, services account for over 70 percent of business activity in St. Lucia's economy. With the decline of the banana industry the services sector – led by tourism – has become the lead sector of St. Lucia's economy in terms of employment, revenue generation, foreign exchange earnings, and contribution to GDP. Consequently, a cohesive approach is needed to grow and develop the sector.
It is against this background that the process of developing a gender responsive and results based services sector policy, "Strategy and Action Plan for St. Lucia" has begun. The project, which is being funded by Caribbean Development Bank (CDB), is being led by the Saint Lucia Coalition of Service Industries, with oversight by the Ministry of Commerce, Business Development, Investment and Consumer Affairs. It is a follow-up to a 2012 Study which resulted in the preparation of a White Paper for the services sector in Saint Lucia.
Ramesh Chaitoo and Associates were on island during last week for dialogue with key stakeholders and groups as part of the policy formulation process. The consultants met with key public and private sector stakeholders and statutory corporations including Invest Saint Lucia and TEPA. They also met with a Technical Advisory Committee comprising technocrats from key Government Ministries which will be the lead implementing agency for the Services Sector Policy, Strategy and Action Plan.
A highlight of the week-long visit by the consultants was a service providers forum held at the Bay Gardens Hotel. Sectors represented include Architecture, Engineering, ICT, Film, Music Production, Photography, Fashion Design, Management Consulting, Health and Wellness, Customs Brokerage, and Construction.
In addressing the Forum, SLCSI Executive Director, Yvonne Agard noted that since its launch in 2009, the Saint Lucia Coalition of service industries has focused on lobbying for policies which will create the enabling environment for the growth and development of the services sector and has worked very closely with the Ministry of Commerce in achieving this objective.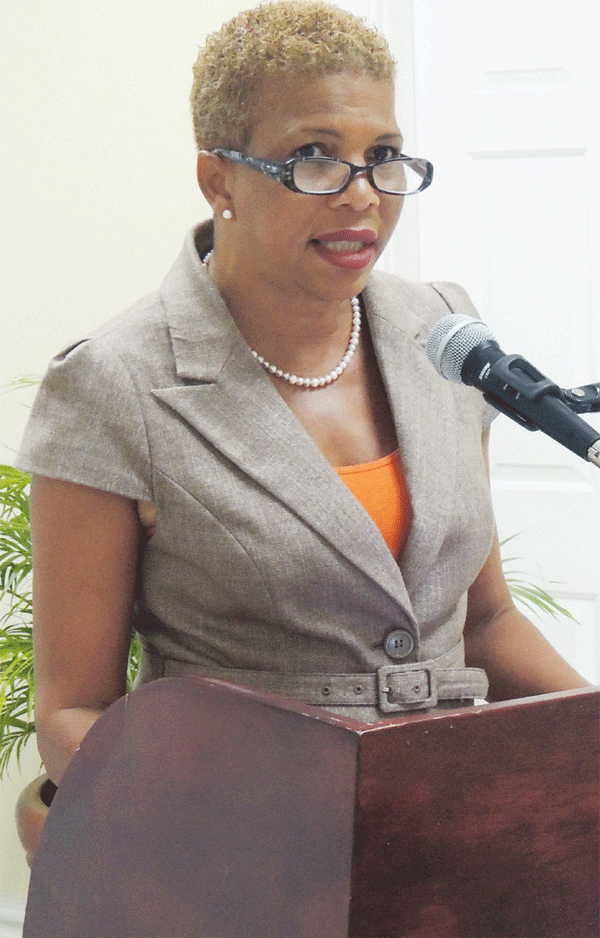 Speaking directly to the policy being developed, Agard said: "It is expected that this initiative will result in the establishment of a developmental framework that would structure the services sector as the engine for fostering the creation and development of a more open and efficient services industry in Saint Lucia. It will also enhance cross ministerial efficiency, policy cohesion and investment in identified service sectors.
"We're hoping that the development of the policy will result in the creation of jobs, foster creativity and innovation, and boost overall economic growth and development in St. Lucia. We're also looking at a dynamic service policy and strategy document, benchmarked as a model to guide the conduct of trade and investment in services, not just for St. Lucia, but for other OECS economies as well."
The consultancy calls for a results-based and gender-responsive approach to policy formulation and implementation. Gender specialist, Caroline Allen, explained the imperatives of achieving gender equity and avoiding gender discrimination in any development strategy. She noted that gender equity is now a requirement for all major donor agencies including the European Union, the World Bank and the CDB.
The Policy is intended to achieve increased alignment of the efforts of the multiple industry stakeholders, promote greater convergence in key areas of trade and investment in services, as well as promote investments, develop targeted service industries, and leverage St. Lucia as a model export-oriented service economy in the OECS.
The consultants are expected back on island in March for a series of focus group meetings with service providers and their representative groups, to get direct input for the policy. The sector issues to be discussed with service providers include regulations, legislation, standards, incentives, barriers to trade, competitiveness, as well as public private sector partnerships.
The gender responsive and results based Services Policy, Strategy and Action Plan is expected to be completed by the end of June 2015 and presented to Government for ratification.