More Winners Announced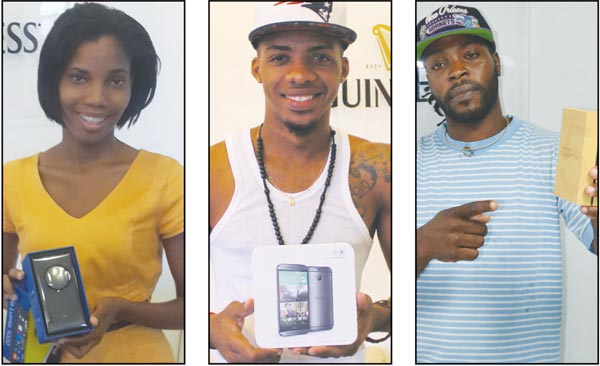 THE excitement of the Guinness Rev-Up Road Show moves to Rudy John Beach in Laborie tomorrow.
The event is the final event before the grand prize draw in the month-long promotion that has given Guinness fans the opportunity to win a host of prizes by looking under the crown of their favourite stout brew.
The Rev Up road show was held in Soufriere last weekend with a packed crowd and the lucky winners at the event were Lindel St. Juste who won a cash prize and Kent Nicholas and Rondel Daniel who both were the winners of fuel vouchers.
The jewel of the Under the Crown Promotion is a Yamaha FZ6R motorcycle, which persons can get a chance to win by collecting six Guinness crowns with the motorbike symbol and filling out an entry form which can be dropped off in specially marked boxes.
The final draw for this prize will be held on April 10 in Gros Islet. Instant prizes include a free Guinness and cash as well as $100 fuel vouchers, smartphones from DIGICEL, Apple Ipods, $250 grocery vouchers, LED Smart TVs and lots of Guinness merchandise.
As the promotion nears the finish line Guinness expects a lot more winners and a lot more entries into the final draw, and says it's not too late to enter your name for a chance to win this coveted prize.
"Customers still have lots of chances to win and we will be giving away more prizes at Rudy John Beach Park on Sunday," said Guinness Brand Manager Sylvester Henry. "We have definitely gone around the island these last few weeks with the Rev Up Show to spread the word and of course display the grand prize Yamaha bike. This has been one of our most ambitious promotions and customers have really benefitted and enjoyed this promotion. "
"I would also like to congratulate CurlainMarcellin who won a Nokia Lumia Mobile Phone, CertineHunte who won HTC One, Joseph Cooper who won a Samsung Galaxy S5, Suzette Pascal who won an Ipod Touch and CertaFulgence who won herself VIZIO LED Smart TV" said Guinness Brand Manager Sylvester Henry.
The Under the Crown promotion ends as of March 31.