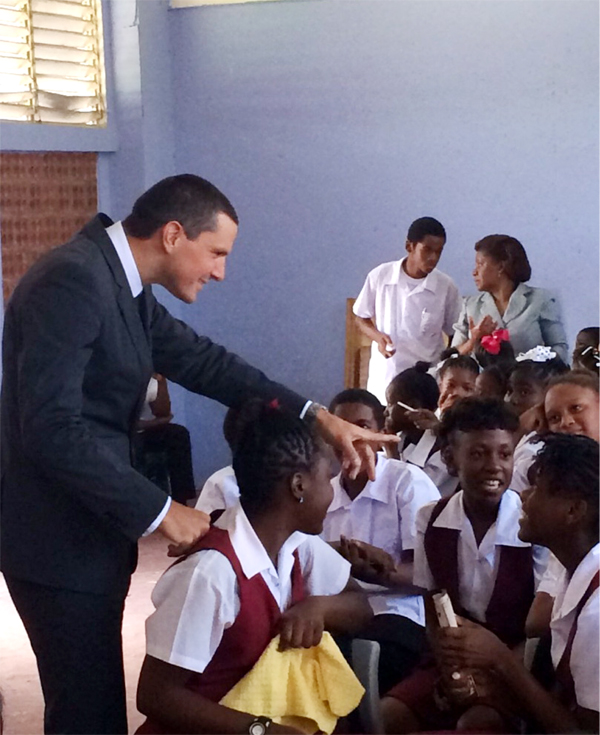 PRESIDENT of JA Americas Mr. Leonardo Martellotto made a brief visit to St Lucia last week during which he got an opportunity to meet with the Patron, the Governor General Dame PearletteLouisy, JA Board members and the Chief Education Officer Marcus Edwards.
The meeting with Edwards focussed on the way forward for the implementation of the JA programme in all schools and the Regional Operating Centre's (ROC) support.
Martellotto expressed his gratitude to the Ministry for further endorsing and recommitting to the programme and the signing of the MOU for match in kind for the USAID grant funding saying: "This initiative will inevitably create the next generation of forward thinking entrepreneurs. Further, it will mark a very historic milestone for St. Lucia, as it will be one of the only three member nations globally to achieve this milestone."
During the visit with Dame Pearlette, the president extended thanks for her support over the past 17 years and further discussed the outreach and benefits of the programme to out of school youth.
Martellotto's visit ended with a meeting with the JA Board of Directors where he acknowledged members for their commitment to youth development and discussed strategies for the improvement of the programme. Further, he congratulated the board for the investment of their time; the achievements over the years and more specifically for the partnership with the Ministry.
Said Martellotto: "The vision of the St Lucia Chamber of Commerce in 1996, the commitment, dedication and support of Directors and sponsors, has made JA St Lucia stand out as a model for other countries in the region and your tireless efforts in ensuring that JA attains 100 percent penetration in the school system in St. Lucia is truly remarkable."
JA St Lucia was initiated here in 1996 as a project of the St Lucia Chamber of Commerce Industry and Agriculture impacting 111 student in six secondary schools in Castries. In 2014 the programme impacted approximately 40,000 locally and globally 10.9 million students in 123 countries benefit from Junior Achievement annually.