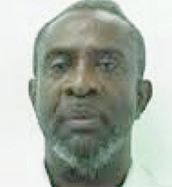 ST. LUCIA is mourning the death of another prominent figure. Queen's Counsel HilfordDeterville passed away yesterday after a period of illness.
Deterville was a stalwart of the ruling St. Lucia Labour Party and held the position of President of the Senate during its terms in office. But he first came to national prominence as a member of the pressure group, the Forum, formed in the late 1960s.
Other positions he held included President of the Saint Lucia Bar Association, President of the Seamen Waterfront Workers Union. He was also a leading member of the Methodist Community in Saint Lucia.
In a tribute to Deterville yesterday, the SLP said: "HilfordDeterville cared about this country and its people and seemed to know just the right things to say and do to help others feel better and do better about themselves and their lives. He had an uncommon courage, unfailing humour and a penetrating curious intelligence. His was a life of strength and struggle to the end."