THE Dennery Infant School library was given a welcome boost when Hands Across the Sea teamed up with the Bank of Nova Scotia to donate over 300 books of various subjects to the school.
The donation was made at an event which saw the students involved in several activities, including reading and kiddies cricket.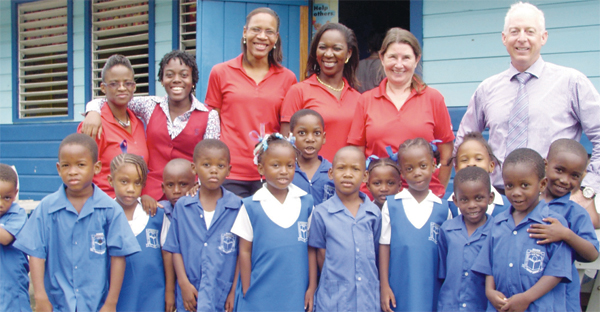 They were also presented with gifts, which included items such as bags, water bottles, notepads and pencils.
Playing cricket generated immense interest among the kids who demonstrated a passion for the sport. Students were able to sharpen their skills in various aspects of the game.
In her welcome remarks, Destiny Ferdinand, a student, said the school was very excited, and felt privileged to receive so many interesting and informative books.
"It is indeed an honour to welcome you here this afternoon as we formally open our school's library," Ferdinand said.
In an interview with this reporter, Barbara Ramage, Scotia's Commercial Banking Manager said the organizations were pleased to make the donation to the school.
She added that the event will enable the organizations to understand the school and its community better.
"We are here to read with the students, give them gifts and play with them,"Ramage said.
Hands Across the Sea is an American non-profit organization which partners with various organizations to donate books to schools in the region.
The organization has donated books to other schools on the island in the past, but this is the first time the Dennery Infant school has benefited from its generosity.
Principal Mary Flavien, said the school was delighted to receive the donation, adding it would go a long way in boosting the school's library and by extension, the students reading skills.
"We know the link between reading and writing.The donation has come at an opportune time. It will help address the students' expressive writing needs and oral writing needs," Flavien said.
She added that in putting the library together, the teachers, including the school's Peace Corps Volunteer, students and parents worked diligently towards that goal which has paid off.