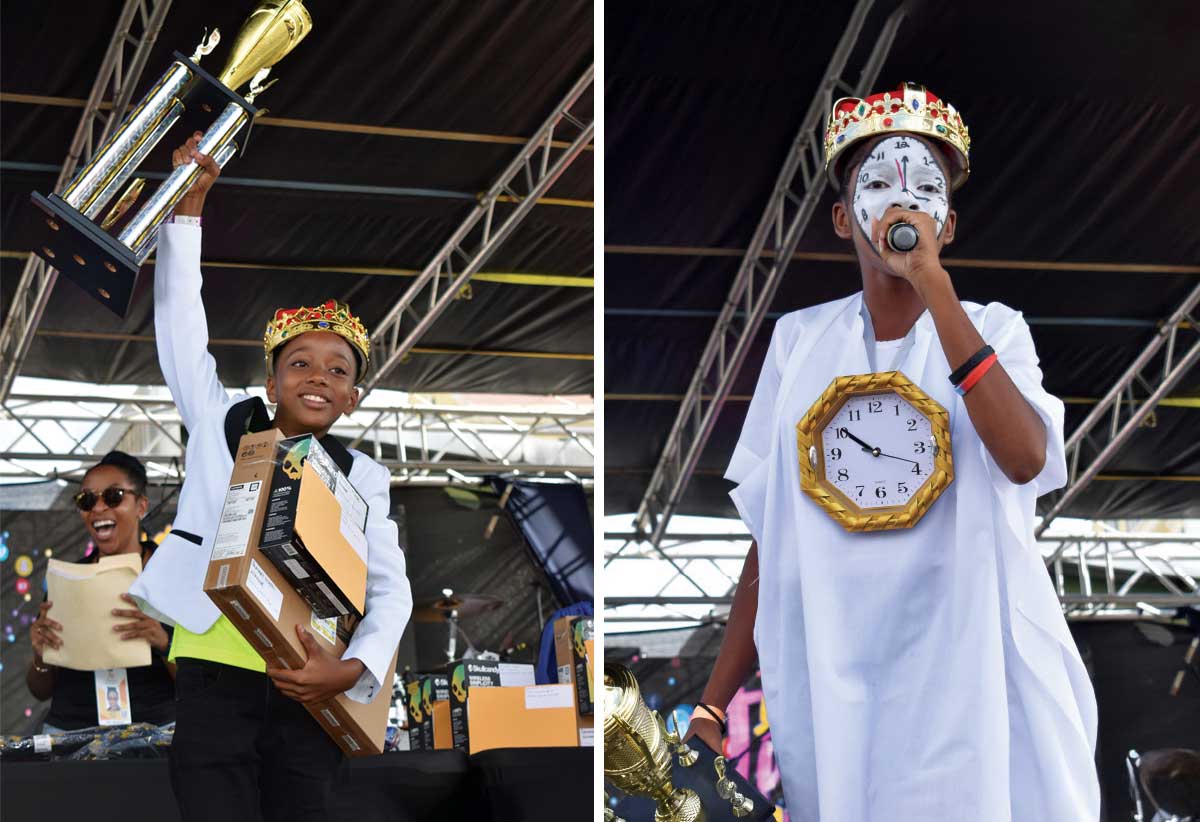 After putting on a riveting show at this year's National Schools' Calypso Competition, Sir Ira Simmons Secondary School and Reunion Primary School captured the coveted titles.
The competition returned with a bang last week Friday following a three-year hiatus (the event was shelved during the COVID-19 pandemic), with 16 schools vying for the crown.
Augier Combined, Ave Maria Primary, Canon Laurie Anglican Infant, Canon Laurie Anglican Primary, Carmen Rene Memorial, Gros Islet Primary, Mongouge Combined, Piaye Combined, Reunion Combined, and Saltibus Combined all graced the stage at the Vigie Multi-Purpose Sports Complex.
In the secondary schools' category were Bocage Secondary, Castries Comprehensive, Micoud Secondary, Patricia D James Secondary, St Mary's College, and Sir Ira Simmons Secondary.
Age proved to be just a number on that day as well.  Primary schools commanded the crowd's attention from start to finish, and small as they were, they oozed confidence, making sure their performances were recorded.
Backed by sweet, rhythmic beats, they touched on various themes and subjects (including poor parenting and time management), giving the audience much food for thought.
Students and teachers cheered enthusiastically, singing and dancing to their songs as they performed.
It was clearly an enjoyable day for most. Of course, the event wouldn't be complete without a few guest performers, and singers like Shemmy J and Sedale livened the atmosphere, to the crowd's delight.
"We're nurturing the next generation of (calypsonians). Last year we saw riveting performances from young people in the tents and at the national competition, including the crowning of a young king, so we know the talent is there, and we want to provide this platform to put that talent on display," Chairperson of the Carnival Planning and Management Committee (CPMC) Tamara Gibson noted in a release.
Contestants also got an opportunity to work with various local artistes, Gibson said, "to learn about the art form, stage presence, crowd engagement, and all the different elements."
Coordinator of the competition, Jason 'Bachelor' Joseph, noted that one of the biggest threats that the Schools Calypso Competition has faced in previous years is the lack of support and funding.
"More recently, the event has been embraced as part of national activities for St. Lucia carnival, and we at the Department of Education believe that this is definitely a step in the right direction. This kind of support is what is needed to groom the next generation of calypsonians, writers, musicians, and arrangers, and to keep the art form alive," Joseph said, adding that school calypsonians "have a long history of rendering some stellar performances."
Here are the results for this year's Schools' Calypso Competition:
Primary Schools:
Best Display of Colour – "Mighty Dre" (Piaye Combined School)
4th Place: "Ti Keno", "Is Society That is Doing This", Mongouge Combined School (354 points)
3rd Place: "Mighty Dre", "Saint Lucia Moves", Piaye Combined School (357 points)
2nd Place: "Zeezee", "Help Me", Ave Maria Primary School (365 points)
1st Place: "Darnel", "Children in Crisis", Reunion Primary School (393 points)
Secondary School:
Best Display of Colour – "Yandi J" (Sir Ira Secondary School)
4th Place: "Mighty Melchior", "Doh Watch Them Do", St Mary's College (339 points)
3rd Place: "Al, the Artiste", "Mr. Gunman", Micoud Secondary School, (351 points)
2nd Place: "Lolani", "A Mother's Cry", Castries Comprehensive Secondary School, (362 points)
1st Place: "Yandi J", "Passage of Time", Sir Ira Simmons Secondary School, (372 points)