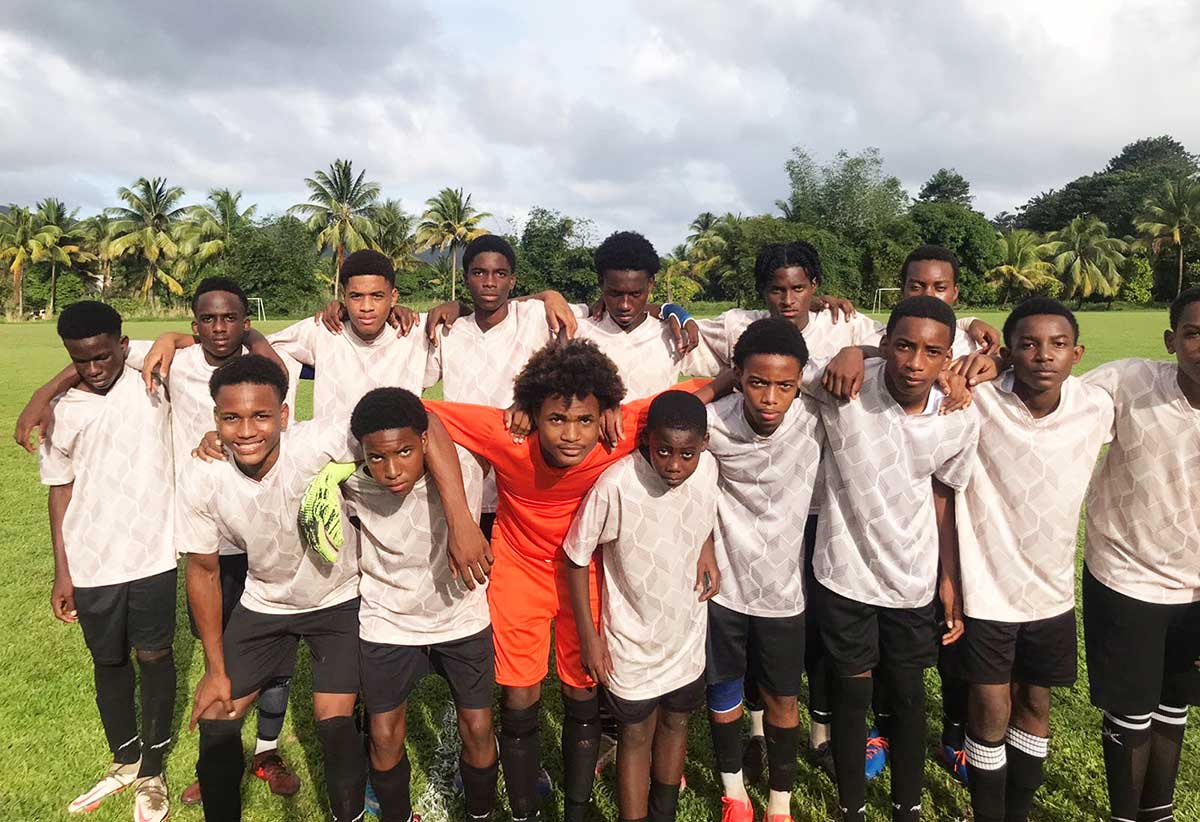 The SLFA Inc. Boys Club Zonal Under-17 competition continued, last weekend, at the Technical Centre with a flurry of goals as the winning teams went on an all-out goal spree.
On Saturday, Pioneers got the better of 1987 All Stars 7 – 3. For Pioneers braces were scored by Deandre Poyotte 6th and 24th, Lama Cazabbon 13th and 48th min., with added goals from Glenroy Janvier in the17th minute, Shion Medrick a penalty in the 65th minute and Gerick Gittens in the 66th minute.
Jeremiah St. Brice got an own goal in the 41st minute, while Adrian Auguste and Johnte Seraphine in the 50th and 72nd minutes respectively scored for 1987 All Stars.
New Generations went on a rampaging goal-spree to hammer Hill Top Ballers 14 – 1.
Goals for the winners came from Rickelme Lionel with a beaver trick in the 2nd, 15th 19th and 40th minutes. Hat tricks from Shevon Bryon in the 28th, 36th and 48th minutes and Baggio Edward 29th, 50th and 54th minutes, added to conversions from Andre Martelly 43rd, Arnez Constantine 60th, Dervaj Edward 67th, and Quan Herman 78th minutes.
On Sunday, the results were as follows:
In a lopsided encounter, Black Panthers demolished Black Eagles 9 – 0. The Panthers goal scorers were Inaneo Sylvester with a hat trick in the 33rd, 46th and 65th minutes. Other scorers included braces from Eymani Butcher with goals in the 32nd and 73rd minutes, and Dante Serville in the 45th and 71st minutes, with netters from Kurt Calixte 29th, and Manishe Louis 47th minutes.
Lancers FC defeated Flames United 4 – 0, with a brace from Ajani Sanganoo in the 7th and 9th minutes, Noah Ermay 33rd and Deshawn Paul 64th minutes.
In the final game, Valley Soccer thumped CT Foundation 12 – 0.
Their goal scorers were Mervin St. Romain in the 17th, 37th, 45th, 47th, 57th, 66th and 78th minutes, (two of them penalties) Rawson Harris 55th and 56th minutes, Clay Dorius 40th, Alex Devaux 64th and Rivaldo Charlemagne 75th minutes.
Meanwhile, the Ministry of Youth Development and Sports, Schools competition entered its qualifying rounds, last Friday, with the Quarter Finals of Under-19 Football competition.
At the SLFA's Inc. Technical Centre, Grande Riviere Secondary and Babonneau Secondary played to a pulsating and exciting 2 – all draw.
Following the ensuing penalty shootout, Grande Riviere Secondary booked their way to the semifinals 4 – 2.
At the end of regulation time, Jiovani Alexander and Mc Wayne Aurelien scored for Grande Riviere Sec. in the 2nd and 43rd minutes respectively while Riquelma Lionel and Jeakim Nelson scored for Babonneau Sec in the 40th and 45th minutes respectively.
At the SAB Playing Field, Patricia D. James Sec. and Soufriere Comprehensive Secondary School [SCSS] played to an exciting 3- 3 draw.
SCSS advanced to the semifinals with a 4 – 2 victory via the penalty shoot-out.
Jon Wilfred, Maniche Pierre Louis and Cassian Jn. Baptiste scored for SCSS in the 3rd, 12th and 46th minutes respectively.
Patricia D. James Secondary goal scorers were Marcus Harrow 49th, an own goal by K. Charlouis in the 52nd minute and Kyrie Pelage in the 70th minute.
At the Soufriere Mini Stadium, St. Mary's College edged out Stanley Jon Memorial 1- 0 with a goal by Jajmanuel Xavier in the 63rd min.