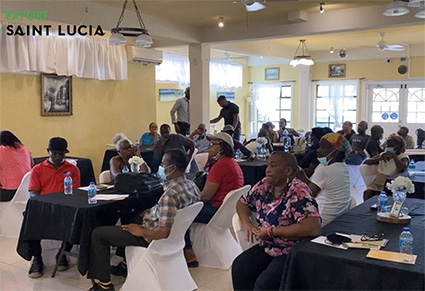 The Government of Saint Lucia through Export Saint Lucia is in receipt of seed funding from the Food and Agriculture Organization of the United Nations (FAO) to implement a project entitled "Empowering Women in Food Systems and Strengthening the Local Capacities and Resilience of SIDS in the Agri-Food sector". The project is being implemented, in part, on behalf of the Ministry of Agriculture, Fisheries, Food Security and Rural Development.
This project aims to strengthen women's participation and benefits from the development of specific value chains. The project will achieve this by improving access to resources, providing innovative and climate-resilient services, technologies, and  practices. The two selected value chains are sea moss and Apiculture (honey).
As Export Saint Lucia begins to take more concrete steps toward the completion of this project, a stakeholder session was organized. Participants at that session were introduced to the sea moss value chain, as well as presentations on gender awareness.
The stakeholder consultation is a valuable step in the efforts to broaden the island's sea moss offerings to complement the already successful sundried sea moss exports and to assess ways in which the apiculture industry can be further developed.