Fresh off the success of his breakout single "African Queen" this past Spring/ Summer, internationally renowned guitarist and composer Ronald "Boo" Hinkson has struck gold again with his new single "More Over" on Zephryn Records. Released prior to the Christmas holiday season, "More Over" has slowly gathered steam as the music of the holiday season has fallen off of the playlists of the major Smooth Jazz outlets.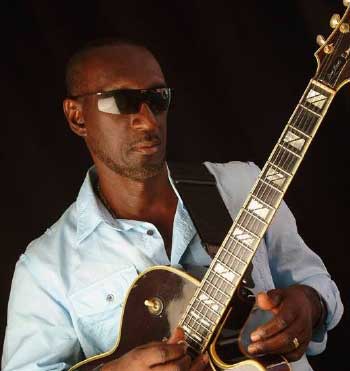 Now you can hear the sounds of St Lucia's favourite son playing on Smooth Jazz formats all across the U.S. and abroad, including frequent spins on SIRIUS XM RADIO for its 35 MILLION subscribers, and MUSIC CHOICE for its 65 MILLION plus households! In addition to SIRIUS/XM and MUSIC CHOICE, Boo Hinkson's music can also be heard on RADIO GUITAR ONE where his previous single, "African Queen" spent several weeks at #1 on the SMOOTH GUITAR chart this past summer, proving that real talent can't be quarantined (or marginalized as "local music") even from places as far away as St Lucia.
In a recent interview on Senegalese T.V., Zephryn Records Vice President and COO, Keith Lawson, expressed that "Boo Hinkson is a testament to the fact that real musicians find a way. If you work hard and stay committed, your music and talent will speak for itself…especially in these days of universal connectivity". As an invited guest of the U.S. Embassy of Senegal's Arts Envoy Program, Lawson was able to expose the country to music by Hinkson during his visit in early January/February.
The feedback and response to Boo's music during that visit started the momentum which led to Zephryn releasing "African Queen" in the U.S. in the subsequent weeks after his return. The single went on to dominate the Smooth Jazz radio format for most of the summer, clearing the path for Hinkson's current single to take it to the next level!
"More Over" is the 2nd single released from Hinkson's upcoming Fourth studio release on Zephryn Records. The CD is sure to please longtime Boo Hinkson fans as he showcases his technical prowess while infusing his signature Caribbean flair. From St Lucia to Senegal to the United States and beyond, Ronald Boo Hinkson's path to this moment may not be traditional, but he wouldn't have it any other way.
"More Over" by Ronald Boo Hinkson is available on Itunes, Apple Music, Amazon, CDBaby and wherever else you find good music.