ECONOMIC Development Minister, Guy Joseph has denied media reports that newly built structures on the site of the St Jude Hospital Redevelopment Project have been demolished.
Last week photos emerged on social media showing the blue roof on one recently constructed building on the site being demolished sparking comments that some buildings were being knocked down.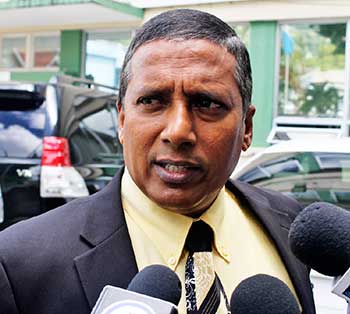 Parliamentary representative for Vieux Fort South Dr Kenny Anthony took to Facebook over the weekend headlining an article called 'Why the Denial of Access', in which he likened the site to 'a high security area."
"Believe it or not, no one is allowed to take any footage unless permission is expressly given by Guy Joseph, Minister for Economic Development. Cameras are not allowed. Don't even try to go in with a knapsack. And to ensure these restrictions are enforced, the government has appointed its own security personnel to guard the site," Anthony wrote.
The former prime minister said that the construction was to be managed by the Taiwanese under a 'Finance and Build Arrangement.'
Joseph, responding to the news that the buildings on the site were being demolished, said that "the idea that St Jude Hospital is being demolished is simply not true."
"There are two of the buildings that were problematic and these are the buildings that are being addressed as far as demolishing is concerned. Everything else remains. In reality only two small buildings, which were constructed at the site are being taken down because they are structurally unsound. Ninety percent of the buildings remain," Joseph said.
Anthony responded by questioning whether the Development Control Authority had granted permission to demolish any of the buildings on the site.
Prime Minister Allen Chastanet last week said that 100 additional construction workers were added to the crews working on the site and that at the end of the week a second shift will be added. And by the end of this month a third shift.
"This will take operations at the site to 24/7 and full steam ahead as 300 plus men and women work on one of the most important projects in the history of Saint Lucia," Chastanet wrote on Facebook.