ON the heels of the 14th edition of the ARC Flotilla which took place last weekend and ahead of the first ARC boat to cross the finish line in a couple of days' time, the Reduit Beach in Rodney Bay will be a hive of sailing activities over two days when the Saint Lucia Yacht Club stages the 8th edition of the Mango Bowl Regatta.
Today races will start from 9.00 a.m. and tomorrow, (Sunday), at 8.45 a.m.
To date 21 boats have been confirmed by the organizers, three in the racing class, five in the cruising class, seven in the surprise class and six in the J24 class.
The participating countries and number of boats are Grenada (1), Antigua and Barbuda (1), Barbados (1), Martinique (12) and host Saint Lucia (6).
In terms of completion, Cruising 1 and Cruising 2 categories will have 3 races on Saturday and 2 on Sunday. In the J24s and Surprise categories, participants will compete in 6 races today and 3 races on Sunday.
The participating boats from Saint Lucia include No. 22 Pagagyo (skipper/ Ben Thompson); No. 23 Ting (skipper/ Simon Handley; No. 30 Jabal (skipper/ Nick Forsberg); No. 31 Grayling (skipper/ Richard Spalding); No.32 Scotty Boy (skipper/Fredrick Sweeney); No. 35 Loose Cannon.
From Antigua and Barbuda: No.24 Cricket (skipper/Sandy Mair); from Barbados: No. 34 phoenix (skipper/ Greg Webster); from Grenada: No. 33 Die Hard (skipper/ Robbie Yearwood).
From Martinique: No. 25 Lady Blue (skipper/ Jean Michel Pastourley); No. 27 Panidat (skipper/ Laurent Joulin); No. 10 MaisonSatec (skipper/ Jean Michel Figueres); No. 13 Valentin Lindor (skipper/Marc Dubourg); No.18 Open the Barre (skipper/Lionel Baud); No. 02 Digilife (Vinney Saintenoy); No.3 Adsl (skipper/ Francois Chavez); No.04 Helium (skipper/ Franck Pennors); No. 05 Cockreyol (skipper/Mia Techer); No.06 Denebola – Didier (skipper/ DeliceNouel); No. 7 Wind (skipper/ Mateo Ballan) and No. 8 Aquanet Piscines (skipper/ Stanley Dormoy).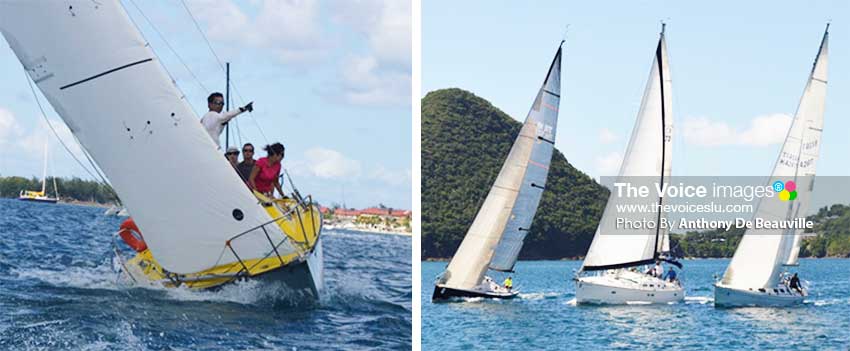 At a press conference held recently, SLYC Commodore Peter Lang, Regatta Director Lily Bergasse, and a few sponsors were among the officials in attendance.
Commodore Peter Lang gave a brief history of the club stating, "The SLYC was founded back in 1966 which is about 53 years ago. We are very proud of our club; it is a small non-profit club that has focused on the youth of Saint Lucia."
He also spoke highly of Saint Lucia's two leading sailors, Stepanie Lovell and Luc Chevrier, who both competed at the recently held Pan American Games in Lima, Peru and are trying to qualify for the 2020 Olympic Games in Tokyo, Japan. He further went on to thank the Saint Lucia Olympic Committee (SLOC) Inc. for its continued support of their programmes.
Earlier this year the SLYC sent a small team to the Optimist World Championships in Antigua. During the press conference Lang recognized two of the participants, Bryce Batrick and Celestino Nelson, and their coach Fredric Sweeney.
In terms of the Mango Bowl Regatta, Lang said, "This is a big thing for this club. It is where we invite all the people from the Caribbean and further afield to come and sail in Saint Lucia and have a good time. It is normally very well attended. We are talking about 20 plus boats."
"This year, for the first time ever, Saint Lucia has a junior team competiting in the J24 category. They were all present at the press conference, where the Commodore asked them to come up and allow the media and the various sponsors present to see them for the first time, which they did."
In recognizing and thanking the various sponsors, Lang said, "Without them, we would not be able to put on this good show that we have."
Regatta Director Lily Bergasse said, "Twenty boats had registered for the regatta and I am confident that on race day we will reach our target of over 25. So far there are 12 boats from neighbouring Martinique with other entries coming from Antigua, Grenada and Barbados plus, of course, the host country Saint Lucia."
The Mango Bowl is one of the few regattas that have four different classes of racing. With the exception of the cruising class, all races take place in the bay by Reduit Beach. The cruising class starts in the bay then goes around Pigeon Island to BodyHoliday and back."
She continued, "Frederick Sweeney, who was the winning skipper in 2018 in the J24 class on board Attitude, renamed the boat 'Scotty Boy', in memory of Scott Anthony who passed away a few months ago. Anthony, originally from Des Barras, joined the SLYC when he was 13 years old and later made a career out of sailing. Hopefully, Sweeney and his crew will successfully defend their title, all in the name of 'Scott Anthony'.
The sponsors onboard for this year's event include Body Holiday, Saint Lucia Distillers, Saint Lucia Sailing Association, IGY Rodney Bay Marina, Massy United Insurance, Island Water World, Admac, Café Ole, Greening the Caribbean, Scribble Design Studio, Cariquisine and Natrapure.