It was a morning of recognizing and contributing to some worthy causes in Saint Lucia as the proceeds of the Prime Minister's Independence Ball 2019 were presented to fifteen (15) local charities and organizations.
One after the other representatives spoke about the work of their organization and how thankful they were for the support which stems from an unprecedented level of contributions made to the third annual Prime Minister's Independence Ball, held on February 23rd 2019 as part of Saint Lucia's 40th Independence Anniversary activities.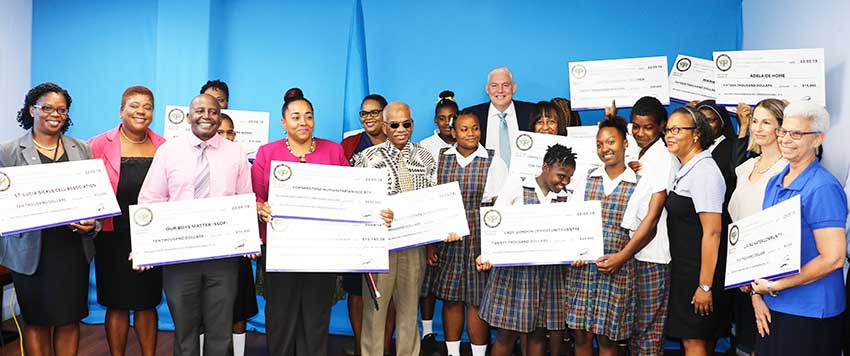 "When I got the call it really was a miracle," said Ms.Antonia Joseph of the Dunnottar School at Thursday's ceremony. "I sat there looking at our immediate needs list and I thought where will the money come from. We need certain things as simple as teaching materials, proper seating. And I thought God will provide. It was five minutes later the call came in and I was one of those who screamed on the phone. A miracle. And so Mr. Prime Minister and everybody involved in this, thank you so much! This is meeting a great need for our students, families, teachers and it gives me more motivation because I know I am not doing it alone. I have the support of the Office of the Prime Minister and his team."
Since inception the charity ball has been a major success, with this year exceeding expectations. In 2017, the event raised $59,490 which was donated to the Upton Gardens Girls Centre. In 2018, the Ball raised just over $65,000, with $6900 going to Cornerstone House, $15,000 going to the Holy Family Children's Home, $15,000 to the School of Ballet and Modern Dance and $30,000 to the Saint Lucia Blind Welfare Association. In 2019 tickets and donations to the Ball raised almost half a million dollars.
This year's recipients included: Living Water Community – $5,000, Centre for Adolescent Renewal & Education (C.A.R.E) – $10,000, Our Boys Matter (SSDF) – $10,000, St. Lucia Sickle Cell Association – $10,000, National Community Foundation (NCF) – $15,145.38, the Marian Home – $15,000, Adelaide Home – $15,000, Comfort Bay (Senior Citizens Home) – $15,000, Lady Gordon Opportunity Centre -$20,000, Dunnottar School – $20,000, Faustin Home for Children – $20,000, Womens' Support Centre – $20,000, Cerebral Palsy Association of St. Lucia – $20,000, the St. Lucia Blind Welfare Association – $25,000 and the Cornerstone Humanitarian Society, a rest home for the homeless which received $250,000!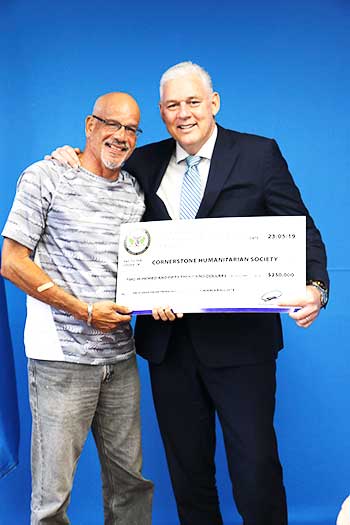 Latoya Nicholas, who now runs the foster home for children in Soufriere, explained how thankful she was for the assistance: "The Faustin Home was established 40 years ago by Ms.Faustin who was always lending a hand to those in need and she decided to just start taking in children and I was the first foster child that she had. After she passed away I decided to continue her legacy because I know what it is to not have parents or someone to care for you. I am so thankful for this donation on behalf of the children at the home."
"Overwhelmed," was how Mr. Desmond Phillip of the Cornerstone Humanitarian Society described the contribution of $250,000. "I can't begin to express how thankful we are. This is certainly going to make a deep impression on the service that Cornerstone provides and there are so many homeless persons out there who require assistance at Cornerstone House but because of the deficits we are not able to help all. This will help us make those changes to help the homeless around Castries and Saint Lucia."
Chairperson of the Independence Committee, Mrs. Jeanine Giraudy-McIntyre, gave immense thanks to the Prime Minister's wife Mrs. Raquel Du Boulay-Chastanet who has spearheaded the ball for the last three years.
"While as I mentioned before, the Independence Committee participated in the process, we must say here that the success of the ball has come out of the leadership, imagination, tenacity and hard work of Mrs. Raquel Du Boulay-Chastanet, who each year excites persons around her to put in the effort and share in the vision of this event,"
noted Mrs.Giraudy-McIntyre, adding that although the Ball was a gala affair, "we never lost sight of the fact that the purpose of the event was to raise funds for worthy charities."
In his remarks Prime Minister Honourable Allen M. Chastanet said he was inspired "by the people of this country who continue to remind us of how resilient we are."
Prime Minister Chastanet spoke about the charitable work of his wife in assisting the police and firemen with her own charity Make It Happen foundation and with the immense work she has done in organizing the Prime Minister's Independence Ball. The Prime Minister also thanked all those who assisted in the planning of the event, those who attended the Ball and the all donors from Saint Lucia and overseas.
"I want to encourage all of you to continue in the incredible efforts that you are making. Each one of you are making a tremendous contribution," Prime Minister Chastanet saidaddressing directly those who run charitable organizations. "All of you display incredible characteristics of tenacity, of caring and compassion. We have tried our best to spread the funds out as best as we possibly can and certainly we are going to continue this journey together of raising more and more funds.I just want to say how proud I am of you in helping those vulnerable people and giving them the opportunity to be able to get out of bed everyday and to be inspirations. All of you are my heroes."
The Prime Minister also spoke about Government's overall development plans for economic growth to lift Saint Lucians out of poverty and empower them. He spoke about the positive economic indicators in the country which will allow the Government and the Private Sector to provide more support to such local organizations.