The Judicial Education Institute (JEI) of the Eastern Caribbean Supreme Court (ECSC) held a five-day training workshop for staff of the Saint Lucia High Court. The workshop was held at the Nyerah Court at Vigie, Castries from April 1-5, 2019 and was facilitated by experienced and senior staff of the Court.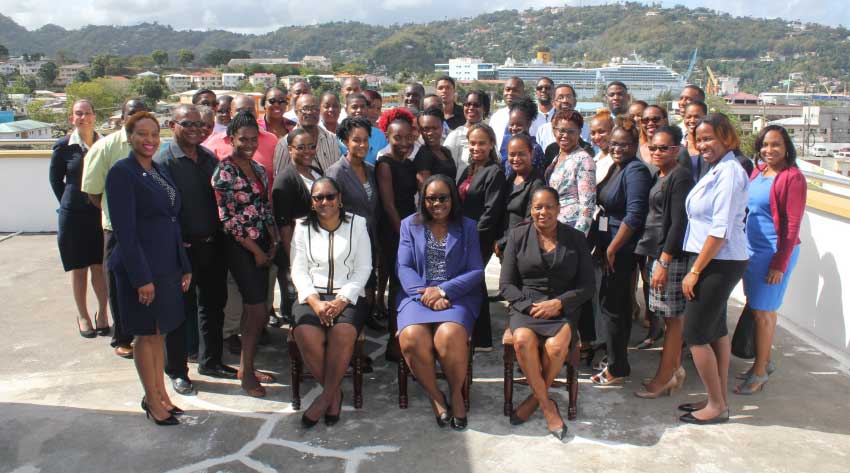 During the brief opening ceremony, Her Ladyship the Hon. Dame Janice Pereira, Chief Justice emphasized the importance of the work of the High Court office and compared it to the running of a train with its well-oiled engine. Chairman of the JEI, Justice Gertel Thom encouraged the case managers, clerks of court, secretaries, bailiffs, IT technicians and administrative staff of the court who participated to put their new knowledge to work straight away.
The presenters, including Justice Kimberly Phulgence and Master Agnes Actie, focused on expounding on the workflow of the Appeals Process, rules and policies governing Administrative Orders, the function of the clerk of court, the importance of Customer Service and walked through key components of the use of Audio Recording Systems and various IT platforms in the courtroom. Participants were engaged in role-playing and group discussions to emphasize the skills and competencies needed in the court office environment.
Participants described the training as timely, informative and opportune, in honing their skills and professional development.
The training was conducted as part of the JEI's continuing education programme which seeks to provide continuous training and development to judicial officers and staff attached to the ECSC.
The JEI of the ECSC is a committee of the Office of the Chief Justice. The Institute is governed by the Chairman and the Management Committee which are appointed by the Chief Justice.