The Prime Minister's Independence Ball came to life at the Sandals Grande Beach Resort and Spa on February 23rd, 2019. By all accounts, the event was a memorable success, celebrating the island's independence, and raising much needed funds for a worthy cause.
As part of last weekend's events, one of the stand out presentations came from none other than renowned Saint Lucian sculptor Jallim Eudovique, who was one of the featured speakers.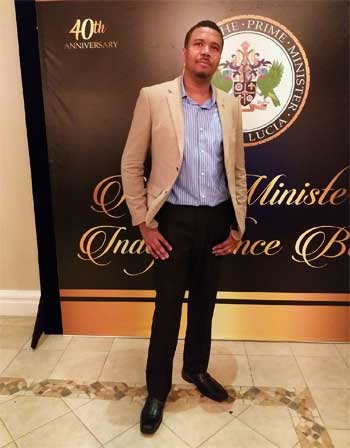 Eudovic began his presentation with an introduction of self. Him…"a young, vulnerable boy too shy to speak."
"When he did stuttered uncontrollably and with a heavy lisp to top it off," he added. "A young boy with an unbridled imagination, who saw too much in the clouds, wood-grains, puddles of water, shadows, chewing gum and peeling paint. A young boy who today would be easily diagnosed with ADD because he was seldom in the room as he drifted too easily into space, floating amongst the stars as if they were fireflies, only to be brought back to earth by the strident voice of some unfortunate school teacher, already agitated by the graffiti on the walls, etchings on the desk, and scribbles in the exercise book margins… Demanding that he stop daydreaming at once."
It didn't take long for the audience to figure out that he was talking about himself. He took everyone further along on his journey of self-actualisation. Jallim's story began on December 6, 1980, when he was born into a creative family in a country that a year earlier received its independence from the British Empire.
"Although I was not aware of it at the time, the society that I was born into was a wide-eyed, optimistic, hopeful one, jaded by the angst of colonialism, one that projected all its hopes on the first generation to be born into sovereign Saint Lucia."
According to Jallim, his father, the venerable Joseph Eudovique who had taken the art world by storm in the past decade and was still in his prime, was no exception.
"He drilled my five siblings and I, two girls and four boys, to stay our feet away from mediocrity because the world that we were now a part of demanded excellence. And as he had sculpted the roots and stumps of the Laurier Canelle, which he rescued from decomposition on the forest floors, he decided to rescue us by sculpting us into men and women. By his own insistence we had no television, but instead a set of children's encyclopedia. He wanted our minds to flourish between their pages because education for his generation was a privilege granted to a select few."
By the age of five Jallim said his father had hoisted him onto one of the many high stools in his studio, alongside his many apprentices. No sooner was he given his first chisel and block of wood.
"I was a man now and had to prove my worth," he chuckled. "Being the last of the Eudovique bunch playing catch up with my other siblings was no joke. Added to that my father seldom wore kid's gloves.
Jallim described the years that ensued as "challenging and fiercely competitive." His father and mother struggled to sustain a business designed for tourism in an era when bananas were king.
"My siblings and I struggled for superiority on my father's workbench," he said.
At school, Jallim's talent had become apparent and the commissions came flooding in as early as Kindergarten.
"I was an artist for hire. I did everything from alphabet charts to carnival costume designs. I participated in lead roles in plays, dabbled in paint and poetry, yet under the veneer of it all I struggled desperately with identity. I had a voice that was not mine and perhaps my speech impairment was an act of rebellion by my tongue, which felt betrayed by my narrative. A narrative which parroted that of my father's. I had to find my own voice and purpose. I was an ant under a canopy of Giants. Sir Derek Walcott, Sir Dunstan St. Omer, Leeroy Clarke and countless other national and regional icons converged regularly at my fathers' studio. They were constant reminders that it was not okay to be good, you had to be great!"
Upon graduating from St. Mary's College in 1999, he seized the moment and decided to be a career artist who would take the world head on.
"My participation in the M&C Fine Arts Competition won me a few accolades and put me on the national radar," he narrated to the audience. "Within a short space of time the regional and international world came calling. I exhibited in Ottawa Canada, London, New York, Miami, Paris and extensively in Martinique."
However, the sculptor said, it was his sojourn to Niger, Africa in his mid-twenties that changed his life forever.
"Not only did I re-connect to the motherland, but it was there I came face to face with an undeniable truth which chased my lies, insecurities and excuses like light chases darkness," he said. "In the most impoverished country in Africa, I discovered that our true wealth is not money, resources or material acquisition but in the value of the lives that we share with others. I learnt that we are our brother's keeper and that our greatest responsibility was to each other."
And that was the thing he said that kept millions going in the face of destitution. They had tapped into an infinite source of creativity through spirituality and had dispelled the popular notion that poverty begets crime.
"It was then and there I found my purpose. My narrative had instantly changed, I was going to use my art as a catalyst for introspection. I did not want to create just another sculpture any more but rather beacons that shone light into the depths of the soul and at the core of humanity.
Just as soon as he returned home, he started to develop a style of his own.
"I'd found my voice now, I needed a new language to express it in…and not before long one of my most seminal moments happened," he said. "China came calling. The city of Changchun wanted me to propose for the world's largest sculpture park but I had to compete with thousands of Chinese and International sculptors and to make a long story short I won a spot. However there was a catch. The Chinese requested that the sculpture be made in bronze, a medium that I was totally unfamiliar with at the time."
Not one to give up easily on a great opportunity, Jallim told them that he was totally competent in bronze, ordered a book on Amazon called "From Clay to Bronze," read it on the long flight to China and when he landed… "I was a self- proclaimed bronze sculptor!"
"To date I have created seven monumental bronze sculptures for three different Chinese cities with many more on the horizon and… oh yeah, one independent monument for Saint Lucia."
Jallim has created sculptures for royalty, presidents, prime ministers and diplomats.
"I should mention that a numerous amount of these recent commissions have come via The Prime Minister's office, so I think it's safe to say that our PM has great taste in art and the government by extension supports local artists… something we need a lot more of … Mr. & Mrs. Private sector."
Jallim ended his presentation on an inspiring note. He wanted to impress upon all the value of finding one's voice and passion.
"That you should not be afraid to dream big or be epic," he said. "Find what is unique about you, work like crazy to develop it and be confident that it's good enough to add value to the lives of others."