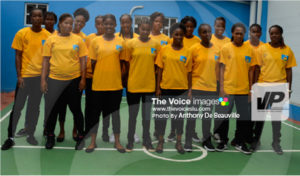 A twenty-five member Saint Lucia women's senior football team is currently in Saint Vincent and the Grenadines to participate at the Windward Islands Senior Female Football Tournament.
The team left the island earlier this week via the George FL Charles Airport and is under the watchful eyes of head of delegation/manager, Karen Fowell, who will oversee the squad of twenty players and four-member technical staff.
The team was scheduled to commence their campaign last evening against Barbados. Team Saint Lucia will be relying on their captain and midfielder Elisa Marquis to impose her dominance and shape the outcome in Fair Helen's favour.
St. Croix Albert has been appointed head coach of the team, which has been committed to a strict training regime in preparation for the tournament following a four-month training programme, which also included camps and local friendly matches.
Also in SVG is SLFA Technical Director, Cess Podd, who took time out prior to their departure to convey his contentment with the team's level of preparation and the general momentum of women's football on the island. Podd is anticipating a very impressive performance from the girls in this championship over the next few days.
The Windward Islands Women's Championship will this year feature four teams: Saint Vincent and the Grenadines, Saint Lucia, Barbados, and Grenada.
Dominica's usual participation in the annual tourney has been impeded as the country is yet to fully recover from the devastation following the passage of Hurricane Maria in September. However, in support of Dominica's cause, all proceeds generated from ticket sales will be contributed to the island's football association to assist with their speedy return to competitive football.
The tournament will run until Sunday, as Saint Lucia goes on to face Grenada and Saint Vincent and the Grenadines respectively. The emerging victors will be the team which amassed the most points throughout the championship.
Indeed, great things are expected from the Saint Lucian women as they approach this competition with utmost seriousness as it leans upon the heels of next year's Olympic Qualifiers. This tournament then serves the vital purpose of much-needed international practice ahead of those games.
The full squad reads: Elisa Marquis (captain), Ayana Vitalis, Namaly Flood, Megesh Savery, Cynthia Esnard, Emma Clovis, Tangi Lansiquot, Shamalyn Albert, Chresilda Cox, Frannie Wilkie, Zena Amedee, Tamara Edward, Samara Edward, Ketina Joseph, Marva Herman, Skye Gerald, Shanet Joseph. and Kenna Lionel.