CONTINUING her good run on form where she left off at the Grenada Invitational last month, Saint Lucia's multiple sportswoman of the year and most decorated track and field athlete, LevernDonaline Spencer, successfully defended the title she won last year at the prestigious Drake Relays, in Iowa last Friday.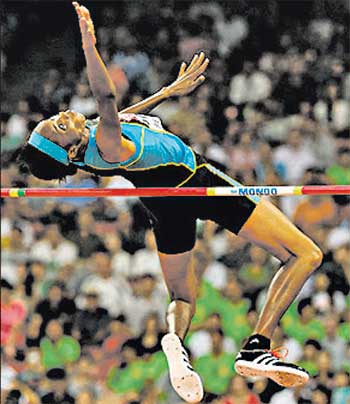 Coming up against a field which included some big name jumpers, Spencer, the three-time Olympian, was the only one on the day who was able to get into the 90s when she successfully negotiated the bar at 1.91 metres to win the gold, a feat she had accomplished at the same event last year.
Placing second and third respectively were Rio Olympics finalist Alyxandria Treasure of Canada, and 2012 Olympic silver medalistBrigettaBarett of USA.
Spencer, the region's No. 1 female high jumper, has since returned to her training base in Athens, Georgia to continue preparing for a busy 2017 season which includes competing in the Caribbean islands of Guadeloupe and Jamaica later this month.