PRESS RELEASE – THE curtains came down on St. Lucia Jazz 2017 at Pigeon Island last Sunday with a stellar performance by Grammy Award-winning singer and actress Vanessa Williams.
Williams bared her soul to the faithful at Pigeon Island, speaking candidly about how she bounced back after being stripped of the Miss America title by turning to music and acting to show the world what she's made of.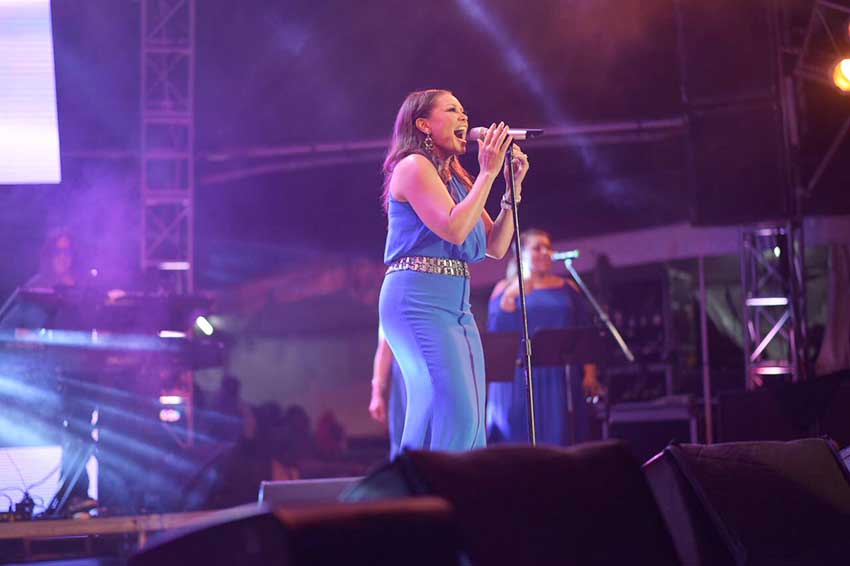 Her set was a tapestry of some of her best-known hits, like Dreaming, Sweetest Days, Love Breaks Your Heart (Beverly Hills 90210 soundtrack), and Colours of the Wind from the Disney film Pocahontas – which won a Golden Globe, an Oscar, and a Grammy for Best Original Song.
She performed a couple of classics, like Raining All the Time by Lena Horne, and Everlasting Love by Chaka Khan, whom she said she idolized, as an aspiring singer/performer. Not surprisingly, she Saved the Best for Last, much to the delight of the fans who wanted more. She obliged with I Got Work To Do and I Bet You Never, ending with a Latin dance and thanking patrons for all the love and energy.
Rachel Ferrell gave a somewhat cathartic performance, which centred around the worth and dignity of woman. Sunday was Mother's Day and her message resonated with the women in the audience.
She did a neo-soul number entitled Sister, and sang Happy Mother's Day to all the women present, telling them: "I'm giving you props, respect and dignity."
Ferrell, who has a six-octave voice, showed off her vocal dexterity and range in song as well as in scatting, shrieking and bebop. The Berkley-trained Ferrell definitely brought the Jazz flavour to Sunday's show.
Victor Provost, a pannist who hails from the Virgin Islands, kept patrons entertained on a hot and humid Sunday afternoon at Pigeon Island. Provost, who has a jazzy soca style, got patrons grooving while the drinks flowed.
His set featured original songs from his new CD Bright Eyes, dedicated to his 3 year-old daughter Victoria-Rae. The CD features acclaimed musicians like Paquito de Riviera, Etienne Charles, Ron Black, and Joe Locke.
St. Lucia was well represented on Main Stage by the Rupert Lay Quartet with female vocalist Tricia George, who charmed the audience with her renditions of the Roy Ayers composition, Everybody Loves the Sunshine and Erykah Badu's On and On, giving it her own twist. Fittingly, Rupert Lay ended his set with the instrumental intro of Sweet Mother — wishing all mothers in the crowd Happy Mother's Day.
A brass section comprising musicians of the Royal St. Lucia Police Band serenaded the Pigeon Island crowd as they made their way on stage, giving patrons a taste of what's to come in the Roots & Soul Festival in June.
Martinique-based group Malavoi closed off the 2017 St. Lucia Jazz Festival with a mix of jazz, compa, zouk and salsa, which was well received, especially by the French visitors in the crowd.
CEO of Events St. Lucia Inc., Thomas Leonce, says there are lots of lessons to be learned from this year's Jazz Festival – the first under the Soleil brand. He said: "We will meet to review Jazz 2017 in terms of the hits and the misses. We would need to look at the number of artistes on the line-up for the various shows, the mix between straight-ahead and contemporary jazz, the ability of artistes to cross genres, marketing, promotions, and so on. We need to look at the time period between the festivals, the target audience for each festival, travel patterns, and how we can maximize our resources to deliver quality events to patrons."
Leonce disclosed that Events St. Lucia Inc. is also looking to explore new venues for the various events, as was done by the West Coast Jazz Committee.