IN a society where even getting people to consider attending a theatrical production, is a problem, Christopher Duncan nevertheless continues to strengthen his passion for bringing magic to the stage through his acting. The self-described cultural activist has dedicated nearly two-thirds of his life to the craft and it's likely that he's willing to make the stage his permanent home for many more years.
The forty-seven-year-old actor, also known as "Der Zol", was born and raised at Yorke Hill, La Clery before his mother, Clarita, moved the family to Maynard Hill, Pavee, Rock Hall and Agard. He attended St. Aloysius R.C. Boys' Infant and Primary schools before enrolling at Entrepot Junior Secondary and later Castries Comprehensive Secondary.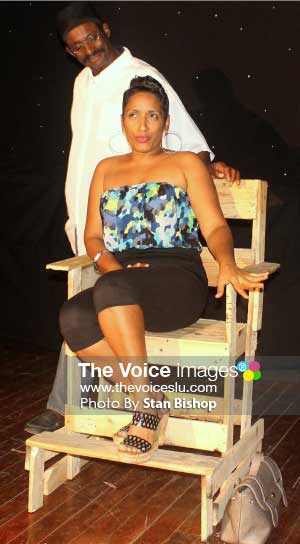 His introduction to the arts came by way of his father, Patrick (with whom he shares his nickname), a carpenter, who also made and played musical instruments and often teamed up with his uncles and grandfather going around the community playing the guitar, violin and banjo at Christmastime.
"He always took me with him, so I got deeply into the music thing because he often taught me the songs and how to play the guitar," Duncan said. "So that was my first exposure to the cultural aspect of things."
As part of the graduation ceremony as he was about to leave Entrepot Junior Secondary in 1984, Duncan got his first taste of acting in a theatrical production, playing Benjy in playwright Roderick Walcott's "The Harrowing of Benjy" which was directed by Allan Weekes. That experience was the catalyst the youngster would never forget.
"I enjoyed that. It felt good. So everything else sprang in that direction after that. I went to Castries Comprehensive where I met Mrs. Teresa Hall. She was having workshops to recruit dancers for an upcoming quadrille competition for secondary schools. A group of us decided we would go to the auditions to give Mrs. Hall trouble. It turned out differently because I enjoyed the workshops and took to it."
As the Castries Comprehensive Folk Dance Troupe, Duncan and his schoolmates eventually won the title in two of the three years they entered. In 1988, he joined Les DanceursTraditionelle de St. Lisi and two years later became a founding member of Helen Folk Dancers.
In 1989, Duncan began teaching at St. Aloysius R.C. Boys' Primary where he taught the Grade Two class for two years before leaving the island for two years, returning later to Saint Lucia to take up teaching English Language, Social Studies and Physical Education at Bocage Senior Primary.
Duncan later took up studies at the Division of Teacher Education at Sir Arthur Lewis Community College (SALCC), following which he taught Special Education at Dunnotar School and later Myco University College in Jamaica where he pursued a Diploma in Special Education.
In 1989, Duncan played a vagrant in the play, "Boulevard", directed by Christine Samuel. He made his introduction on radio in 1991, playing Danny in the popular on-air drama, "ApwéPlézi", directed by Kentry Jn. Pierre, Michael Fontenelle and Milton Branford.
Duncan said teaming up with writer/director Hayden Forde in 2003 was a groundbreaking moment for him. His character, "Leather", in the play, "Hustlers" (written by Gandolph St. Clair and directed by Forde) turned out to be the eye-opener he needed.
"That was my biggest work up until then," Duncan, said. "That's when I got on-the-job training by learning all the other things that had to do with theatre."
In 2005, Duncan appeared in scores of episodes of "Constitutionally Speaking", public service announcements produced by the Constitution Reform Commission (CRC) that aimed at sensitizing the public. The episodes, which ran on television, were directed by Duncan's former tutor at SALCC, poet/dramatist KendelHippolyte.
A year later, Duncan returned to the stage for "War", a two-character play directed by Michael Fontenelle, which saw him acting alongside calypsonian Nadiege. Working with Fontenelle, he said, was akin to boot camp.
"Mikey is the toughest director and I'm not sure I want to work with him ever again," he said with a straight face that quickly turned to laughter. "He wants to make sure that every word in the script is said as it was written."
Having been exposed to music since his boyhood days, Duncan decided to take to the stage for another art form – singing. After some pleading from Fontenelle who told him he had a powerful song, Duncan gave in and entered the Inter-Commercial House Calypso Competition in 2008. Things did not go as planned, however.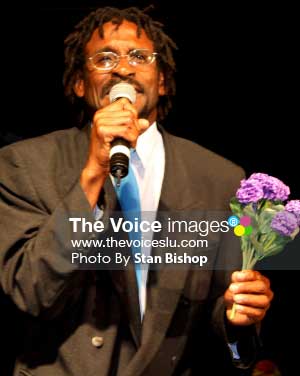 "It was a bad experience for me because I was involved in a lot of stuff at the time and had to learn a new song," Duncan admitted. "It was also my first time going on stage in that kind of setting. They gave me the microphone, I spoke into it and heard nothing. I tried again but by that time the music had already started. It did not go down well because I forgot more than half of the song."
In 2013, Duncan was featured in the radio drama, "Calaloo", a multi-part series directed by Milton Branford which aimed to sensitize people about social ills such as drug abuse, teenage pregnancy and crime.
Never one to question his talents, Duncan's roles broadened when he was charged with directing the onstage presentations for a handful of calypsonians from Take Over Tent in 2014, including Black Pearl, Lady Spice, Lady Leen, Herb Black and Achiever, with the latter two making it to the finals.
"It was a wonderful year for me in that aspect because I had turned a different leaf by going into a different kind of production," he said.
As part of Saint Lucia's participation at CARIFESTA XII in Haiti in 2015, Duncan played "Dandan" in "An KwiDouvanJou" (or "A Scream Before Dawn"), a play written by Fontenelle and directed by Esther Matthew. Other characters included Richard Ambrose, Black Pearl, Joachim Clauzel and Sadia Chandler.
Later that year, he entered the 3rd annual Kweyol Song Competition organized by De Soca-Lypso Revue, performing the song, "An TiPican", written by Fontenelle and arranged by Hugh "Ziggy" James.
For the past six years, he has been teaching Physical Education at Gordon & Walcott Memorial Methodist School where he shares his talents with the students, especially in preparation for the school's regular Talent Vybes.
Duncan returned to the stage last January playing a barber, Stan, in Forde's latest play, "Twisters", in which he gets caught up in the lives of his customers despite being a casual observer of the conflicts – "soaps", to be precise — that unfold in his shop. The role, he said, gives him the opportunity to bring everything he has learned to the stage.
"Everything that I have done up to now has helped me to play Stan, such as profiling, staying in character, how to respond, body and language, and things like that," he said. "I learned all of these things from Joan Hyacinth, Esther, Mr. Weekes, Hayden, Mikey, Kentry, and Branford. So all of that is in one melting pot from which I can now deliver."
Throughout his journey, Duncan said, becoming better at his craft was never an easy road. Quite often, he ended up playing roles that he was not enthusiastic about at first. In the end, however, he said his desire to prove that he could overcome any challenge was what helped to shape the indefatigable character he is in real life. That's why his advice came with a great deal of emphasis:
"You have to be willing to pay, which is not always money, but time and dedication. Sometimes, I have to go to a rehearsal and I'm dead tired from work. But I gave a commitment and have to be there. The biggest chunk of fulfilling a dream is being committed. The money and everything else have their part but if you don't have the commitment, you're not going to get anywhere," he explained.