THE OECS has begun engaging citizens of Member States on issues impacting their lives, the challenges facing the region, and the development opportunities for the OECS and its people.
The Public Education Forum Series, dubbed ViniKoze – Kweyol for 'Come chat' – is aimed at educating and informing the people of the OECS on the social, economic and political benefits of Regional Integration. It seeks to ensure citizen engagement and active participation in the Regional Integration process.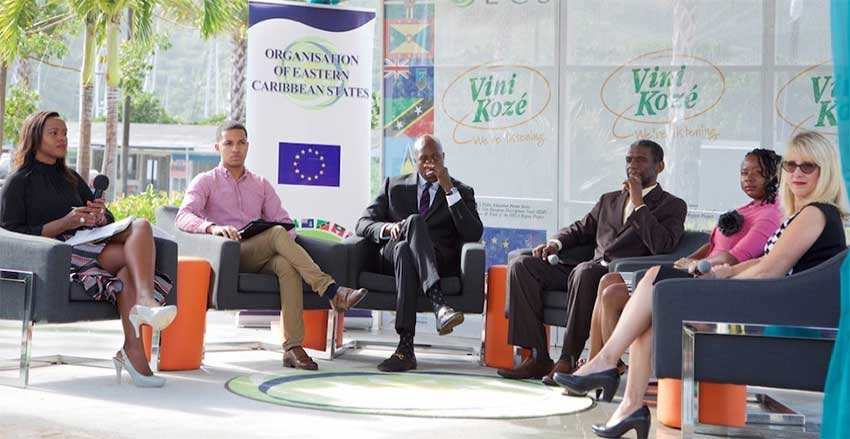 Each Forum features a Panel comprising representatives of government, the private sector, an international organization, civil society, and the NGO Community. The Forum is held before a live audience who engage panelists in discussion through a moderator.
The Forum Series commenced in the BVI in mid-January. The BVI Forum evoked discussion on successes in Education in the OECS, and created greater awareness of deficiencies. It also generated a range of fresh ideas, strategies and possible solutions that can be applied in creating a better education system across Member States.
Head of the Education Unit at the OECS Marcellus Albertin, notes that while the region has recorded some success in Education, an estimated 70 percent of students within the secondary school system are under-performing, with some eventually becoming high school 'dropouts.'
The second Forum on Youth Empowerment and Development was held in Anguilla. Director of Youth and Culture in Anguilla, Bren Romney, notes that youth account for about 60 percent of the global population. He says society has a responsibility to create an environment conducive to the positive growth and development of youth.
Elbert Ellis, a Social Analyst and Operations Officer at the Social Sector Division of the Caribbean Development Bank, believes Caribbean society must guard against policies, measures and approaches which could frustrate young people.
The Anguilla Forum also addressed youth unemployment, youth crime and violence, the juvenile justice system, as well as development opportunities for young persons, especially in the areas of education, sports, and the arts.
The OECS Public Education Forum Series (PEFS) will run until March 2017. It is being staged across six (6) OECS Member States including The BVI, Anguilla, Dominica, Grenada, St. Vincent and the Grenadines, and Martinique and will be televised across the OECS upon completion. The Forum Series is part of the public education component of the Economic Integration and Trade Programme of the OECS region, funded by the 10th European Development Fund.
The next Forum is slated for Dominica tomorrow, from 1:00 p.m – 3:00 p.m at The Fort Young Hotel. It will focus on Climate Change, its impact on small island developing states, as well as adaptation and mitigation measures being implemented by OECS Member States.