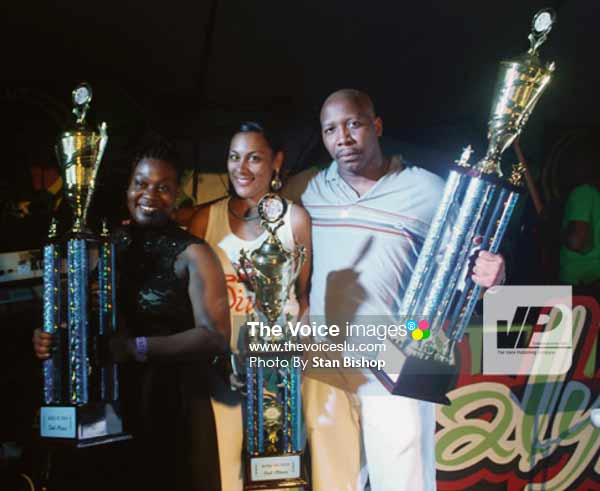 ALDEN "Spoiler" Raphael of Gros Islet Police Station won his fourth title at last Saturday's Kaiso Headquarters XI with his edgy, hard-hitting song, "Organ Donor".
Spoiler spoiled the chances of the other thirteen calypsonians as he performed the Callixte "Kakal" Xavier-penned song that infused wit and humour to poke fun at some of the most prominent people in society, some of them politicians.
In the song, Spoiler spoke about donating some of his organs to people in an effort to better equip them with better body parts to be more efficient in their jobs.
With Kakal himself appearing on stage as a doctor and Spoiler dressed in scrubs during the performance, there was never a serious moment in the crowd as Spoiler sang his way into even his competitors' favour.
The rain-affected show was held on the grounds of police headquarters, Chesterfield, where scores of patrons braved the inclement weather to listen as police officers let down their guard momentarily and speak freely about the issues affecting them.
Spoiler later told The VOICE that the annual competition organized by the Police Force affords police officers the opportunity to have a light moment for a change while at the same time addressing some of the crucial issues affecting the Force and the country at large.
Marva "Epee" Epiphane of Soufriere Police Station placed second with "Three Cans", a song in which she motivates people to strive for high ideals. Usually one of the top five in the competition, Epee said she came strong this year to win but was nevertheless happy that she placed second, clear indication that motivation also works for her.
Former monarch, Sabrina "Siwo" Mangal of Southern Division placed third with "Blame Game". In the song, she decried the passing-the-buck syndrome that society seems to encourage, the effects of which have filtered into the Police Force itself.
She told the media afterwards that she really wanted the title this year since she wanted to go out with a bang as she is contemplating competing on the national stage as of next year. Although a bit disappointed, plans to come better next year.
As is customary, both the winner and first runner-up at Kaiso Headquarters automatically qualify for the Inter-Commercial House Calypso Competition which takes place this evening at the National Cultural Centre (NCC).
Should Spoiler win this evening, he not only walks away with the spoils of inherent bragging rights but also retains the "Inter' title copped by Beat and Patrol Unit's Gilroy "Gillo" Gaston who also won last year's Kaiso Headquarters but sat out this year's competition.