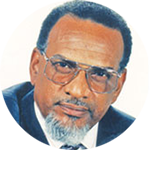 IN the general elections of 1997, the people of Vieux Fort were asked to 'give Vieux Fort a Prime Minister.' The propaganda promised that a vote for the SLP candidate and new party leader, would transform Vieux Fort for better. Since that time the man has been Prime Minister three times. Has anyone examined Vieux Fort recently? Its seaport, its river, its Coco-Dan, its airport and factory shells, its people? It was a long held dream prior to 1997, that Vieux Fort would one day overtake Castries, becoming the Miami of Saint Lucia. What has become of that dream?
Has Vieux Fort been transformed for better and have the people of Vieux Fort finally seen through the fakery and lies of 1997?
In 2016 the crucial question is, what can the failed Prime Minister deliver to Vieux Fort as an ordinary MP that he couldn't (or wouldn't?), as Prime Minister? The people had been warned that unprincipled politicians who fought for nothing and stood for less were bound to fail. Worse was to be expected from politicians who held confusing, poorly understood communist/socialist ideas. We were reminded that real men stood up and fought for a principle they hold dearly. Such men never run away from difficult political decisions.
Of the three election victories, how many times did he come to Vieux Fort so the people could witness the Governor General administer the oath of office to her Ministers, as was done recently by Allen Chastanet and his victorious UWP?
When Prime Minister Chastanet and the Governor General graced Vieux Fort within days of the June 6 General Elections, the Vieux Fort MP called it 'rubbing salt in the wound.' In whose wound, pray tell! It seems to me the real wound dear reader, was that which was inflicted on the good people of Vieux Fort (and Saint Lucia) over the past fifteen plus years, by VAT and other taxes.
Any political novice can see that the island's economic future depends heavily on the development of Vieux Fort, specifically its air and seaports, its marina (proposed by Compton in 1992 at Coco Dan), its medical/technical educational complex, and in harnessing its river for irrigation and fish. These development loci must be wisely planned and integrated if they are to produce maximum benefits for Vieux Fort … and Saint Lucia.
The scandalous neglect of redeveloping Hewanorra Airport (HIA) hurts everybody. The idiots who formed the last government removed an exit tax which the Stephenson King-led UWP government had imposed to assist in rebuilding and modernizing HIA. Today, that exit tax would have realized at least EC$250, 000,000.00 EC, or more. That tax only affected persons leaving the island on international air travel. Instead, the same fools who removed the airport tax added new taxes on water, and more VAT on some local foods. Can you believe this? Hunter J. Francois, a former Minister of Education once said that, if you send an ass to university, all you had when he or she returned was a qualified Jackass, nothing more. Does anyone doubt Hunter's wisdom anymore?
There are at least five elements to be developed if Vieux Fort is to prosper. First its airport: No other country in the Caribbean has the infrastructure the Americans left at Beane Field, now renamed HIA. Visionary leadership demands that a government looks at the entire HIA area with a view to locating a modern air terminal building and using all three runways. (Runway 'A' is already in regular usage and Runway 'C' (Caca-Beuf) needs strengthening and expanding to accommodate the largest aircraft). Runway 'B' would be expanded to link A and C and a new air terminal. The Free zone would be relocated, while some of its structures would be used for air cargo business.
The present terminal ought to be upgraded for regional air travel, air charter and American and Canadian airlines. The new terminal should be designed to service air carriers from Europe, South and Central America, India, Japan, Taiwan and the Middle East.
Then there is the marina at Coco Dan which is still waiting to be built. The land and sea area for this important Marina in the south must be clearly delineated to allow rational use by investors in hotels, guest houses and restaurants. A new bridge to replace the old wooden bridge which once linked the western part of the town to Coco Dan must form part of the development plans for the area west of the old river outlet.
Prime Minister Chastanet has already spoken of his vision for the Vieux Fort seaport – New Dock. A seaport serves no useful purpose without cargo and passengers. Besides a cruise ship terminal, port Vieux Fort should aim to become an active transshipment point. The possibilities are enormous, if we think global!
The fourth and crucial feature of the town of Vieux-Fort needing attention is the Vieux Fort River, which poses a significant threat to HIA during periods of heavy rainfall. It has been known to overspill its banks and damage the airport and main roads between HIA and Vieux Fort town. The silent threat the river poses can undermine the efforts of tourism development island-wide. The aim must be to properly harness that river with intervals of mini dams for irrigation and inland fishing. In so doing it should be borne in mind that that river has been diverted from its original course, at least twice in the last seventy-five years.
The development of medical schools and other hi-tec intellectual pursuits should be a major thrust in energizing the economy of Vieux Fort and the entire south.
Vieux Fort needs a complete makeover. To this end the people of Vieux Fort must demand the resignation of their MP. They must afterwards select someone who will assist in executing the development of Vieux Fort, regardless of party in power. The person selected must be honest and fearless and ready to work for Vieux Fort full time. That's what Vieux Fort needs to usher a new day for better. That's my wish for the town of my birth.