VBCC Men's , Women's Team Over Warriors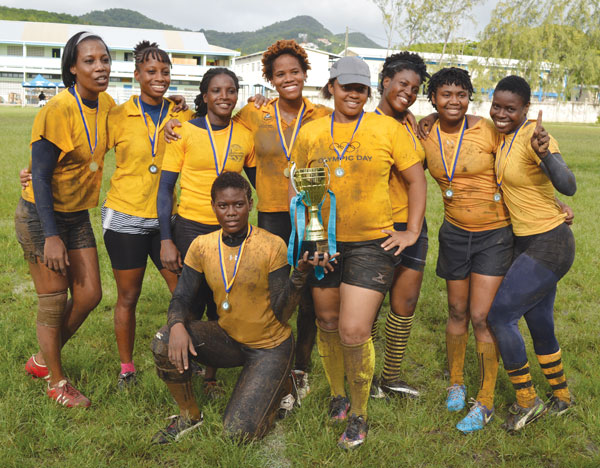 VIDE Bouteille Cultural Club men's and women's Rugby teams are the inaugural 7-a-side champions.
The VBCC Stingers Male team won over Whiptail Warriors 105 while the Women's defeated their Whiptail opponents 22-19 in the finals of the St Lucia Rugby Football Union competition at the Corinth playing field
The two Stingers teams won on point's difference as they both denied their opponents the championship victory in a hard-fought thrilling title decider.
In the women's match, Mary Roberts playing for Whiptail Warriors put her team in the lead with a try, but VBCC Stingers' Winnie Rene was equal to the task as she levelled the score. Sheena St. Mark sealed the deal and the championship with a try for a 10 – 5 scoreline at the final whistle of Referee Sean Alcindor.
In the much anticipated men's final it was all to play for as both teams possess a number of national players. VBCC Stingers' Ervin Joseph started the ball rolling with a try. The experienced Jerry Charles failed to convert. Charles made amends minutes later with a try, but also missed out on another conversion.
The day belonged to young Nicholii Nestor VBCC Stingers as he powered his way with a 30 plus meter run for a touchdown despite the heavy playing surface. Like his two previous attempts Jerry Charles failed to hit his target again, but Ernie Julien's try and Nyhymn Terrance's conversion in added time sealled the matchl and the championship with a 22 – 19 score line to the delight of their supporters.
For Whiptail Warriors Janic Joseph, Ron Eugene came up with two tries, while Lenford Eugene, Ron Eugene and Colvis Samuels converted successfully.
Following the natch VBCC Stingers were presented with the championship trophy and gold medals, Whiptail Warriors, the second place trophy and silver medals and Fighting Mongoose, the bronze medal; with Sir Arthur Lewis missing out on a podium finish.
Meanwhile, President of the SLRFU Roger Butcher has said that the immediate plans for his organization will be in collaboration with Rugby Americas North (RAN) sponsored referees and coaches training course scheduled for June 17-19.
On the field of play Diamante of Martinique will take on St. Lucia Select Team on June 25 in a 15-a-side game match up.
He also noted that the Inter-Club round the island 7-a-side tournament is scheduled to start in July, while the Under – 19 Rugby American North tournament will take place on July 9 -16 in Miami. At present the St. Lucia Under – 19 team is in training and will be having practice matches up until July prior to their departure. The SLRFU is actively looking for sponsors to assist the Under – 19 team's participation.
St. Lucia will also participate in the Rugby Americas North 7-a-side tournament in November in Trinidad and Tobago.