Consultant Urges More Local Buy-in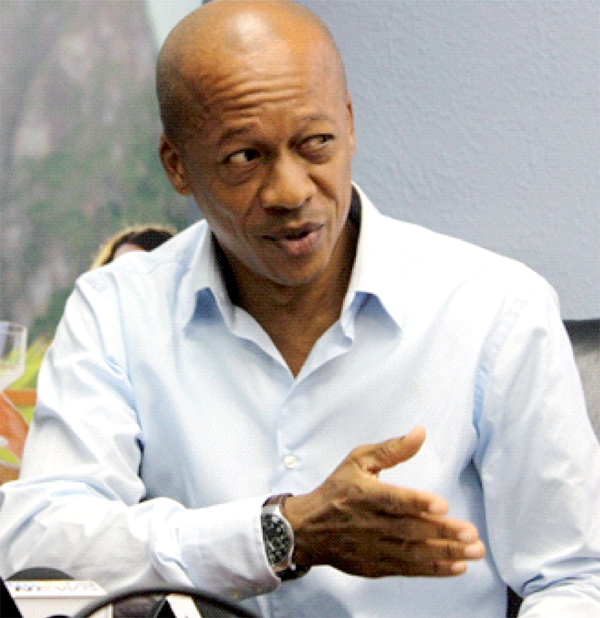 THE local yachting sector's hefty gains last year did not come as easy as the ebb and flow of the daily sea tide. It took a lot of hard work on the part of many people and organizations. It also took the relentless pursuit for major improvements in the sector by a man who many have come to know slightly better for his passion for yachting than his love for football.
Cuthbert Didier has been involved in the yachting sector – directly and indirectly – for the past 31 years. He previously worked at the Rodney Bay Marina for 27 years, serving as its General Manager for 15 years. For the past 5 years, he has been the Maritime Consultant in the Ministry of Tourism, having been given the task to transform the sector. Didier says a lot of time and other resources have been invested in the sector in the past 15 years, resulting in the current good tidings.
"Finally, I can safely say that Saint Lucia is a vibrant yachting destination," Didier told The VOICE recently. "We have world-class yachting events. We have the investment and the confidence of the people who put them on. We have new interests, particularly from the Russians and as well as from Argentina. For best practice purposes, Argentina has actually been studying our model to improve theirs. We also have our French counterparts who are that interested in us as a destination that they are now moving their sailing events to Saint Lucia. So it speaks well for our own strategy and policy on yachting."
Last's year's yachting figures increased by 17.2% over the previous year's performance. One of the terms of Didier's contract is that he's mandated to increase yachting arrivals by 15%. In fact, yachting is now the fastest-growing sector in the local tourism industry. Didier believes these gains are an endorsement of the collective thrust of many things, especially entrepreneurism and infrastructure. As such, he says he's hesitant to take full credit for those hard-earned gains.
"While I'm the person that keeps insisting that the facilitation improves, this has been a destination effort without a doubt. If we continue (this trend), we can become the Monaco of the Caribbean," Didier says.
Having dedicated most of his life to the advancement of the yachting sector, Didier says it's rewarding to see a vision come true. He describes Arch Marez (his former boss who established the Rodney Bay Marina in 1986) as a visionary. Inasmuch as he's praised by many for his efforts in seeing the sector grow, Didier acknowledges that sometimes his emotions do get in the way – but with good reason.
"To now hear about the destination making strides and taking it to the next level is very rewarding. It can be challenging and sometimes I get way too passionate," he says.
Up to the time of his appointment, Saint Lucia's yachting sector was still recording between 20,000 and 27,000 arrivals per year. Currently, almost 43,000 arrivals are being recorded. Based on last year's impressive performance in the sector, he smilingly predicts a 25% increase in the sector this year.
With yachting seemingly making big waves these days, The VOICE wanted to know whether any consideration was being given to using world-class laser sailing and Olympian athlete, Beth Lygoe, as a flagship for advertising the yachting sector. It's something the authorities would have to consider, Didier says.
"That's something that can happen. We will have that discussion once G-Force Yachts settles down here because they make maximum yachts up to 36 feet. G-Force is for fast and aggressive laser-type sailing. These are the yachts we plan to use for the Russian Regatta when it comes to Saint Lucia. So it's all coming together. We can use her but obviously there are issues from a marketing standpoint that the Saint Lucia Tourist Board would have to finalize," Didier says.
As to what he would like to see happen in the yachting sector in the next five years, Didier says more focus needs to be placed on a sustained system for repairs and maintenance of yachts. A cadre of especially young entrepreneurs willing to invest their time and efforts in the sector is needed, he says. But it need not end there….
"The financial institutions also need to support these entrepreneurs so that they can be first-world mechanics, electrical engineers, and cleaners. Yachts are very difficult to maintain because they're essentially floating houses. We really need to improve on these services so that when a yacht homeports in Saint Lucia, we can provide every service – from fixing the propeller to making leather cushions for the expensive furniture," Didier explains.
Didier says more Saint Lucians need to recognize the limitless opportunities that obtain in the yachting sector. It is an industry which he believes should not be seen as merely hosting events such as the Atlantic Rally for Cruisers (ARC), World Arc and Arc Plus; the yachting sector must be seen as something that Saint Lucians can easily buy into.
"The yachting product belongs to Saint Lucia. Rodney Bay Marina cannot be taken and put into anybody's back pocket. Neither can Marigot Bay. So we need to be proud because we are the envy of many other islands in terms of the infrastructure and the events we have. As Saint Lucians, let's own it, let's promote it, and let's all benefit from it," Didier told The VOICE.
Just last week, Didier was invited by the Joint Embassy of the Eastern Caribbean States & Mission to the European Union to attend the first Eastern Caribbean International Yachting Conference scheduled for April 28-29 in Saint Vincent and the Grenadines. The key theme of the conference is "Investment Opportunities and Incentive Regimes for Super Yachts". As a leading specialist in the area, Didier will be addressing the conference on the topic.
At that conference, the four member states represented by the Joint Mission of the Eastern Caribbean States in Brussels – Saint Lucia, Saint Vincent and the Grenadines, Dominica and Saint Kitts and Nevis – will be showcased as sailing destinations of international repute with significant investment opportunities. Among the conference's other objectives is increasing the flow of mega-yachts to the region so as to attract high net worth individuals and groups with the ability to invest significantly in the region's yachting services and infrastructure as well as other types of high-end investments.