Arnicka Louis was in a devastating offensive mode for Team 758, scoring four goals to lead the way in a 5-1 victory for Saint Lucia against Guadeloupe in Group B of League C, on the Road to CONCACAF Women's Gold Cup yesterday afternoon at the Stade Pierre-Aliker in Fort-de-France, Guadeloupe.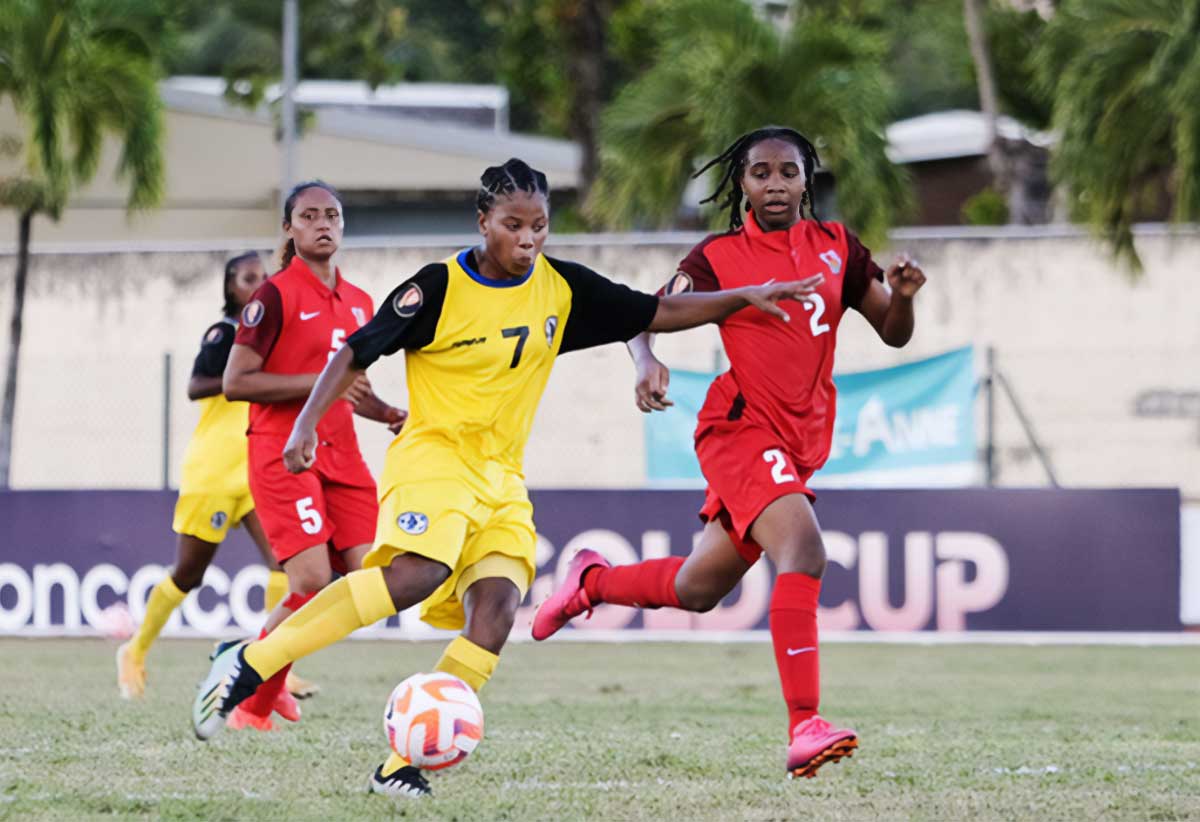 Saint Lucia came storming out of the ages, taking a 1-0 lead just one minute into the match when Shamalyn Albert made a dashing run down the left flank and crossed for Louis, who had an easy finish into the net. It was the earliest goal scored by a player in this Road to Women Gold Cup group stage.
Guadeloupe had a great chance at pulling level in the 20th minute on a well-struck left-footed free kick from Jalna Lepante, but Saint Lucia Goal Keeper Kenna Lionel did enough to parry it off the post and out of play.
Lepante would get another chance though, this time in the 37th minute during the run of play and she finished with aplomb, stroking a shot past Saint Lucia back-up Goal Keeper Renala Francis to even the score at 1-1.
Back came Saint Lucia and it was Louis again finishing an incredible 70-yard run in first half stoppage time for a 2-1 lead.
Arnicka Louis then picked up where she left off, completing her hat trick less than two minutes into the second half by tucking away a shot after a deflection in the area to make it 3-1.
Louis then capped off her memorable outing with an excellent finish in the 80th minute off a long ball from defender, Eartha Pond for a 4-1 advantage.
The 5-1 scoreline was completed in the 87th minute with Eartha Pond again providing service with a long ball and Ellaisa Marquis polishing things off with a goal.
Last Friday, Team Saint Lucia went down to Cuba 1-2 in a hard-fought encounter that went all the way to the wire in their opening match of the Concacaf Women Gold Cup, at the Daren Sammy Cricket Ground [DSCG].
In a tough game, the capacity crowd of more than 700 spectators witnessed an exciting display of swift offensive play, deft touches and some robust defense. And though victory eluded the home side, nonetheless, Team 758 ladies fought bravely and confidently and the fans commended the team's performance and cheered them on all the way.
Cuba took an early lead in the 4th minute as the Saint Lucian goalkeeper Renala Francis mis-judgment in advancing to defend allowed Katheryn Rodriguez to chip a ball overhead into goal.
The home team came storming right back, about ten minutes later with left winger Albert cutting in skillfully from the left flank past a few defenders and squared the pass across goal for Freegeanne Joseph to convert in the 15 minutes into the game.
Team 758 held on tightly to this 1-all score for the better part of the game, though they were tested many times by a resurgent Cuban side in the latter session. Cuba came close to inching ahead in the 78th minute, but substitute goal-keeper Kenna Lionel denied Cecil Aldana's header with a remarkable save.
Team 758 put up some strong resistance and fought back gallantly, only to see Albert narrowly miss in the 85th minute. In an intense period as the game became more physical the home side had to put up with some injury time to attend to its players that were being floored by their opponents.
With at least three minutes remaining in added-on time, Cuba took advantage of the breakdown in the home team's momentum to drill harder towards goal. And in a fleeting moment, as Lionel rushed out to defend an attack, Maristania Mengana burst in from the right flank to convert and give Cuba a decisive 2-1 advantage.
Though disappointed with the result, Team Saint Lucia assistant-coach Hiram Hunte commended the players' performance, stating: "Kudos to the girls, I felt they put up a good fight …credit to Cuba and the way they played , I felt we did a good job in managing (dealing with)  them , but we were just unlucky that we were not able to do the basics consistently enough to end up with a better  result."
On some of Team Saint Lucia's flaws, Hunte said, "There was way too much space in allowing them to penetrate through our lines, (and) not being able to apply that first pressure on the ball really cost us and gave them the space needed to operate."
Nonetheless, one of the recurring factors that has hampered Team Saint Lucia national squads in more recent regional matches, has been the inability to close out the game in the dying moments. Hunte had this to say:
"Basically, this is something that the technical team will have to review with the fitness coach, and to step up our fitness, so we can be able to maintain concentration throughout the 90 minutes (and more) of the game. Going forward…not being able to keep possession of the ball in the latter end of the game cost us."
On rebuilding momentum and solidifying the team structure, moving ahead, skipper Marquis commented: "It's a momentum that we can build on, we just need to find ways as a team …to stay focused, and I feel that's something we could pick up on and sure we could get through with our team in the next game."
Meanwhile, Team 758 is next due to play against Guadeloupe in a home match , before traveling to Cuba for an away game.
Results from other League C matches, were as follows:
– Grenada vs. Bahamas 6-1
– Belize vs. Aruba 2-0
– Grenada (home game) vs. Bahamas 4-1
– Cayman vs. Anguilla 2-2.