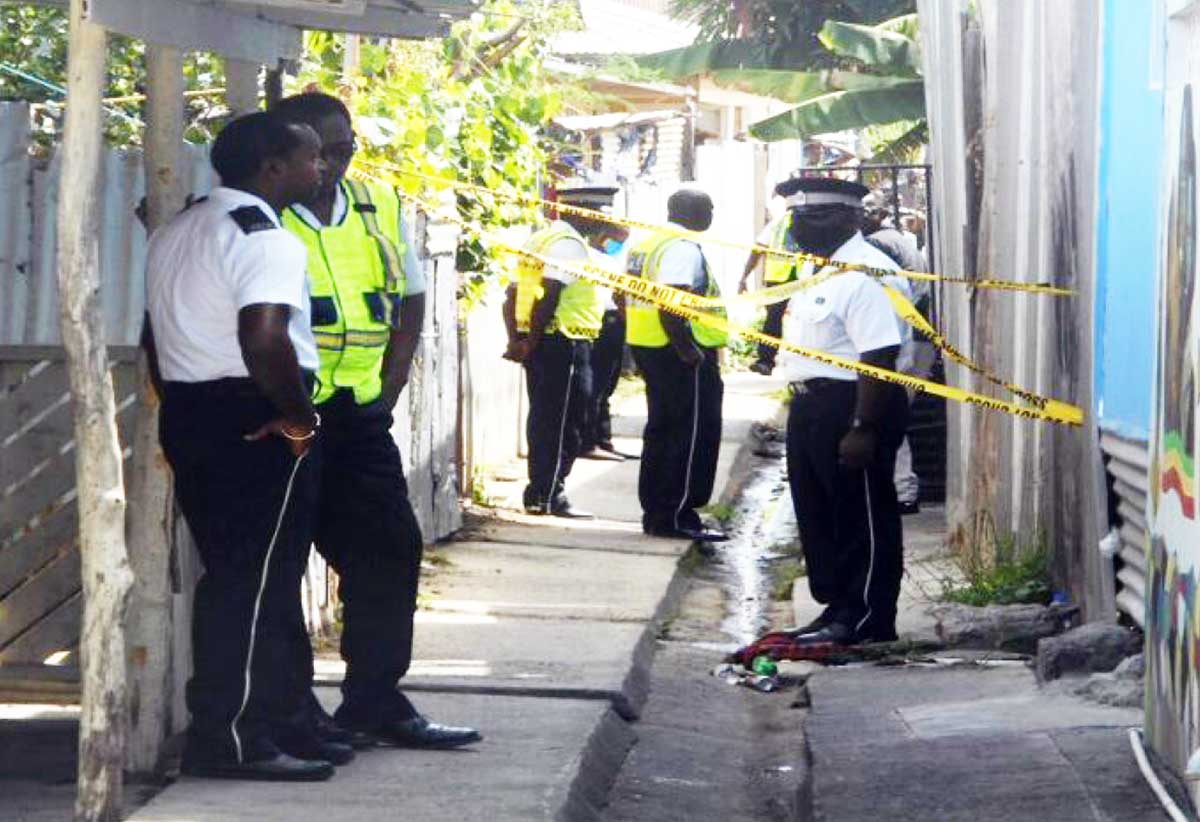 OVERVIEW
It is seldom that one country represents both the prospects for sustainable peace and economic prosperity and the perils of unnurtured seeds of justice. The alluring Island of St. Lucia has the fortune and challenges of both prospects and perils, particularly in its Southern region of Vieux Fort.
For decades, St. Lucia has been touted as a Tourist haven and one of the most desirable tourist and ecofriendly destinations in the Caribbean. It's lush Rainforest-like vegetations, twin-towering Pitons, the drive-in volcano, and its friendly, accommodating people and culture have made St. Lucia into more than a desirable attraction. Truth is, St. Lucia is exotically seductive!
As a member of the Organization of Eastern Caribbean States (OECS), St. Lucia also boasts a strong currency, integrated common cultural experiences, and interdependent economic markets. On paper, it's a 'best case scenario' for those persons interested in rest, rejuvenation, cultural exoticism, and political stability. Why then, is there a need for an article and initiatives for "SEEDS of Justice: Peace and Economic Prosperity in St. Lucia"?
The answer must be unpacked with a review of a recent uptick in violence and murders, which included  an infant, in the southern community of Vieux Fort. The answer may also be found in the seemingly deliberate lack of community infrastructural development in Vieux Fort, an historical maligning of residents from the community leading to deprivation in their social and economic growth, and perhaps, the deliberate 'garrisonisation' of the community by special interest groups.
The focus of this article is to reveal an organized and deliberate push by the UBUNTU Movement, Inc. and its partners of concerned members from St. Lucia's civil society and private citizens to address the recent uptick in community violence in Vieux Fort and to share solutions to mitigate those challenges.
Of note, the recent global pandemic significantly challenged the region's progress, and in some cases completely decimated jobs and industries where St. Lucians were gainfully employed.  It had thriving cottage industries, which saw possibilities for economic empowerment. While the pandemic affected all St. Lucians, the youth were most severely impacted, and their choices for economic and social empowerment were dimmed by some of the austere measures employed in addressing the pandemic, and the lack of visionary proactive steps to reset and rebalance the exclusionary policies of the past. These challenges were particularly impactful on the youth, particularly those in View Fort who bore the brunt of the economical and psychological trauma.
Internal community disagreements driven by scarcity in the community's economic resources, conflicts in groups alliances, and 'tit for tat' reprisal activities escalated in the recent spike in murders and other criminal activities in St. Lucia. Unfortunately, members of the Vieux Fort community were both actors and victims of a significant portion of the escalated violence, including some of the most egregious killings.
After the merciless slaughter of the infant in Vieux Fort, several members of the UBUNTU Movement, Inc., along with other prominent members of civil society joined forces in a quest to bring an end to the violence. Their first act was to request that the garrison leaders commit to a pause in the reprisal killings and a de-escalation in the general warfare between the groups. The group formed as a Collective and calling itself such, engaged in direct conversations with the grieving mothers and residents of three of the most severely affected communities (Bruceville, Westall and Martin Luther King Street). The mothers and residents demanded that something had to be done, FAST!
With a mandate from the residents with whom they met and had discussions, and recognizing the importance of Vieux Fort's youth to the sustainability of the local economy, The Collective (comprising of The UBUNTU Movement Inc., Citizens for Peace and Prosperity (Dr. Stephen King), Safe Spaces (Ms. Betty Jean), The Collective: 100 hours Volunteer Champions (Mr. Andre Dhanpaul), and other concerned community leaders and residents from Bruceville, Westall and Martin Luther King communities came together and launched an intervention for the cessation of violence in the communities and proposed practical steps for restoring community balance, including economic peace and prosperity.
The Collective is now engaged in, proposing, and establishing economic opportunities in various industries for the benefit of Vieux Fort's affected youth population, and other community residents. The Collective's proposal seeks to advance an economic platform utilizing our skilled personnel, credible and accessible social presence, and available spaces where training, counseling, land for residence ownership and product planting, harvesting and ultimately, product sales and economic enfranchisement is made possible for our youth. This includes training and education in indigenous products for local and international markets, promotion of creative artistic and cultural products for local and international consumption and affording the requisite balance in Saint Lucia and the region by empowerment of our youth.
Scope
The scope of the project is multifaceted, multi-segmented and involves recruiting, training and economically empowering youth leaders from warring factions across St. Lucia, starting in Vieux Fort. The initial phase which has already begun requires direct contact, communication, and symbolic 'Olive branches' of trust to be shared with community leaders. This was tasked to community assets, specifically The Right Honourable Priest Kailash Leonce, Roberta Prudent "Betty Jean" and Dr Stephen King, and Mr. Andre Dhanpaul who collectively command the respect and ears of many across the warring factions/groups in St. Lucia. This team has established a series of 'trust-building' meetings, where a 'Cease Fire', and a non-retaliatory pact was agreed on by members of warring factions in Vieux Fort. The Team, also comprising Ras Dr. Wayne Rose is further engaged in bringing and supporting counseling and socioeconomic rehabilitation for victims of the recent spike in violence and continued malignment of their communities.
Also, there will be recruitment, training and educating of participants, 'community youth leaders' will be engaged in business development, inter/intra business collaborations, marketing, and product-to-market sales. Equally, trained Social Scientists, Peace Advocates/Officers, and Community Development Specialists will be deployed across warring factions within impacted communities to work through processes for long term peace and security.
As previously mentioned, over the past several months, the Collective hosted a "Peace and Economic Prosperity Empowerment Truce," and created/fostered reconciliation forums where 'Olive branches of peace' were gifted to those who have suffered losses through violence. The hope and intentional work now is to ensure that the Seeds of peace can be planted and nurtured over the  the next 2 -5 years beginning with an infusion of cultural, social and economic activities in the immediate period. This starts with bringing some of the 2023 national Emancipation activities to Vieux Fort. One of the prominent events will be a One Empire Family Day and Concert. This event also has the collaboration with the Cultural Development Foundation (CDF) and potential sponsorship from concerned members of St. Lucía's business communities.
As part of the Team's modus operandi, additional interviews were initiated with members of the affected and stigmatized communities with the intent of gaining knowledge on what the youths see as avenues for gainful occupation. These interviews are slated to continue, and are expected to be facilitated in a proposed Community Resource Center in Vieux Fort.
Community Resource Center
The 'Olive Branch' outreach component of the SEEDS project identified the need for a structured, well-manned Support Center offering services and additional resources to residents of the Vieux Fort community. As such, The UBUNTU Movement and the Collective proposed the establishment of this Resource Center, identified an appropriate space in Vieux Fort, invited support partners to bring the required services to the center, and are now inviting competent staff to apply for employment as Administrator and ancillary personnel for the center. All interested and competent personnel are encouraged to apply. Equally important, is the call for volunteers and skilled personnel to join the initiative of 'One [St. Lucian] Empire.'
Key Objectives of the Resource Center
The broad intention of the Resource Center is to bring or reference to the community the emotional, economic, social, cultural and spiritual services required by the community. The Collective also proposes continuing dialogue, continuing support, and building a sustainable model of community justice, peace, and economic prosperity.
The UBUNTU Movement Inc. and all the Collective Partners are organized to spearhead this initiative and will bring frequent updates to the broader St. Lucian community via a monthly article. The intentional engagements of our personal and corporate resources along with decades of training and preparation of its leadership team and partners are fully employed in the safety and economic enfranchisement of our youth.
InI are now seeking further participation from public and private organizations and individuals. This includes the valuable resources of our esteemed government leaders who are now called upon to participate through their allocation of financial, technical, moral, and other material support leading to the maturation process of youth empowerment and an end to the prevailing cycle of deprivation and violence.