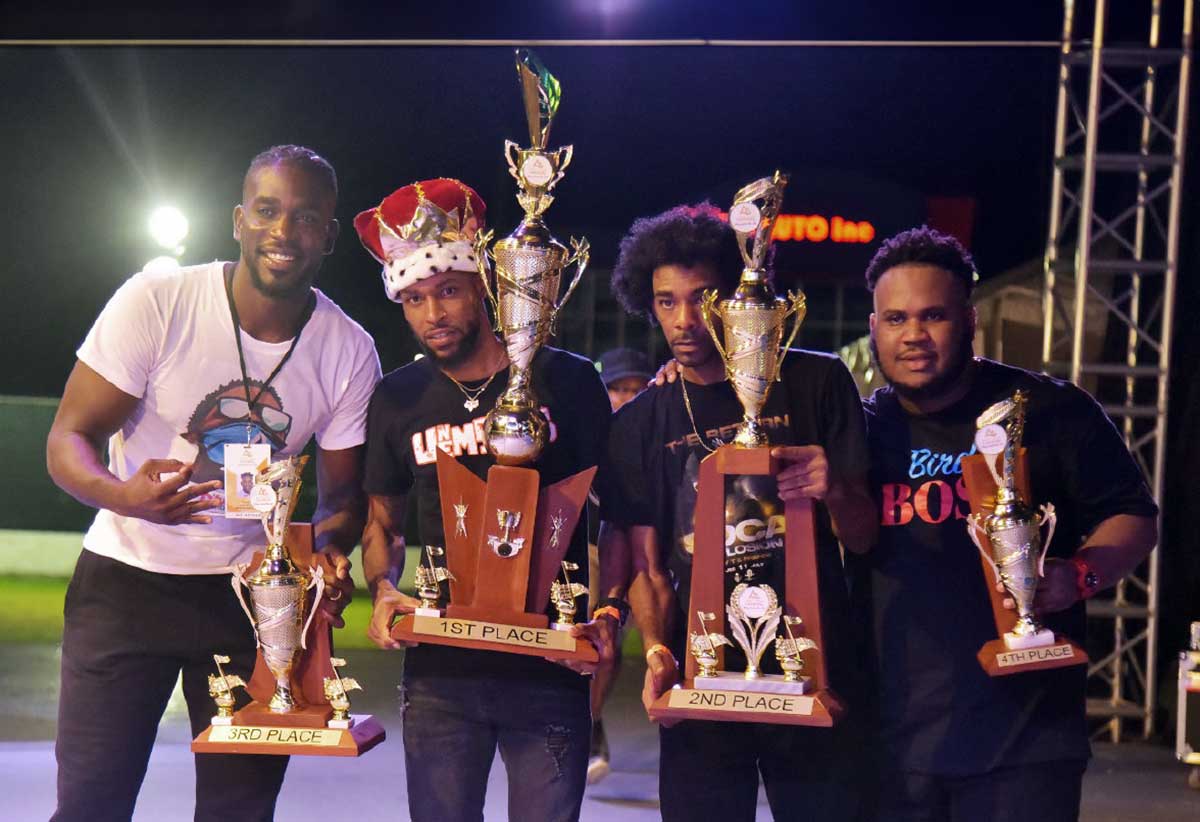 It was an action-packed jam session over the past weekend as the Saint Lucia Carnival 2023 activities moved into high gear.
Ti Blacks – a newcomer to the local calypso arena captured the 2023 Kaiso Monarch title, last Saturday, out-scoring at least four former monarchs in the process.
This effervescent artiste from the South Calypso Tent (SCT)  hit the mark with 'The Ghetto Cries' , as he made a presentation for social justice and liberation  on behalf of 'ghetto people' from the pain and suffering brought to bear at the hands of unconscionable bandits in their community, more particularly in the southern region.
His opening number in a sort of  tribute to former Kaiso Monarch Minelle dubbed 'Won't Forget Minelle' , helped Ti Blacks to drive home the point that the entire country is lamenting about – the reckless and incessant acts of gun violence committed by uncaring thugs that plagues the communities. This point appeared to have found favour with the judges and Ti Blacks was justly rewarded for an exceptional performance on the night.
In a very moving skit, Ti Blacks recalled what life in the ghetto used to be, guys playing football and 'keep it up' in their community, where a neighbor was ever willing to share some commodity with one another. And returning years later to his community, to be exposed to the fear that prevailed as persons were afraid to open their doors because of the relentless gunfire that infiltrates the area.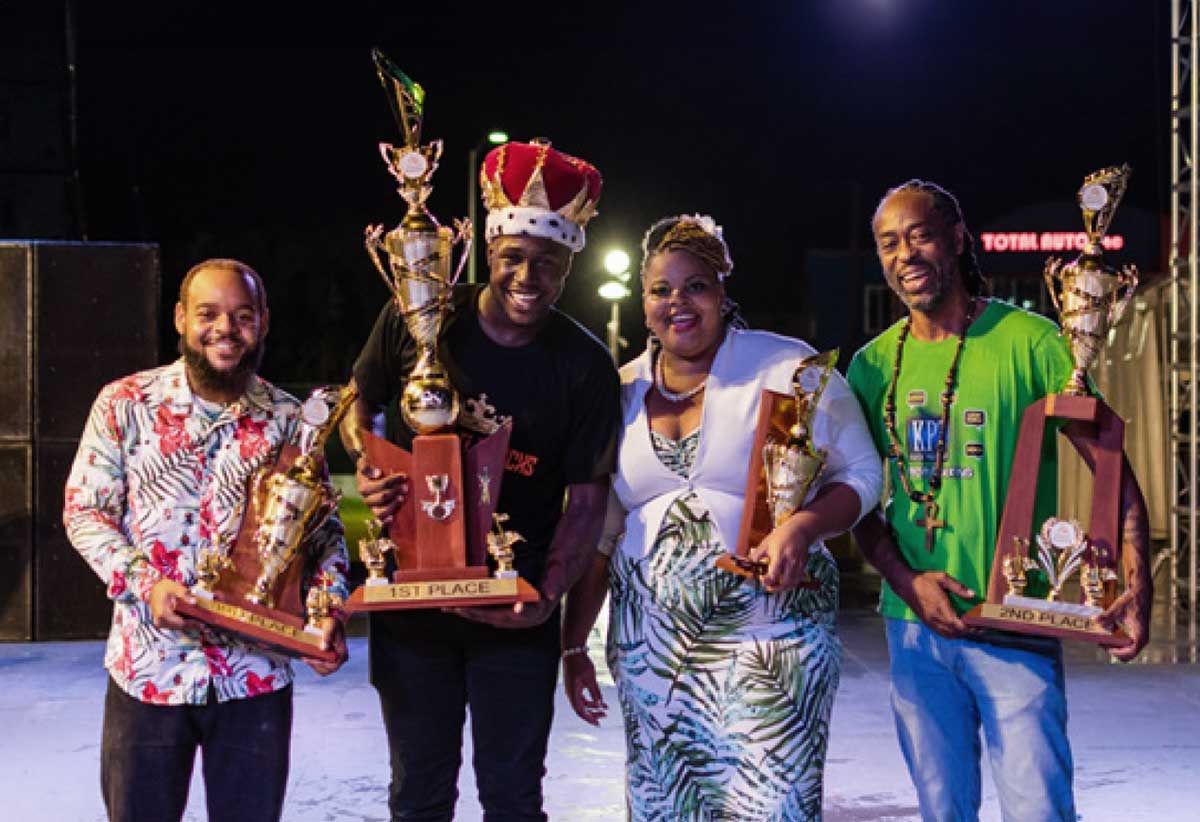 Notably, in what has been dubbed the 'Year of the Youth', it was heartening for three young calypsonians to cop top spots in the finals of the competition.
The performers reverberated an underlying theme speaking out against all forms of injustice – social and economic, while pointing out the moral decay, disorder and lack of values in society.
TC Brown has woven his way into the heavy hitting social commentary ethos, but always finds a way to weave in his patriotic commitments into the mix; and there he was again with Iyanola, and a lively presentation of from his young dance troupe all clad in 'national wear' colours to blend with the artiste's attire and rhythmic lyrical delivery to earn a 2nd place spot.
Dezral missed the mark , but was strong enough to score points for a 3rd Place , with a tune decrying the social disorder at 'Bruceville', and embarking on a legacy of 'why they like King Dezral', while Ready another SCT contender settled for 4th Place with two catchy tunes.
While other good performers like Herb Black, Ti Carro and the ever-developing young artiste Mighty Sizzla did not make the cut, they all served up hearty and motivational selections to stir the crowd.
The line-up was completed with young female performers Queen Yadzz, Oshun and Mystic all making a play for contention in the race.
Speaking to reporters at a post-show interview, an emotional Ti Blacks related to the struggles that he endured on his journey to the big yard, while declaring he was very much elated to be crowned Kaiso Monarch 2023.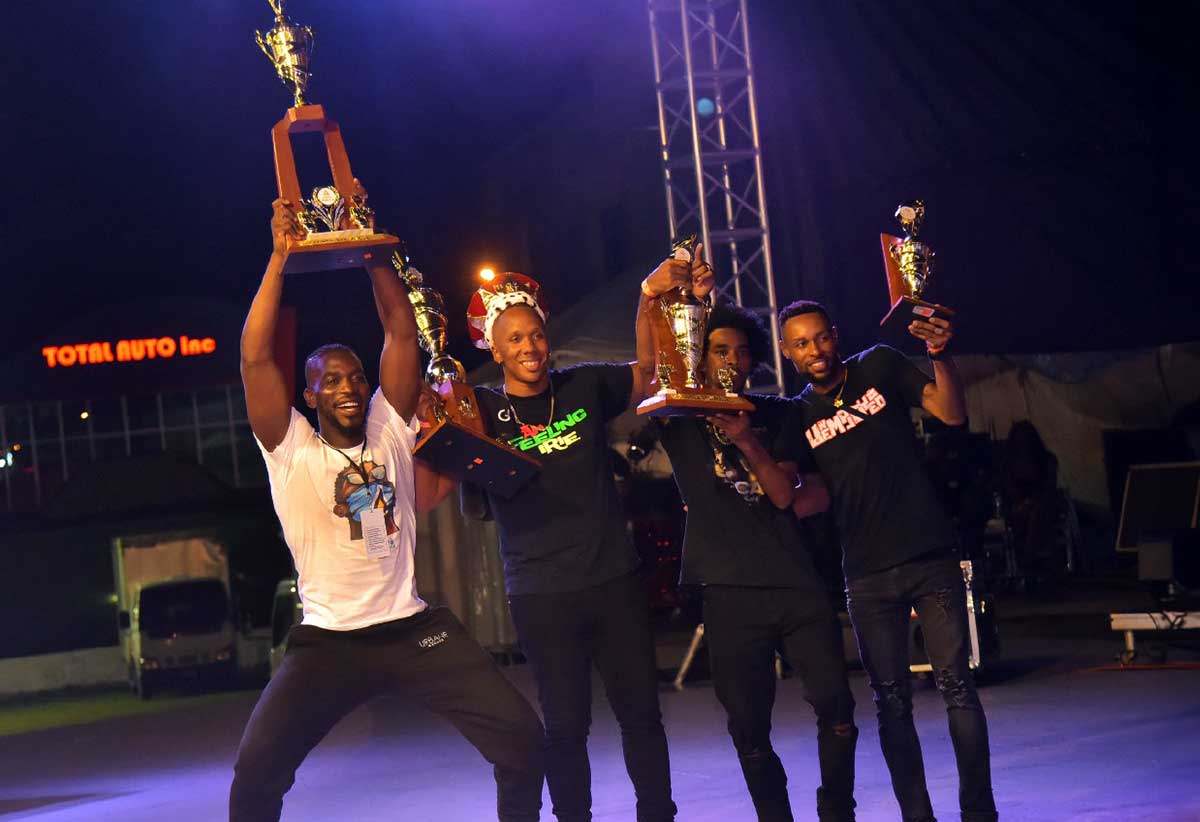 Arthur and Nerdy win respective Groovy and Soca Monarch Titles
Arthur Allain and Imran Nerdy put on dynamic performances to emerge as respective winners of the Groovy Soca and Power Soca Monarch titles, last Friday.
It was another explosive night, as fans gathered at the SAAB, Vigie, to witness an enthralling and competitive challenge among some top heavy weight contenders.
There was quite an impressive delivery of tunes with lively rhythmic presentations to boot and the lively crowd latched on to their favourite songs with blissful energy.
On his return to the big stage, after a brief hiatus, 5-time former monarch King Arthur was at it again, doing what he does best – performing with aplomb and a rhythmic melody infused with fine, flowing lyrics.
His tune entitled 'Irie' was well received by fans and supporters in a lively crowd of revelers and they jiggled joyfully to the groove…as Arthur chanted 'No matter how hard life is …and though I'm not rich, I living Irie'.
Nerdy was exceptional as he sent the crowd wild with 'Clock Out' a hot , bouncy number that lit up the session to place the artiste yards ahead of his competitors, on the way to bagging his first monarch title.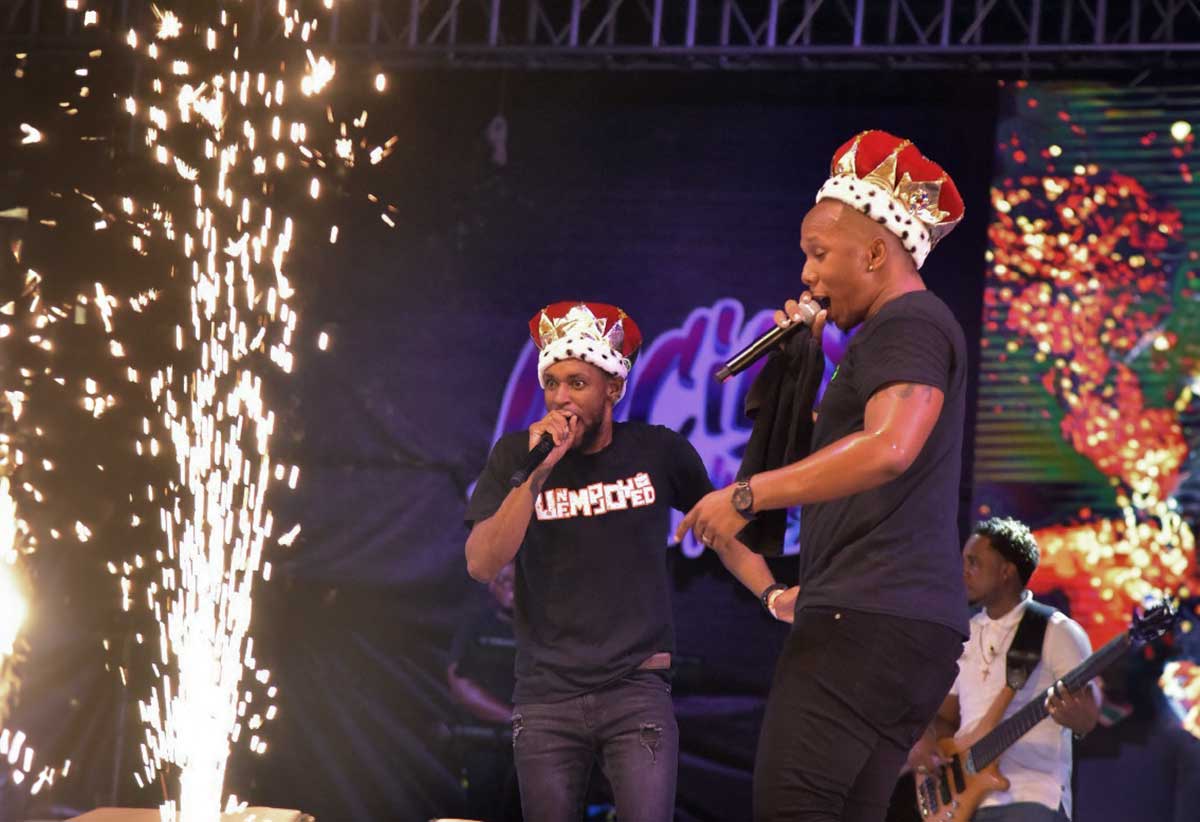 His portrayal of a disgruntled employee always working overtime, but not getting time off from the boss to partake in his extra-curricular activities, and in this case – the Carnival Revelry, led to gay abandonment and release from the stressful occupation of  daily routine work life.
In the process, Nerdy beat the evergreen Ricky T into 2nd place; while Ezra DaFun Machine always in the reckoning for his witty and melodious selections delivered another catchy and fun-loving tune to gain the judge's approval.
Ezra was also in the winner's role, to take 2nd Place in the Groovy Soca category with Cho (Hot Head); while Ricky T had to settle for 3rd Place.
Nerdy also captured 4th Place in the Groovy Soca segment with his song entitled 'Unemployed'.
Other performers in the Groovy section, with 'high expectations' such as Carlton Roberts with 'Fly' was beset with a skit failure that involved a crane ; while Alpha delivered 'Smoke' and Qpid did 'Celebrate'.  The other contenders included Blaize, J'urgen and Ti Blacks.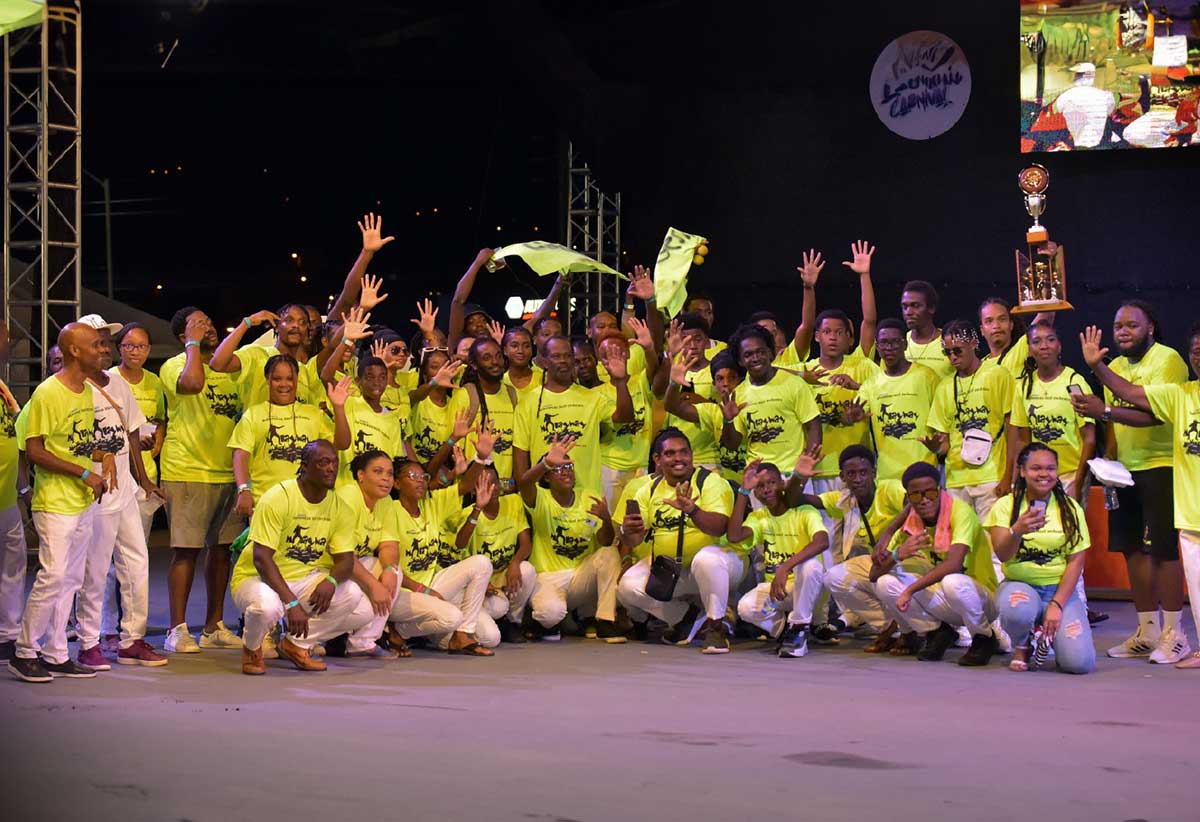 Babonneau Steel Cops Seventh National Panorama Championship Title
Babonneau Steel Orchestra continues to maintain its dominance in local steep pan circles –as they captured the National Panorama Championship title, Sunday, at the SAAB, Vigie.
The defending champions added another notch in its repertoire to land their seventh overall championship title, and distinguish themselves as Saint Lucia's 'champion steel band'.
Under the tutelage of astute arranger / producer Allison Marquis the northern-based group has excelled with its performances over the years and has become a force to be reckoned with in pan circles.
Their rendition of Ashanti's 'Sufferer's Song' aka 'Malaway' was a superlative display of harmonious melodies belted out with sheer gusto, and joy. Babonneau Steel won its first championship title in 2011.
Coming on as the final performers for the night, they let it all out, firstly stroking the 'warm-up piece' Mash Up by the late Dexter "Blaxx" Stewart; and then playing confidently to render their championship selection.
Babonneau Steel beat out four other contenders in a race for the prize title; with Pantime Steel Orchestra- with three titles in stock taking 2ND Place, while Pantastic Muzik Steel Orchestra got 3rd Place, and Laborie Steel Pan into 4th Place.
A notable feature of the show was an array of colourful displays of apparel and designs on the steel pans that the respective Steel Bands portrayed, and in some instances, flag bearers and dancers to add to the mix.
Earlier, a youth ensemble – The Steel Pan Development Programme consisting of several young players opened the set and gave a good account of themselves.
Pantime Steel with a group of 80 players were the first performers , and after doing a brief 'warm-up piece', they hit out their choice 'test tune' Amba Goj, set up by their arranger Amrit Samaroo.
SM Steel with a 37- player band did Bachelor's Carnival Time, and had a fun time at it.
Pantastic Muzik with 75 players-strong played out Buffalo's Manje Mwen (My Food) as their choice tune.
Laborie Steel Pan continues to amaze audiences with the youthful vigour and zest that they display with their performances, since they won the Steel Pan Championship title, in 2016.  Their choice tune was another popular Ashanti tune – Wine on Your Boom Boom, to follow their 'warm-up piece' Biting Insects.