With just two fights in his six-year-old boxing career, Zidane St. Ange seems determined to make a name for himself in the global sport. Despite losing both those fights, the 22-year-old continues to exude a winning spirit and leave a lasting impression.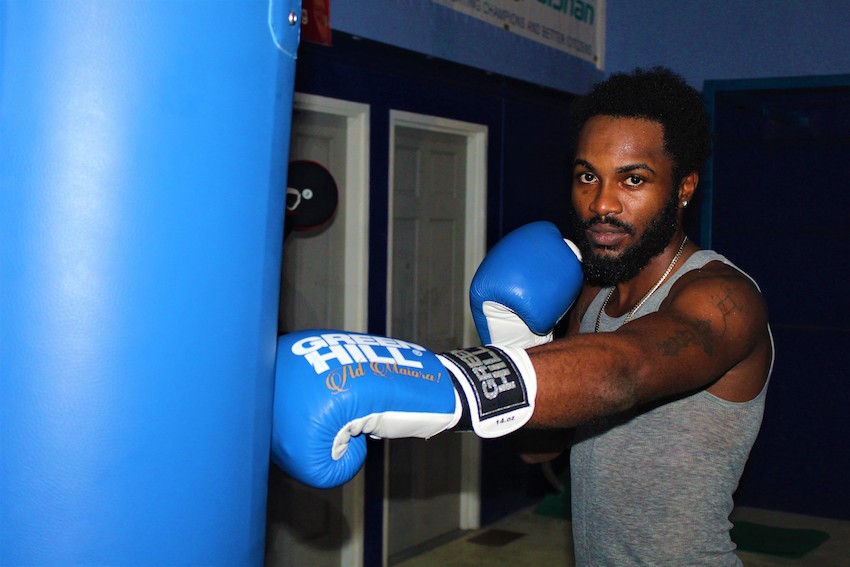 St. Ange is among the slew of promising young boxers who call the Vigie Boxing Gym home, five days a week. Like the other boxers at the gym, he doesn't seem to flinch during the intensive training sessions that Coach Conrad Fredericks subjects him to. He believes it's all worth it in the end.
St. Ange took up boxing at age 16 while in Form Four at Bocage Secondary School. He says his passion for boxing grew from the start after he realized that the sport inspired him to be disciplined.
"Boxing made me stay away from a lot of bad energy and forced me to become the person I am now," says the Morne Dudon, Castries resident, formerly of Cedars. "When I took up boxing, my principal and teachers showed me a lot of respect, even showing up at my competitions. I saw that kind of support as an opportunity to stay in the sport and fulfil my destiny of representing Saint Lucia someday."
St. Ange has two fights thus far: one at the Creole Boxing Championships, the other at the OECS Boxing Championships. Those two outings saw him receiving unfavourable results, but he seems determined to focus on the positive and fight on.
"My first fight in 2018 was a total loss for me, but I wanted to get back on my feet and try again," the young boxer explained. "But then in 2019, I lost again. However, I always believe that when I do begin to win fights, I would have made up for the losses."
St. Ange says he's picked up different aspects of the sport from other local boxers: Lyndell Marcellin's jabs and movements, Nathan Ferrari's steady defence and quick reflexes, Kyghan Mortley's tight guard, and Arthur Langelier's power. He adds that he's combined their techniques with his to become a better boxer, but also follows other boxers regionally and internationally.
After his last fight, he was hurt, so he quit boxing for a while. He stopped training and was socializing a great deal. But he soon realized that he needed some balance in life, and decided to return to the gym, which he did late last year. Returning to the gym, he says, is important as he has a few scores to settle, including with Coach Conrad.
"I really need a win to at least put a smile on Coach Conrad's face," said St. Ange, laughingly. "I'm tired of hearing him tell me to pull myself together. I need to make a name for myself in the sport."
He adds: "Coach Conrad is a strong foundation for me. He pushes and encourages me, especially when I was younger. He got jobs for me and would often put a few dollars in my pocket. He really treats me like family."
For now, St. Ange says he wants to do more sparring and competing locally and regionally before competing internationally. He says boxing continues to be a very competitive sport and he wants to be prepared always. He also has intentions of going professional.
Aside from keeping him fit and disciplined, St. Ange says boxing also helps him with managing stress and anxiety. Having faced his fair share of challenges in the sport thus far, he nevertheless believes he's found his true calling. For anyone considering giving the sport a shot, he has some crucial advice.
"I really cannot force people to get into boxing. I tried encouraging my brother, but he wasn't really into the physical aspect of the sport. But for anyone who's serious about fitness and learning self-defence, boxing is a good way to do so. If you do want to become a boxer, all the better," St. Ange explained.