On Monday June 21, the St. Lucia Electricity Services Limited (LUCELEC) opened a new Southern Office in Vieux-Fort to serve the public.
The office is located in Martha's Commercial Centre, opposite Gablewoods South, along the Vieux Fort-Laborie Highway (not Martha's Tyre Shop on the St Jude's Highway). The space has been customised to facilitate LUCELEC's customer service operations and ensure the safety and comfort of customers and staff, with COVID-19 safety protocols in mind.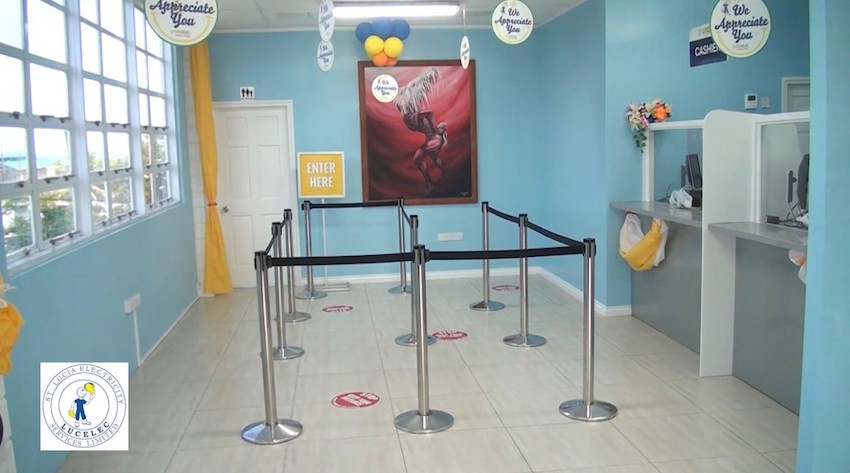 LUCELEC Customer Service Manager Jennifa Flood-George says extensive maintenance work is required to make the company's Beanefield location a safe and comfortable workspace for staff and customers. The office was closed in 2019 due to air quality issues. What followed was a search for temporary offices to end the extended disruption of walk-in service to customers in the South of the island.
"The process of identifying and selecting a suitable location was lengthy, as we sought to ensure the fundamental criteria of customer convenience and staff safety were fulfilled. In order to ensure full compliance with standard COVID-19 protocols, the flow of customer traffic into the new office will be carefully managed to provide a safe and pleasing customer experience for all. We wish to thank customers for their patience and understanding demonstrated during our extended closure and look forward to providing our usual high standard of service at our new location."
The temporary office will enable LUCELEC to undertake infrastructural works to address the issues at its Beanefield location. LUCELEC Chief Engineer Gilroy Pultie says the design of that building made its repair while it was occupied impossible.
"The work involved in refurbishing our old office is a significant undertaking and as such we are exploring various options to ensure we make the best use of the space. Given the time required to finalize this, we thought it best to relocate for the time being so our customers in the south would not be inconvenienced any longer than they have been."
The Operating Hours for the new LUCELEC Southern Office is 8:00 a.m. to 4:00 p.m. from Monday to Friday.
Customers are encouraged to continue using the available remote options introduced as part of the company's COVID-19 protocols to conduct their business. These include signing up for the MyAccount service at myaccount.lucelec.com to monitor accounts and pay bills online and calling or sending a WhatsApp message to 285-6796, 285-7859, 285-3593 and 285-3329  for all customer services except bill payments. Customers can also email [email protected] and get their bill balance by calling the Automated Account Inquiry Service at 457-4433.