Cricket action continues today in the first Betway Test Match currently being played between West Indies and South Africa at the Daren Sammy Cricket Ground (DSCG) in Beausejour, Gros Islet.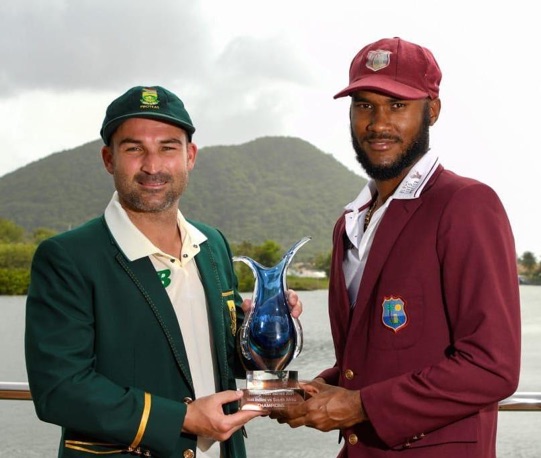 At lunch time yesterday, South Africa were 205 for the loss of 5 wickets in 72 overs at a run rate of 2.84, a lead of 108 runs with two days still to go. The South Africans added 77 runs in the morning session from 29 overs. The not out batsmen were Quinton de Kock 44 and Wiaan Mulder 21. The pair has so far added 43 for the sixth wicket.
The batsman out in the morning session, Rassie van der Dussen caught by Shai Hope off the bowling of Jason Holder for 46.
The wicket takers for the West Indies, Jayden Seales 3 for 50, Jason Holder 1 for 38, and Kemar Roach 1 for 53.
Meanwhile, South Africa closed Day 1 (Thursday 10th) in a firm position on 128 for the loss of 4 wickets, a lead of 31 runs after 14 wickets fell for a combined 225 runs. The not out batsmen, Quinton de Kock 4 and Rassie van der Dussen 34 from 134 deliveries which included 3 fours.
The batsmen out, captain Dean Edgar caught Jermaine Blackwood at third slip without scoring off the bowling of Kemar Roach, 1 for 0 after 0.5 overs. Debutant Keegan Petersen was Jayden Seales first Test wicket, caught by Jason Holder at second slip for 19, 34 for 2 after 9.6 overs.
Aiden Markram was caught by wicketkeeper Joshua da Silver off the bowling of Seales for a well-made 60 off 110 deliveries which included 7 fours. His 50 came up off 99 balls.
Seales had more to celebrate just before stumps when he picked up his third wicket, that of Kyle Verreynne for 6, Verreynne who flashed at a short ball and got a thick edge and was caught by Joshua da Silva with the score on 119 after 40.3 overs.
Bowling for West Indies, Kemar Roach 1 for 27 from 10 overs and Jayden Seales who bowled with good pace claimed 3 for 34 from 11 overs.
Also, on Day 1 West Indies top order batsman Nkrumah Bonner was ruled out of the 1st Test against the visitors after being diagnosed with a concussion.
Left hand opening batsman, 31-year-old Kittian, Kieran Powell has replaced him under the concussion substitute rule put in place by the International Cricket Council (ICC) in July 2019.
According to the ICC rule, the Substitute must be a "like-for-like replacement" and should be approved by the Match Referee. In this match, the Match Referee is former West Indies captain, Richie Richardson.
Batting at No.4 and averaging 62.50 in four previous Test Matches, Bonner played the first ball he faced into his helmet's badge. He appeared shaken and was checked for concussion on the field.
He faced 32 deliveries in all and scored 10 runs but did not take the field when South Africa commenced their innings midway through the second session on Thursday.
Powell will also bat in Bonner's place. The left hand opening batsman has not played for the West Indies since 2018 and was recalled for the series. To date he had played 41 Test matches, scoring 2011 runs at an average of 26.81 with 3 centuries, his highest score 134..
The West Indies, routed out for 97 in 40.5 overs after captain Kraigg Brathwaite won the toss and decided to bat first. Jason Holder top scored with 20, Brathwaite and Shai Hope 15 each and Rahkeem Cornwall 13, the only batsmen to reach double figures.
Fall of wickets: 1-24 (Shai Hope (15), 11.4 overs), 2-31 (Kraigg Brathwaite (15), 13.2 overs), 3-45 (Nkrumah Bonner (10), 24.1 overs), 4-46 (Kyle Mayers (1), 25.6 overs), 5-56 (Jermaine Blackwood (1), 29.4 overs), 6-56 (Roston Chase (8), 30.1 overs), 7-56 (Joshua Da Silva (0), 30.5 overs), 8-74 (Rahkeem Cornwall (13), 34.1 overs), 9-80 (Kemar Roach (1), 36.1 overs), 10-97 (Jason Holder (20), 40.5 overs). Debutant, Jayden Seales was not out 0.
Bowling for South Africa, Lungi Ngidi picked up his second five wicket haul in Test cricket, 5 for 19 in 13.5 overs, Anrich Nortje who break through the West Indies top order bagged 4 for 35 in 11 overs and Kagiso Rabada 1 for 24 in 10 overs.
It was the 19th time in Test cricket the West Indies have been bowled out below 100, and their lowest total against South Africa.
The last time the West Indies was bowled below 100 was against New Zealand on December 16th, 2019 in Hamilton, 97 all out in 53.3 overs.
Interestingly, this is the third time the West Indies were bowled out for 97. The first time was on January 24th, 1933 against England at Lord's.