SAINT LUCIA will join other countries in the Caribbean and Latin America as a participant in a regional tsunami response exercise on Thursday March 14th, 2019, dubbed CARIBEWAVE19. This scenario presents a perfect opportunity for testing and to improve the island's state of readiness and to evaluate local tsunami response plans, increase tsunami awareness and preparedness, and improve response coordination throughout the Caribbean and adjacent regions. Participation in these types of exercises has proven to be the most effective method of preparing for an actual tsunami.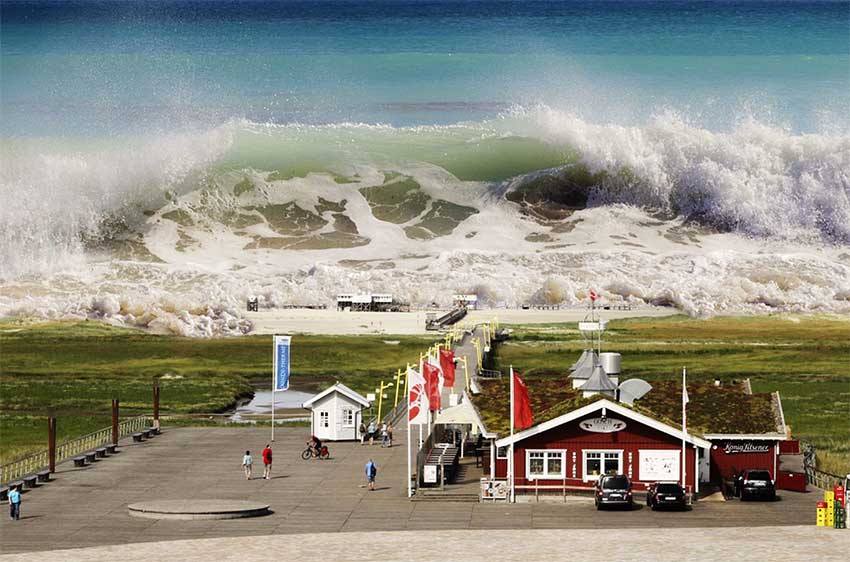 As is customary, the National Emergency Management Organization (NEMO) is encouraging businesses, residents, and communities to participate in CARIBEWAVE19, not only because of Saint Lucia's geographic location which predisposes the island to earthquakes that often triggers tsunamis, but also because these types of simulations have been proven to not only reduce loss of life during actual events but also decreases the possibility of real life failures by responding agencies.
The exercise will be based on a magnitude 6.0 earthquake associated with an underwater volcanic eruption and subsequent collapse of an unstable sector of the underwater volcano, Kick' em Jenny, off Grenada, which then generates a tsunami, which is predicted to impact the West coast of Saint Lucia. The resultant Tsunami has an inundation height of 1-3 meters and is expected to crest in Saint Lucia in 22 minutes.
The 2018, Indonesia tsunami, 2011 Japan tsunami and the 2010 Haiti and Chile earthquakes and tsunamis have reminded the world again of the urgent need to be more prepared for such events. This important exercise will test the current procedures of the Tsunami Early Warning Systems and other early warning systems operating in Saint Lucia. CARIBEWAVE19 will further provide response agencies the opportunity to test their operational readiness in order that they may identify their agencies' operational strengths and weaknesses.
Saint Lucia's National Exercise will be held in the Castries basin and in the coastal community of Canaries. It is expected that approximately 3000 students will be evacuated to various pre-selected assembly points. All identified assembly points are located above the inundation height expected for a tsunami wave generated by an underwater volcanic eruption. Saint Lucia's simulation exercise will occur in three phases. The first phase will see the evaluated evacuation of several primary and infant schools in the Castries Basin. The second phase will be the testing of the country's Early Warning systems, namely automated sirens in Castries and Canaries, radio broadcast interrupt capability and provision of early warnings through a mobile phone application. The third phase will be done in Canaries, where two schools, interested businesses and residents will be evacuated to predetermined evacuation/assembly points.
For CARIBEWAVE18, 31 countries and adjacent regions participated in the exercise with a total of 643,403 persons engaged. It is expected that the number of countries and persons engaged will increase for CARIBEWAVE19. This is the seventh such international exercise in the Caribbean and adjacent regions.
Regular exercising of response plans is critical to maintain readiness for an emergency. This is particularly true for tsunamis, which are infrequent but high impact events. Every Caribbean emergency management organization (EMO) is encouraged to participate.
This year NEMO will be collaborating with the Department of Education and Innovation to initiate a full scale evacuation drill involving several schools in the aforementioned areas.
The other agencies, along with NEMO, who are involved in the exercise, include, but not limited to, the Office of the Prime Minister, the Police, the Fire Service, Canaries District Disaster Preparedness Committee, Castries East District Disaster Committee, Ministry of Health and Wellness, Victoria Hospital, and the Department of Education and Innovation.
Persons interested in participating should contact NEMO on or before March 11th at 485-1145 or email [email protected] for registration and guidelines. Interested residents and businesses in these communities desirous of participating in this exercise are asked to contact the Exercise Controller, Mr. Andrew George at 485-1145.