THE Bay Gardens Hotel in Rodney Bay was a hive of celebration as the Lightning Aquatic Swim Club staged its annual awards ceremony to recognise outstanding performers for the year in review. The event took place under the theme "LA: Leading the way to greatness".
The audience was aptly entertained by the multi-talented swimmers who danced to a medley of 'Reach Higher on Cloud 9', as well as enjoying young Ethan Hazell's rendition of 'Year of Love'.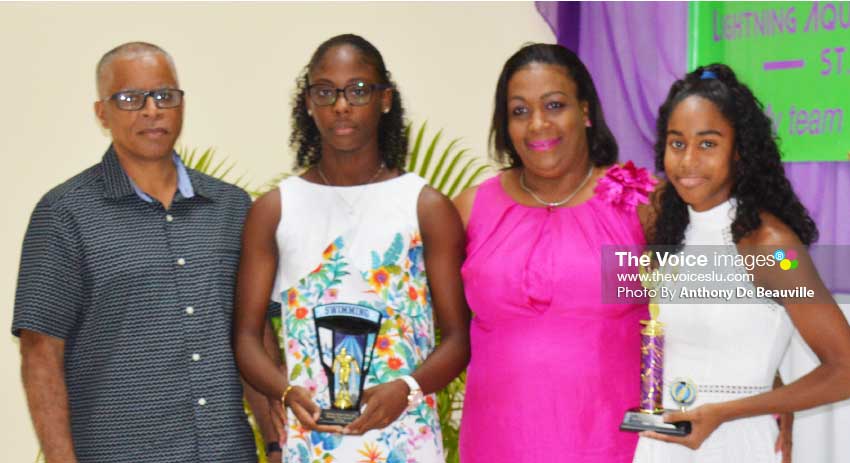 Guest speaker Richard Peterkin, International Olympic Committee Member resident in Saint Lucia and Past President of the Saint Lucia Olympic Committee, encouraged the swimmers to remain steadfast in their pursuits and while some may not receive special awards, being involved in swimming is an advantage due to the important life skills it imparts.
The swimmers were also addressed by Liota Charlemagne -Mason, Deputy Permanent Secretary in the Department of Youth Development and Sports, and Eddie Hazel President of the Saint Lucia Amateur Swimming Association.
Coach Marlon James delivered a passionate speech which chronicled the Club's successes in 2017 and the coaching team's hopes for 2018.
Other highlights from the Awards Ceremony were as follows: Swimmers' Choice – Naekeisha Louis and Yannick Layne.
Most Consistent – Naima Hazell and Karic Charles.
Most Improved – Alexandra Bristol, RojanFelicien, Courtney Paul and Naekeisha Louis.
Most Versatile – Aliyah Henry and Courtney Paul (females) and Neil Auguste and RojanFelicien (males)
Stroke Awards: Butterfly – Naekeisha Louis and Karic Charles; Breaststroke – Naima Hazell and Karic Charles; Freestyle -Naima Hazell and Ethan Hazell and Backstroke – Naekeisha Louis and Yannick Layne
Coaches' Award – Angelique Gaillard and Karic Charles
Highpoint Winners: 10 and under – 1st place Karic Charles, 2nd place – Ethan Hazell and 3rd place Rojan Felicien
In the 11 – 12 years – 1st place Naima Hazell, 2nd place – Naekeisha Louis and 3rd place Aliyah Henry13 to 15 – 1st place – Chloe Thomas, 2nd place – Yannick Layne and 3rd place Nathan Sherman

Swimmers of the Year:
1st Place: Naima Hazell and Karic Charles
2nd Place: Naekeisha Louis and Ethan Hazell
A special award was given to former Trainee Coach – Shernice Popo, who despite many obstacles has persevered and is now pursuing her dreams to become a certified diver.
Another element of the LA 2017 Awards was the poetry contest which challenged the swimmers to submit a poem that encourages their classmates to learn to swim.
The winners of the poetry contest were Annaliese Gaillard and Angelique Gaillard.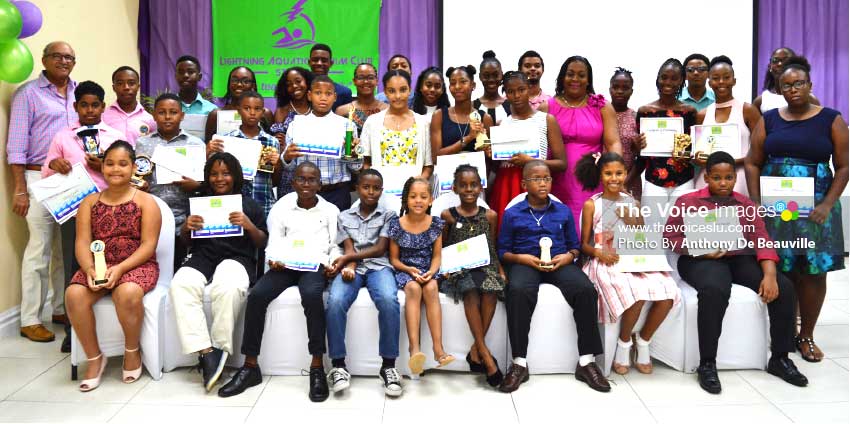 Meanwhile, the Principal of the Des Barras Combined School, Ezra Joseph delivered a heartfelt thanks to the Club for its support of the school's breakfast programme since the beginning of 2018. Joseph was also presented with another donation of books and food items which he stated would go a long way to ensure that the students remain focused on their school work.
Lightning Aquatics Swim Club expresses its profound thanks to the following benevolent sponsors for making their 2017 awards ceremony a success: West Indies Shipping and Trading Company Ltd., Bay Gardens Hotel, MASA, Mr and Mrs Edwin, Joanne Felicien, Mr. and Mrs. Auguste and Jazzbo Travel.