PRESS RELEASE – SAINT Lucia is poised for tourism growth from one of its main generating markets, the United Kingdom, as a result of new Dreamliner weekly service from London Gatwick.
On Thursday last, the Thomson Airways flight made its inaugural visit carrying close to 300 passengers. They were greeted by an official delegation representing the Ministry of Tourism, the Saint Lucia Tourist Board, the Saint Lucia Hotel and Tourism Association, TUI Group and Nexus Tours. The passengers were welcomed in true Saint Lucian style to the sweet sounds of steel pan music and a Chairman's cocktail.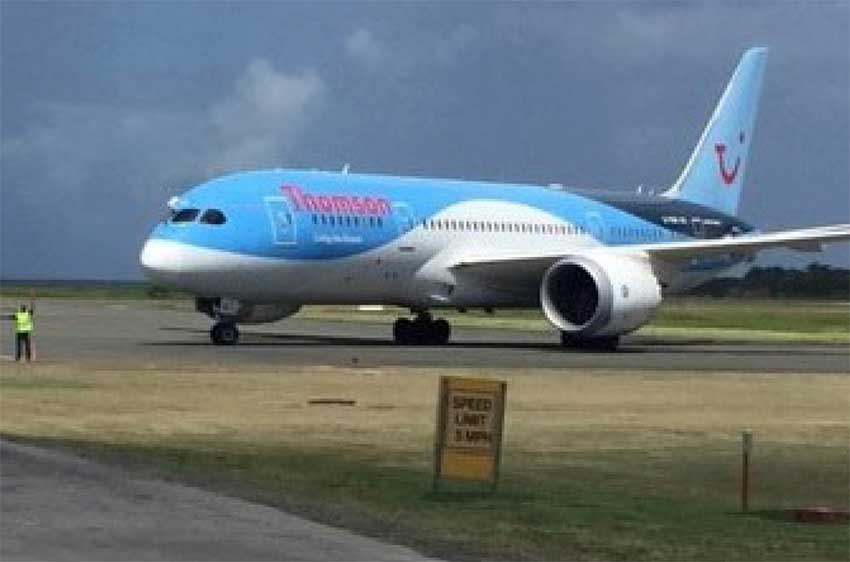 At a brief ceremony to celebrate the event, Deputy Chairperson for the Saint Lucia Tourist Board, Leathon Khan, expressed Saint Lucia's pleasure at being the newest and first destination in the Eastern Caribbean for this charter service. In his remarks, he noted that "The UK market is an important one for Saint Lucia. In 2016, we welcomed just over 64,400 Britons to our shores, and in 2017 we anticipate significant growth in this market, with your weekly flight out of London Gatwick sure to be a strong contributing factor."
Thomson, part of TUI UK and Ireland, is one of the UK's most well-known holiday brands, delivering unique and modern holiday experiences for its customers every year. The weekly flight will bring an estimated 9,000 additional passengers to the island this year with the service to continue into 2018.
The new service is in direct response to the growth in Saint Lucia's tourism accommodation stock. The Saint Lucia Tourist Board is especially pleased to welcome this new service as it is an endorsement of the strength and confidence in the Saint Lucia brand within the marketplace.