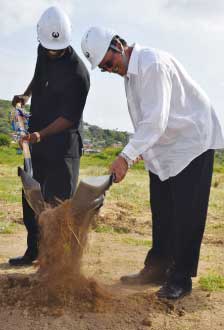 OUR politicians are building yet another edifice to themselves, this time at Vieux Fort.
This follows on the ill-conceived government edifice at Pointe Seraphine that time will certainly prove to have been a disastrous decision, even while another failed public project in the heart of the City stares us in the face. Yet another wasted investment when there is crying need for the limited funds available to be put into productive enterprise. It is not that the skylines of our cities and towns may not need enhancement but the evidence is that the private sector, with the necessary incentives, would be happy to undertake the task.
The record will show that the disease is a bigger mess than we think. First we plunked millions of dollars down, nearly twenty years ago, into an enterprise that came to be called Blue Coral that turned out to be one of the worst investments ever made by the managers of the nation's pension funds. Even today this dysfunctional building is mostly empty yet sitting on the most prime location in the heart of Castries.
Sir John is on record as saying, in 2007, its disposal would be top of the list of matters needing immediate attention from his government. His successors thought otherwise. The NIC didn't seem to learn anything from that disaster and proceeded to spend more millions of pension fund money on a Financial Centre that sits in a Cul-de-Sac, along the busiest road junction in the country, that on cruise-ship day is already almost inaccessible and will only get worse, to house more Public Servants; millions were spent by the government to purchase a half-completed edifice at Bois d' Orange which now sits rotting and deserted.
Millions more were spent on yet another public effort in Gros Islet town that remains unfinished, boarded-up and seemingly abandoned, and we are now told that another government edifice is planned at La Toc, no doubt with funds from a compliant NIC.
It seems our politicians, whatever their stripe, are only fascinated with erecting public buildings. In the meantime, the country has earned itself the reputation of having some of the worst slums and poor housing in the Caribbean, up to one-third of homes still use pit latrines, rural poverty is surging after the collapse of the banana industry, with apparently no idea as to what to do from the Ministry of Agriculture, leading to an avalanche of migration into the already over-crowded Castries basin and to squatting on denuded hillsides, setting the stage, one of these days, for a human catastrophe. The country remains without a low income housing policy, the best strategy, all studies suggest, to fight crime; we cannot open a brand new gift of a hospital simply because we do not have the financial resources to do so; a brand new crime lab remains shuttered and useless; a public square at Gros Islet is demolished to build a public square; medical care has become a nightmare and unaffordable for the majority of our citizens, while thousands remain casually employed outside the safety net of a pension scheme, a gestating calamity that the World Bank has warned about. Thousands of vehicles, unregulated, clog our streets, and the Ministry of Works thinks the answer is to build more roads; the obvious response is that persons who cannot afford the full cost of running and maintaining, including providing parking for, a motor car should not be subsidized into owning one. The Hewanorra Airport terminal remains a dysfunctional dinosaur, while competitors Antigua and St. Vincent are surging ahead with their own airport developments; St. Jude's Hospital remains incomplete after nearly ten years of re-construction, the Gros Islet highway will need resurfacing soon, a massive and costly work (even before the touted 4-lane expansion), buses without terminals clog city and town centres, temporary bridges, we are told, span the Anse la Raye and Canaries rivers, etcetera, etcetera, etcetera. But we want to build more luxury edifices to house more public servants, in air-conditioned comfort, obviously.