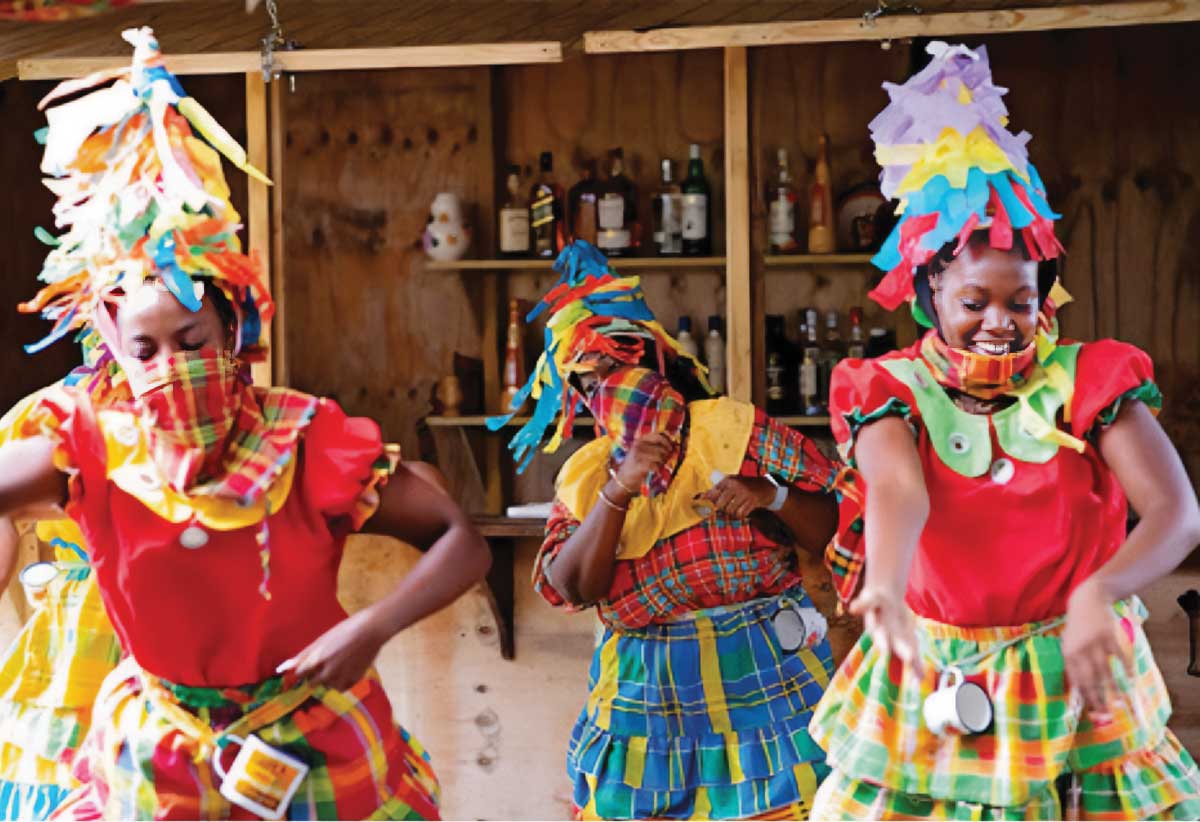 CREOLE Heritage Month celebrations will get underway in (host communities) Soufriere, Canaries and Mabouya Valley this weekend, where the island's rich culture will be on display.
The communities are expected to be transformed into a Creole Village of sorts. Rhyesa Joseph, Executive Director of the FRC, hinted this much at a press conference on Thursday.
The Folk Research Centre (FRC) and Events Company of Saint Lucia (ECSL) have partnered with each other to ensure that Saint Lucians enjoy an incident-free Creole season.
Creole Month will feature an array of activities including a Food, Arts and Crafts Affair in Chateau Belaire, National Kwéyòl Song Competition at the National Cultural Centre, Cassava Festival in Anse La Verdure, and a Night of Storytelling and Games in Mabouya Valley.
Individuals can expect flair, drama, humour and much more at all of these events. And of course, safety is at the top of the list for the FRC and ECSL, Mineva Ross, Branding and Communications Manager for ECSL said.
"There's a certain standard we operate by and we're thrilled to be partnering with the FRC to ensure that those standards permeate everything that we do. Our aim (is) to ensure that people are safe… (and) to ensure that the experience is wonderful not just for Saint Lucians but those visiting the island as well," Ross said.
"One of the key (questions) that a lot of persons will be asking is about traffic management so we've been working very closely with the Royal Saint Lucia Police Force to ensure that safety is paramount. We know that traversing those roads (is) not easy so it's imperative that we have a solid plan. We will be putting together some PSAs to disseminate that information to the public and we'll be starting as early as next week," she said, "because we know that  persons need to know how do I get there, where do I park, (and) in some instances park and rides are being considered to ensure that we limit the congestion along the roads for pedestrians, and to make sure that they're safe and they can actually enjoy the experience."
The FRC and ECSL have been working closely with host communities Ross told the press.
According to her, with the FRC leading the charge, they've been able to host several meetings and "all of the essential services—the police, Environmental Health, ECCO, NEMO… all of these agencies are working closely with us to ensure that licenses, protocols… standards are being applied."
Ross said remedial works are also being planned as there is a need for infrastructural development/upgrades "and so it is critical that we carry out all of this due diligence to ensure that Mwa Éwitaj Kwéyòl and Jounen Kwéyòl are a success."
Food safety is also a top priority. Ross said the host communities are "very open" to working with them and some workshops have already been planned.
These workshops are "planned to prepare the ground to ensure that when you come… you can enjoy our amazing Creole cuisine in a safe way. We have to really commend the communities for being so open to this training and taking the recommendations that are coming from Environmental Health."
Creole Heritage Month celebrations are expected to be nothing short of amazing. Joseph indicated this much on Thursday.
The month will be jam-packed with activities and each community boasts a wide selection of offerings.
"Creole Heritage Month is an authentic celebration of Saint Lucian communities and identity. This year we celebrate under the theme 'Kwéyòl: Wasin Pèp-la' (Creole: The Root of the People) and truly Creole is at the heart of who we are. We are very pleased to support and endorse the host communities," Joseph said.
"We want to celebrate Kwéyòl Heritage Month in a way that allows for no vehicular accidents, issues or congestions," she added.
Ross is asking the public to follow the guidelines as "they're only put in place to ensure your safety."
Lovely St Aimé Joseph, Corporate Communications and Marketing Manager at the Soufriere Regional Development Foundation, told the media "we have all our agencies working hand in hand with the FRC (and) Events Company of Saint Lucia to ensure that the celebration is not just grand, but very authentic in Soufriere."
"We have so many activities happening in Soufriere. We will start off with our launch on (October 1st) which is this coming Sunday then we move to the town-we're having what we call a 'Water Launch' so we will have our short official ceremony and then we have some activities really bringing the culture to life… so conk shell blowing, our fishermen will put on a boat show, we will have boning of fish… everything to ensure that people get a great taste of Creole culture," she added.
Lyncia Antoine, Chairperson of the Canaries Jounen Kwéyòl Committee said "we're kicking off with our launch on Saturday (September 30) on the main road. We deliberately selected that area because on your way to Soufriere you are bound to stop to experience a snapshot of what will happen on the day (Jounen Kwéyòl)."
"A few of our cultural groups will be (present); we will also have our (representatives) (who) will be participating in our La Wenn Kwéyòl (Pageant) on the day as well," she added.
Ryan James, a member of the Dennery North Constituency Council said Mabouya Valley is "excited (and) on Saturday we will start our decorations. (On) October 1st we start with a church service at 9:00 a.m. (and) it is very special because that same day we also have the Parish Feast of St. Michael."
"It's La Marguerite month so we cannot go without having a grand Marguerite séance so we're having a national séance on (October 6) from 7:00 p.m.," James added.
Other activities include a River Day, 'Vandwédi Kwéyòl' and 'La Plas Kwéyòl', all of which are exciting events, James said.